Tiger Woods Arrested For Driving Drunk In Florida (Photo)
May 29. 2017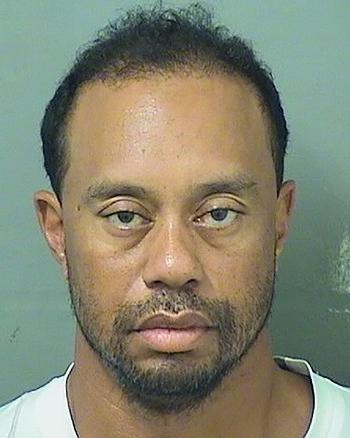 Tiger Woods mug shot
Former world number one golfer, Tiger Woods, was arrested in Jupiter, Florida this morning, for driving under the influence of alcohol. The 41-year-old athlete was observed by police driving in an erratic manner at approximately 3:00AM. He was taken to jail, where he posted bail and was released on his own recognizance.
Woods was married to beautiful model Elin Nordegren from 2004-2010. In 2009, their marriage abruptly ended after tabloid the National Enquirer outed Woods as a serial adulterer. Two days after the incident, Woods crashed his car into a tree in the couple's former gated community, while drunk driving.
Woods' wife left him after the National Enquirer story and subsequent tell-alls by money hungry women. Woods wife was so embarrassed and distressed by his behavior, she began losing her hair and was crying often. Woods' wife also took their two children, whom he now has shared custody of via court arrangement. Since the breakdown of Woods' marriage, his career has greatly suffered. He began losing major tournaments. Woods' extramarital affairs also cost him sponsorship deals, as his image was destroyed by the scandal. Things grew worse due to repeated back injuries, which required withdrawal from tournaments and surgeries.
In reference to his sexual promiscuity, Woods apologized and stated, "I thought I could get away with whatever I wanted to." Many famous men wrongly think the same and end up wrecking their lives and many around them. There is no exception to the rule. Woods' behavior darn near destroyed his wife and broke up his family. It caused a significant amount of hurt. He caused his wife a lot of pain. If a person lives in a debauched manner they always end up paying a price for it. In life everyone reaps what they sow. You put bad out there and bad will return to you (and vice versa).
People should never get caught up in the hype of fame. Much of the attention is not real. Don't let fame and women's flattery lead you to make bad and hurtful choices. Many men can remember before their fame when few women, if any at all, were truly interested in them. When fame hit all of a sudden they are all over you. It's completely fake. Ask yourself, where was this attention before you were famous. Back then those women wouldn't give you the time of day. Don't let fake women destroy the real relationship in your life.
STORY SOURCE
BREAKING NEWS: Tiger Woods is arrested for 3am DUI in Florida
Published: 11:26 EDT, 29 May 2017 | Updated: 11:58 EDT, 29 May 2017 - Tiger Woods was arrested on Monday in Florida on a charge of drunk driving, according to the Palm Beach County Sheriff's Office. The 41-year-old golfer was arrested around 3am on Military Trail, south of Indian Creek Parkway in Jupiter.
Arrest information shows Woods, a resident of Jupiter Island, was booked into jail at 7:18am and then released on his own recognizance at 10:50am. He faces a charge of driving with a blood alcohol level above Florida's legal limit of .08. This is the second time that Woods has been caught drinking and driving.
In November 2009, two days after the National Enquirer broke the story that Woods had been cheating on his then-wife Elin Nordegren with a New York City nightclub manager, Woods left home and crashed his Cadillac Escalade into a fire hydrant, a tree and several hedges. However, he wasn't charged in that incident.
Following that incident, several other women came forward, saying they too had affairs with the professional golfer - tarnishing his previously pristine image. A month later, he entered a 45-day therapy program and apologized for his actions, saying 'I thought I could get away with whatever I wanted to'...