Video Of Lebron James Getting Dunked On
Oh Dear!
July 22. 2009
Being the evil website they are, TMZ, obtained footage of basketball player Lebron James being dunked on by a 20-year-old dude that isn't even in the NBA. If you listen closely, you can hear the sound of sponsor Nike screaming.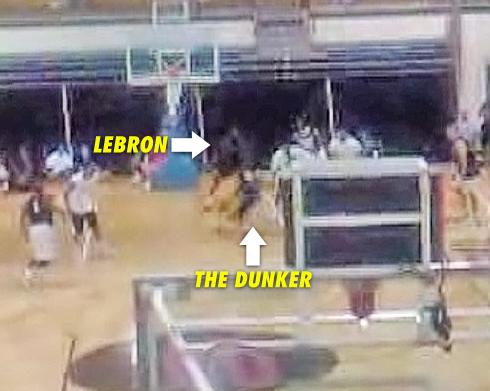 Side Bar: coincidentally, the young man that dunked on Lebron is named Jordan. Go figure. Side Bar #2: one day somebody is going to break TMZ's Harvey Levin's legs. If anyone gets footage of that, please send it to me. Thanks in advance (Just kidding - no one break his legs).
LeBron James -- The Secret Dunk EXPOSED!
Posted Jul 22nd 2009 3:02PM by TMZ Staff - It's the footage you've been waiting for -- the tape LeBron James tried to destroy -- the moment King James gets slam dunked on by an amateur!!!!!!!! LJ joined in on a pick-up game during the camp, when Jordan Crawford -- a 20-year-old baller from Xavier University -- got the rock and decided to go right after LeBron, soaring right over the all-star and delivering a nasty two-handed slam in front of everyone!
Several media outlets reported that LeBron and Nike -- who sponsored the camp -- sent henchmen to confiscate tapes from anyone who may have been recording the dunk, fearing the footage would cause some serious damage to LeBron's image...