Will Kristen Stewart's Adulterous Fling With Director And Cheating On Robert Pattinson Hurt 'Twilight' Movie Sales
July 27. 2012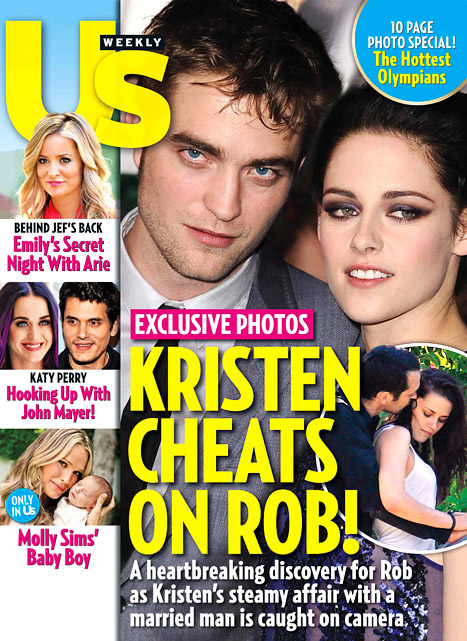 Robert Pattinson and Kristen Stewart on the cover of US Weekly
Will 22-year-old Kristin Stewart's affair with 41-year-old director, Rupert Sanders, hurt the box office sales of the forthcoming "Twilight" film, as she also cheated on popular actor and boyfriend Robert Pattinson. The public have become used to the two as a couple and are offended by Stewart's actions.
Stewart, who looks high all the time, stated in response to the adultery scandal, "Iím deeply sorry for the hurt and embarrassment Iíve caused to those close to me and everyone this has affected. This momentary indiscretion has jeopardized the most important thing in my life, the person I love and respect the most, Rob. I love him, I love him, Iím so sorry."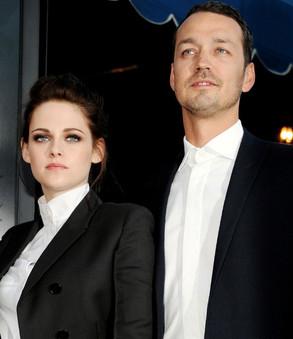 Kristen Stewart and Rupert Sanders
Sanders also issued a statement on the scandal, "I am utterly distraught about the pain I have caused my family. My beautiful wife and heavenly children are all I have in this world. I love them with all my heart. I am praying that we can get through this together."
Pattinson has yet to public comment on the incident, but he couldn't be happy with being betrayed and in such a manner, by someone he has been close to personally and professionally. All of this could play into movie sales when "Twilight" is released, as the public has bought them as a couple on and off screen.
RELATED ARTICLE
Ashton Kutcher And Mila Kunis Caught Kissing At His House In Los Angeles