Another Journalist Calls The FBI Liars For Denying The Existence Of Freedom Of Information Act Files They Claim Do Not Exist But She Has Parts Of In Her Possession
September 20. 2012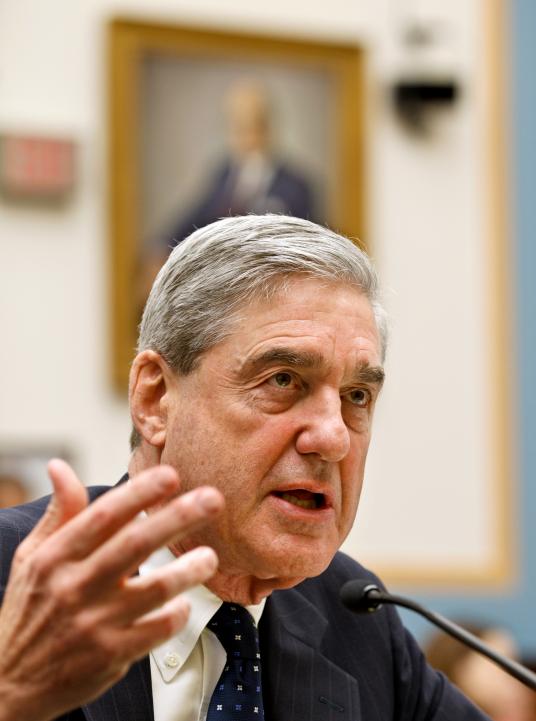 Robert S. Mueller
The Federal Bureau of Investigation (FBI) have been exposed as corrupt liars again, as they have violated the Freedom of Information Act in denying the existence of a government file, regarding the FBI's investigation into Saudi hacking and copyright infringement. However, journalist Jo Franklin has copies of portions of the file in her possession, proving the FBI has lied.
The Freedom of Information Act request was sent to FBI Director Robert S. Mueller three times in three months and he has broken the law in denying the existence thereof. Then again, he is the man CBS News revealed committed perjury in lying under oath in Congress (CBS News Confirms That FBI Director Lied To Congress About Carrier IQ Spying). One should not expect "fidelity, bravery and integrity" from such a disgraceful liar and criminal.
Once again, the FBI has violated the Freedom of Information Act, violating the law and their congressional mandate. The U.S. Congress has failed in this regard, as they appointed the FBI the sole agency to investigate copyright infringement cases, but for the right amount of money, they criminally won't in conduct that is despicable and an illegal redistribution of wealth, in aiding and abetting high profile criminals, in covering up their crimes.
It is the same thing the FBI did regarding my case, due to a large bribe I have on good authority from one of my impeccable proven sources, FBI Director Robert S. Mueller accepted. He is a modern day Judas, who will do anything for money, while betraying innocent victims of crime.
STORY SOURCE
FBI Refuses To Turn Over File of Saudi Hacking Investigation Says File 'doesn't exist'
EINPresswire.com/ September 19, 2012 -- In defiance of the Freedom Of Information Act, the Federal Bureau of Investigation has refused to turn over the file of a six month investigation of Saudi hacking and illegal film distribution in the US. The FBI claiming the file "doesn't exist" says it thus cannot comply with the Freedom of Information Act. The request was sent directly to FBI Director Robert Mueller more than three months ago and resent twice.
In fact, a large portion of the file, correspondence with three different FBI Agents working on the investigation, is currently held by journalist Jo Franklin. "It is astonishing they claim they can't comply with the Freedom of Information Act saying it doesn't exist. I have a large portion of it. One has to wonder what they are trying to conceal in the rest of it," noted Ms. Franklin. The Freedom of Information Act mandates the Justice Department release the file within 21 days.
The investigation was originally requested by the National Security Division of the Justice Department stemming from a Complaint filed by filmmaker and author Jo Franklin. The Complaint cited Saudi hacking and destruction of her film website, email hacking, and illegal mass duplication and distribution of her award-winning PBS series "Saudi Arabia."
"The Saudis were blatant about their years of illegal film distribution. It originated under Amb. Bandar Bin Sultan who was well advised this was illegal but remained confident that no one in the US legal system would do anything about it. His Deputy, Rihab Massoud stated candidly 'We gave that out to everyone." I first notified the FBI of this in 2009. They said they would open a case. Then weeks later said they would do nothing but could give no reason," stated Ms.
Franklin.
Copyright infringement, film piracy, is a serious problem for the film industry which loses millions of dollars annually to theft. The FBI is assigned oversight of law enforcement of this. Saudi Arabia has a well known history of copyright infringement.
The second Complaint was filed in January 2012 when it became evident the Saudis had expanded their illegal actions to now include hacking and an attempt to destroy a new film they didn't like. SeaCastle Films took the issue to Federal Court and won release of the film which was lauded in reviews by noted historians, Pulitzer Prize winners, and moderate Islamic scholars. Nevertheless, the Saudis continued to destroy the film's website and intercept email. Upon being advised the FBI had opened an investigation, the Saudis remained confident the Administration would do nothing to them. "We put in a call to the Administration to kill the investigation," stated Saudi Embassy personnel.
"Everything about this is deeply disturbing. I have substantial material from the file that supposedly doesn't exist. By law, I am entitled to the rest of it. The longer they refuse to turn it over, the more concerned I am about what is in it," stated Ms. Franklin.
RELATED ARTICLES
Why Does Congress Repeatedly Allow The FBI To Stonewall The Legislature
Is The FBI Living Up To Its Congressional Mandate In The Area Of Copyrights And Their Enforcement