Ashton Kutcher Not Serious About Marriage To Demi Moore
October 4. 2010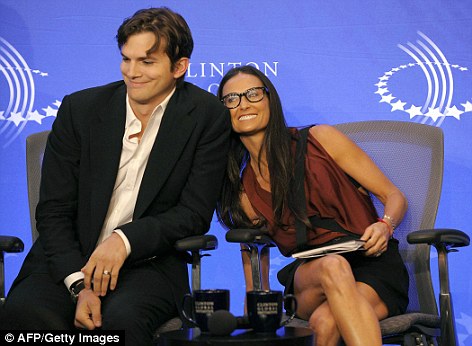 Ashton Kutcher and Demi Moore faking it for the cameras
Actor and I use the world loosely, Ashton Kutcher, 33, is not serious about his marriage to actress, Demi Moore, 47, as he has repeatedly cheated on her, with affairs beginning to surface in Star magazine. Thus far, only two women have come forward, challenging their 5-year marriage. More revelations have been promised.
Kutcher is said to want children and Kabbalah crazy, Moore, who has been married three times, is out of her childbearing years, having given birth to her brood almost two decades ago. Moore has a motherly quality that appealed to Kutcher for a time, but being the superficial Hollywood actor he is, that has faded and he is paying more attention to women in his own age group, much to Moore's disappointment.
Marriage is a serious commitment that a childish adult like Kutcher was not ready for. He was asked to play step-father to kids ten years younger than himself, which was too challenging for him. He was even photographed getting too intimate with one of Moore's teenage daughters, leading people to speculate. He's playing a very dangerous game.
RELATED ARTICLE
Demi Moore Is So Desperate To Keep Younger Ashton Kutcher She Tolerates Cheating