Attorney General Eric Holder Told To Resign In Condemnatory Speech Aimed At His Corruption
June 15. 2012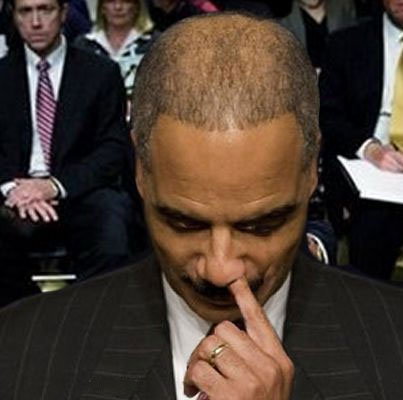 Eric Holder
U.S. Senator John Cornyn sensationally called for the resignation of Attorney General Eric Holder by stating, "It is more with sorrow than regret and anger that I would say that you leave me no alternative, than to join those who call upon you to resign your office.
Americans deserve an attorney general who will be honest with them. They deserve an attorney general who will uphold the basic standards of political independence and accountability. You have proven time and time again, sadly, that youíre unwilling to do so. Iím afraid we have come to an impasseÖ you have violated the public trust, in my view.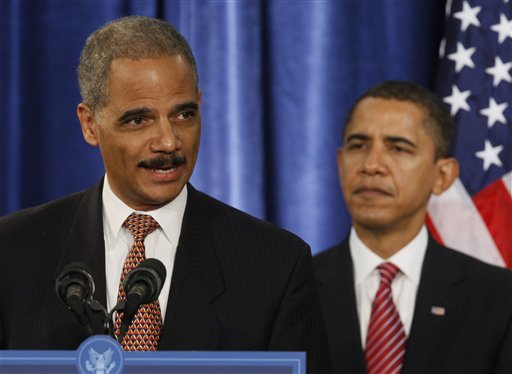 Eric Holder and Barack Obama
Holder responded, "With all due respect, there is so much factually wrong with the premises you started your statement with. I donít have any intention of resigning. I heard the White House press officer say yesterday that the president has absolute confidence in me. I donít have any reason to believe that in fact is not the case."
It is very alarming that President Obama continues to express confidence in a murderer, who illegally trafficked guns into Mexico from the Justice Department (DOJ), leading to the deaths of two U.S. Border Patrol agents and hundreds of Mexican civilians. Ethically and politically, this is a very bad move for Obama that will cost him votes.
STORY SOURCE
John Cornyn calls on Eric Holder to resign
RELATED ARTICLES
More Evidence Surfaces Implicating Obama's Attorney General Eric Holder In Serious Crime
New Book On The Fast And Furious Scandal Implicates Eric Holder And The FBI In A Cover Up That Killed U.S. Agents
120 Congresspeople Call For The Resignation Of Obama's Attorney General Eric Holder
President Obama's Attorney General Eric Holder Connected To Banks Responsible For The Mortgage Crisis
Eric Holder A Massive Liability To Obama In The 2012 Election
Obama Being Accused Of Using Attorney General Eric Holder To Rig The 2012 Presidential Election
91 Members Of Congress Demand The Resignation Of Obama's Attorney General Eric Holder
73 Members Of Congress Sign A Vote Of No Confidence Against Obama's Attorney General Eric Holder Due To 'Fast And Furious' Deaths
Obama's Attorney General Eric Holder In More Trouble As It Is Revealed He Put Cash In The Hands Of The Drug Cartels In Mexico
Obama's Attorney General Eric Holder Retracts Denials He Made And Sent To Congress And Launches Another Cover Up Of The ĎFast And Furiousí Deaths
President Obama Criticized For His "Complete Confidence" In Scandal Plagued Attorney General Eric Holder
Obama's FBI And DOJ Used Taxpayer Money To Arm Mexican Drug Cartels