Basketball Wives Star Evelyn Lozada Slammed By Chad OchoCinco Johnson As A Cheater But After What I Saw Today...
March 26. 2013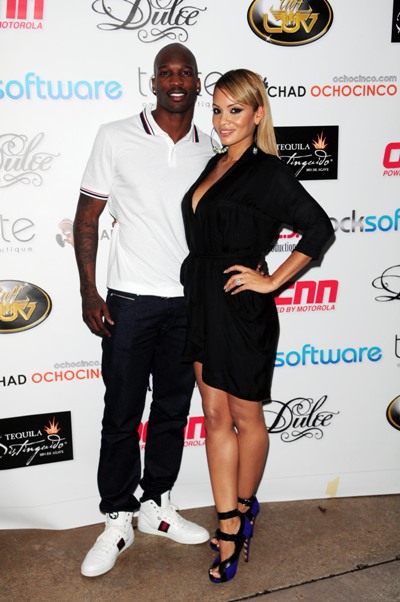 Chad " Ochocinco" Johnson and Evelyn Lozada
A few days ago, former NFL football player, Chad Ochocinco Johnson and his ex-wife "Basketball Wives" star, Evelyn Lozada, got into a Twitter fight. The two divorced against Johnson's wishes, after he headbutted Lozada when she questioned him about cheating on her.
This week, Johnson accused Lozada of having cheated during their marriage with members of Young Money. Lozada signed a deal with Young Money's book publishing company and Johnson alleges she had sex with someone in their camp. Lozada became angry at his allegations and threatened if he continued, she will send her lawyer after him, stating his conduct violates the restraining order in place from the domestic violence incident.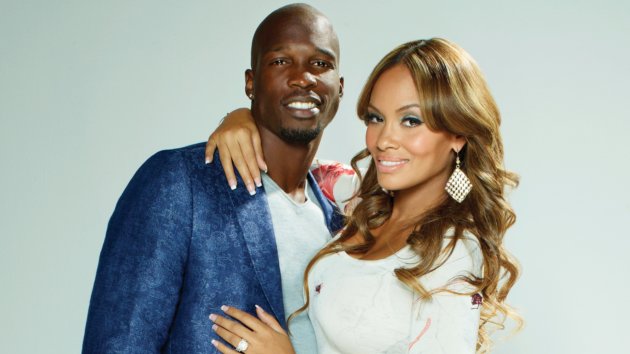 Chad "Ochocinco" Johnson and Evelyn Lozada
Tonight I went for a walk on Miami Beach (sometimes I walk on the sidewalk, other times the sand over by the ocean). As I was walking down Collins Avenue, I passed by David's Cafe and there was Johnson inside having dinner. He had his hands on a woman standing beside his stool. She was Hispanic, had long jet black hair and wore a tight black dress and heels that were giving her trouble to walk in. As she was ready to leave, he hugged her intimately (translation: copped a few feels) and kissed her full on the mouth like you would a girlfriend.
Seconds after she left, another woman came up to him grinning and started intimately hugging him (translation: copping a few more feels). The second woman was black with curly brown hair. This all happened in the minute and a half I stopped outside the restaurant in disbelief, as he was so open with it (dude works fast - it was like a rotation in there).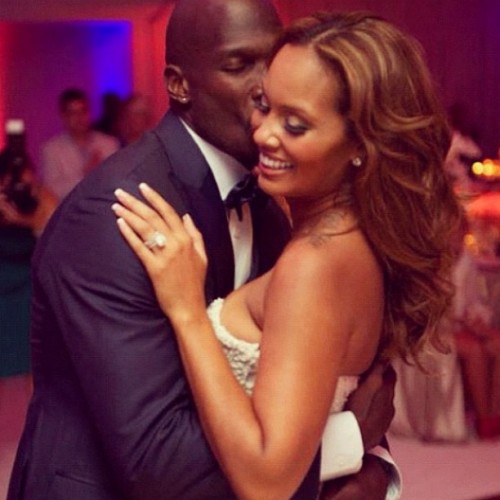 Chad " Ochocinco" Johnson and Evelyn Lozada at their wedding
My point? For him to accuse Lozada of being promiscuous is odd when he is so touchy feely with women, sleeps with strippers and random groupies. Yes, Lozada is known in sports for being a groupie who damaged relationships, engagements and marriages, but Johnson is wild as well. They both need to reevaluate where they are going with their lives, as promiscuity has burned them, much like it's done to many others.
Lozada was wrong to tell Johnson he could cheat as long as he informed her of his actions. She did this in a bid to look cool and down while she was trying to get him to commit to her, only to explode in anger when she found a receipt for condoms, which ended his marriage and career. You can't tell a man it's okay to cheat. That's begging for trouble. If you want God to bless your marriage, don't do that. Physically and spiritually adultery destroys marriages and the family unit, bringing God's disfavor on the union.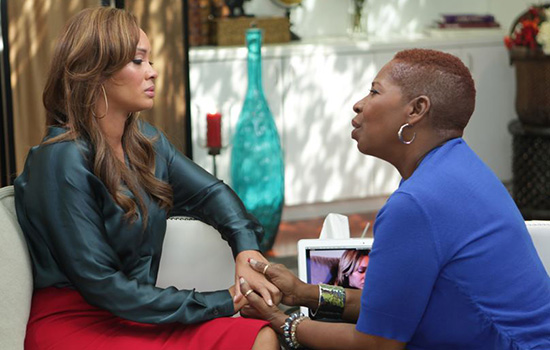 Evelyn Lozada crying over Johnson on Iyanla Vanzant's talk show
Johnson and I have a mutual friend in Miami. She said the women in Overtown (Miami) are upset with him for marrying Lozada, when many of them wanted to wed him. She said the women in his hometown deemed Lozada an opportunist, who would use him for his wealth and bring problems into his life. Now they are all saying they were right. They knew him before he was famous and were glad for him when he made it out of the projects, but as stated above didn't agree with him marrying Lozada.
At the end of the day, I do believe she cared for him deeply and that Johnson loved Lozada the most of the women in his life (whom he is not related to). They made a nice couple, but set themselves up for a fall via cheating, anger, lack of impulse control and a failure to communicate. These other people, folks using them for sex, did not belong in their relationship. It's a shame things ended the way they did, as their marriage could have worked if they had done the right thing by each other and not let promiscuous women come between them. They are going to regret it for a long time.
RELATED ARTICLES
Chad Ochocinco Johnson Goes To The FBI Over Leaked Sex Tape While Evelyn Lozada Claims Betrayal
Is Evelyn Lozada Winning The PR War Regarding The Chad Ochcocinco Johnson Domestic Violence Scandal