Charlie Sheen Loses Custody Of His Kids
March 2. 2011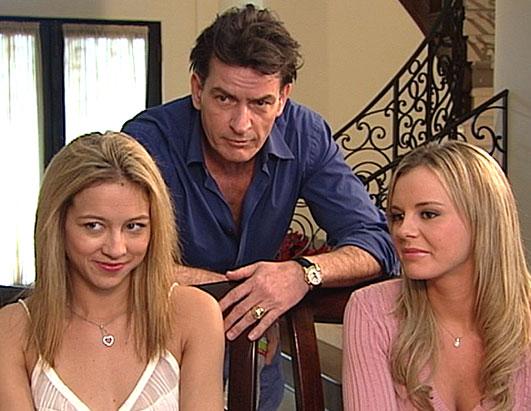 Charlie Sheen on TV with his live in girlfriends
Hollywood actor, Charlie Sheen, who is in the middle of a mental and marriage crisis, has lost custody of his children, to his most recent ex-wife, Brooke Mueller. Mueller alleges Sheen threatened her by stating he will, "Cut off (her) head, put it in a box and send it to (her) mom."
Mueller filed for a restraining order and was granted full custody. However, here's the problem, both Mueller and Sheen are rampant cocaine users. In fact, they did cocaine just last week. The children should not be in their care, as they both have serious issues that create a dangerous environment for the twins, Bob and Max Sheen. Until the former duo becomes sober and sane, someone like Sheen's dad should have custody.
In other news, Sheen is thinking about launching his own cologne. I'm sure he will call it "winning" as that seems to be his favorite word of late, but ironically something he is not doing. He has lost custody of his children and his show. If he is not careful, he will lose his life as well to erratic behavior, mental illness and drug use.
STORY SOURCE
RELATED ARTICLE
Charlie Sheen Interviews Betraying His Mental Illness As Drug Test Comes Back Clean