Cladding Blamed As The Culprit That Accelerated A Fire In Dubai Highrise Tower
August 7. 2017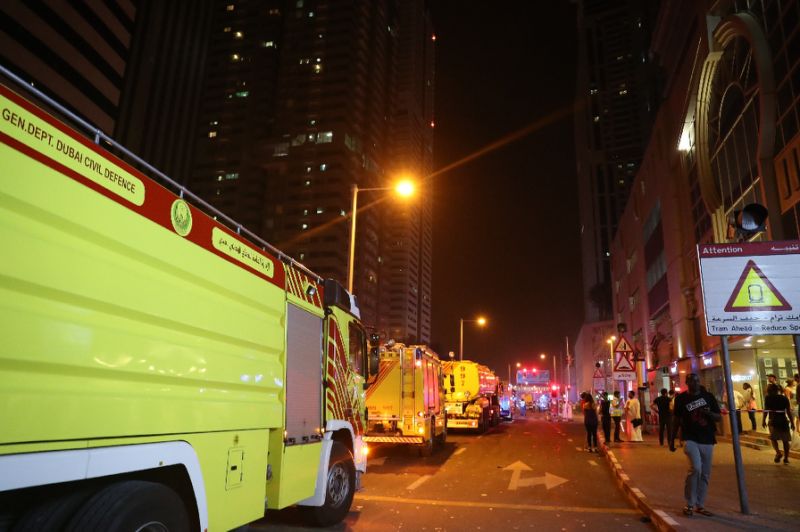 Firefighters in Dubai respond to emergency at highrise
The decorative plastic material placed on the outside of buildings to give them a more modern and attractive appearance, known as cladding, is being labeled the culprit in another highrise fire in Dubai, Arab Emirates. Fire tore through the 78-story The Torch tower last week. There were no fatalities. The Torch tower was also the scene of a massive 2015 fire that sparked the evacuations of surrounding buildings.
Last week, fire also broke out across the street from The Torch building at the Tiger Tower. Authorities described it as a minor blaze on a balcony that was quickly extinguished. There were no injuries in the fire. The building sustained minor damage from the incident.
In 2015, there was a fire at the luxury 63-story The Address Downtown Dubai building. 14 people were injured in the blaze that also began on a balcony. The cladding also acted as an accelerant in the incident. In the devastating Grenfell blaze in London, England in June 2017, which left at least 80 people dead in the predominantly Muslim occupied building, cladding was also blamed as an accelerant that caused the building to become engulfed in flames in a relatively short period of time.
It is becoming abundantly clear cladding should be banned. Cladding is attractive to look at, but at what human cost. A decorative architectural effect is not worth human lives or that of pets. There are other attractive solutions that can be utilized to give buildings a timeless look that will last. Forego the cladding
STORY SOURCE
Fire erupts in Dubai residential highrise
August 6, 2017 - Dubai (AFP) - A fire erupted in a residential highrise in Dubai Sunday, authorities said, days after a blaze tore through a tower across the street. Dubai Civil Defence said Sunday it had put out the "minor fire" that broke out on a balcony in the 78-storey Tiger Tower, which opened to residents in 2010. No injuries were reported.
The building is across the street from The Torch, an 87-storey residential tower which was engulfed by a fire in early hours of Friday, with no reports of injuries. The Torch was also the scene of a 2015 fire that triggered a mass evacuation of surrounding buildings. In January, Dubai announced tougher rules to minimise fire risks after a series of tower blazes in the emirate mostly due to flammable material used in cladding, a covering or coating used on the side of the buildings...
RELATED ARTICLES
Authorities Reveal Grenfell Tower Fire Sparked In Fridge And Complete Death Toll May Not Be Ascertained Due To The Intensity Of The Blaze
Deadly Fire In London Grenfell Tower Building Proves Tenants Previous Claims Of Negligence Correct