Computer Technician Secretly Spied On Customers In Their Homes While They Were Naked
June 9. 2011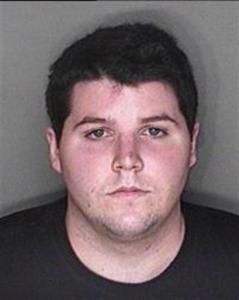 Trevor Harwell
Computer technician, Trevor Harwell, has been arrested in Los Angeles, for spying on people in their homes. When customers would go to his repair company Rezitech for repairs to their computers, he would secretly install spyware that allowed him to later remotely access their laptops and PCs.
He would then secretly activate the webcams, using it to watch people, mostly women, in various states of undress and engaging in sexual activity in their homes, in deeds that are criminal violations of domestic and international law.
Harwell also installed malware that would create a fake pop up telling computer owners to take their laptops into the bathroom when they showered, as the steam would reportedly clean the sensors. It was all a lie to perversely watch women naked in the shower.
The criminal scam was uncovered when a woman took her computer to an Apple store and one of the company's technicians found the illegal software Harwell surreptitiously installed and instructed her to call the police.
Authorities opened an investigation into Harwell and later arrested him. He has been released on $50,000 bail pending trial. Police also seized from Harwell's computers "hundreds of thousands of still images and videos" he secretly took of his victims in their home, stashed on his computer. We are living in a sick world.
STORY SOURCE
Police: Computer tech installed peeping software
FULLERTON, Calif.—A Southern California computer repairman suspected of installing spyware on laptops that enabled him to snap and download photographs of women showering and undressing in their homes was arrested Wednesday at his home, police said.
Police began investigating when a Fullerton resident complained about suspicious messages appearing on his daughter's computer last year. Trevor Harwell installed software that took control of computer webcams on his clients' Mac laptops, Fullerton police Sgt. Andrew Goodrich said. He was released later Wednesday after posting $50,000 bond, Goodrich said.
The software sent fake error messages telling users to "fix their internal sensor soon," and "try putting your laptop near hot steam for several minutes to clean the sensor," Goodrich said. The error message prompted some victims to take their laptops into the bathroom with them when they showered, he said.
"Once he had access, he would take photographs of the users, usually women," Goodrich said. "Often, the female victims were undressed or changing clothes. Harwell then stored the photos on a remote server, and eventually downloaded them on his own computer."...
RELATED ARTICLES
Leading Rental Company Facing Lawsuit For Spying On People In Their Homes Through Their Laptops
Truth Comes Out In School Webcam Spying Case
The FBI Corruptly Granted "Sovereign Immunity" In The Aisha v. FBI Case