Dwayne 'The Rock' Johnson Whines Over Bad Reviews Of Terrible 'Baywatch' Movie
May 30. 2017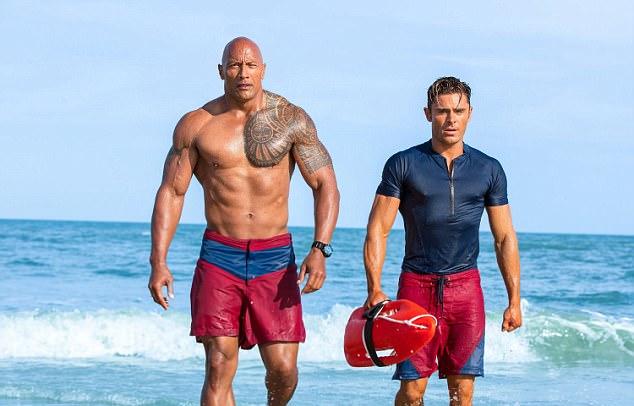 "Baywatch" reboot starring The Rock and Zac Efron
On May 25, 2017, Dwayne 'The Rock' Johnson, took to the social networking website Twitter, to complain about critics savaging his substandard movie "Baywatch" which is a reboot of the popular 1989 television show. The Rock stated on Twitter, "Oh boy, critics had their venom and knives ready. Fans LOVE the movie. Huge positive scores. Big disconnect w/ critics & people. #Baywatch." However, Johnson is incorrect. Ticket sales for "Baywatch" are poor, indicating fans do not love it.
I remember the "Baywatch" television show from when I was a kid and it was a wildly popular program in many countries. I saw it a few times then. However, approximately a year and a half ago I watched a few episodes of the original show again. The original "Baywatch" was entertaining and normal, not weird, crazy and viciously violent like the current reboot.

The Rock tweeted on Twitter about "Baywatch" before it flopped
Previews I saw of the "Baywatch" reboot gives the appearance it was written by a sadistic crazy person who has trouble thinking straight. Completely crazy, scatterbrained and corny, which is typical behavior in that circle The Rock is a part of in Hollywood. The preview showed a severed, bloody hand and The Rock insanely telling co-star Efron to pick it up for good luck.
The original "Baywatch" wasn't sick and mentally ill like the reboot. That is not good filmmaking. It's mentally disturbed garbage made by untalented people who have no business making films. As a consequence, the studio took a bath on the big budget flop. They have ruined what could have been a good, entertaining reboot.
STORY SOURCE
'Oh boy, critics had their venom and knives ready': Dwayne Johnson hits back as Baywatch is subject to bad reviews... after being branded a 'flop' following its cinema release
Published: 07:08 EDT, 30 May 2017 | Updated: 07:19 EDT, 30 May 2017 - He stars as Mitch Buchannon - the character David Hasselhoff first made famous - in the movie Baywatch. And despite having a ball filming the remake alongside stars including Zac Efron and Kelly Rohrbach, Dwayne Johnson has been forced to hit back at those criticising their new release.
The actor, 45, took to Twitter to hit back at the harsh comments that have surfaced about the movie, insisting he has had nothing but a positive response from fans. Since then, the reviews have come flooding in for the movie based on the iconic TV series that starred Pamela Anderson and Hasselhoff back in the 90s. After hearing that the Baywatch movie had been panned as a flop, Dwayne - also known as The Rock - made sure to dispute the claims on social media...
RELATED ARTICLE
Hollywood Out Of 80s Movies And Shows To Reboot And Is Facing Massive Losses On A Number Of Films