.
Erin Andrews In Congress
July 27. 2010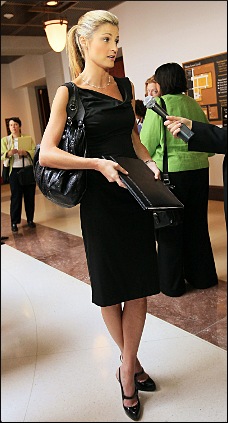 Erin Andrews
ESPN sportscaster and stalking victim, Erin Andrews, made an appearance today in the US Congress, to lobby for tougher penalties against criminals that stalk and harass people. Andrews was viciously violated when stalker, Michael Barrett, followed her from state to state, whilst she covered sporting events for the famous channel. Barrett rented hotel rooms next to hers, hacked off the peephole of her suites, videotaped her nude, getting dressed and uploaded the illegally filmed footage to the internet.
As the Judiciary Report has stated for years, the penalties for such crimes are too lenient, emboldening and enabling stalkers to continue to wreak havoc on innocent people. Stalking victims are often assaulted or murdered by their predators, who have lost all sense of reasoning and human decency, as no normal or moral person would do such a thing.
However, at the end of the day, Congress, which frequents this website according to site stats, does not care. The Judiciary Report warned for years that very mentally disturbed people in Hollywood, have been abusing video and computer technology, to literally spy on unwitting people in their homes, whilst they are in different states of undress and the legislature did nothing to stop it.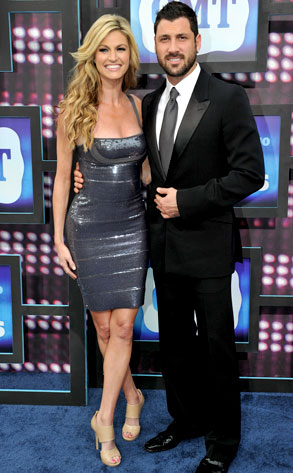 Erin Andrews and Maksim Chmerkovskiy
It wasn't until a group of perverts on a school board, in the Blake Robbins case, decided to install spyware on school issued laptops, without notice and watch kids in different states of undress in their homes, taking 56,000 illegal images, did the Congress decide to propose the Surreptitious Surveillance Act. And even that has not been made law.
If Congress actually strengthened stalking laws and enforced them, they'd have to lock half of Hollywood up, who routinely commissions acts of stalking, spying, abuse and assault, for their own perverted kicks, as seen in the Anthony Pellicano case (while others like Gavin DeBecker, carry on the despicable tradition). These cases often become federal, as civil rights laws are violated and stalkers cross state lines, whilst engaging in the offending criminal conduct. However, the FBI doesn't enforce anti-stalking and illegal spying laws on the books, due to outright corruption. The Judiciary Report commends Andrews' effort, but for the average person in America, nothing will be done, as the government is steeped in corruption, wanton negligence and apathy.
RELATED ARTICLES
Truth Comes Out In School Webcam Spying Case
Hollywood Wiretap And Harassment Trial Reveals Pattern Of Abusing Innocent People
STORY SOURCE