FBI Anthrax Case Deteriorates Even More
Hair Samples Don't Match FBI Suspect
August 14. 2008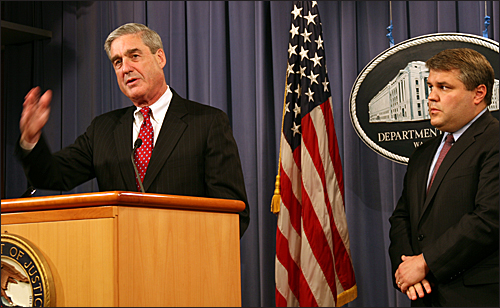 Robert Mueller (left). Am I the only one laughing at his assistant's expression. He looks like he doesn't even believe him.
Today, the Washington Post has revealed the hair samples found at the site of the Anthrax letter mailings, do not match that of FBI accused suspect, Dr. Bruce Ivins, who killed himself two weeks ago, when they were about to indicted him before a grand jury. This does not look good for the FBI's so-called closed case that needs to be reopened.
The FBI also claimed they invented a new form of science to crack the case, but scientists are not convinced. I don't blame them. The FBI are not scientists. Robert Mueller and a chemistry set do not a scientist make.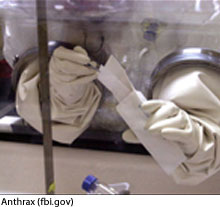 To make such a drastic claim that professionals in the scientific community have not had the opportunity to test and verify is really reaching.
Yesterday the FBI's timetable was off - today the hair samples don't match.
Considering the inconsistencies in this case, it needs to be reopened. Because on its current course, the Ivins family could sue the FBI.
Hair Samples in Anthrax Case Don't Match
Strands From Mailbox in Princeton Are Not From Ivins, Investigators Say
Federal investigators probing the deadly 2001 anthrax attacks recovered samples of human hair from a mailbox in Princeton, N.J., but the strands did not match the lead suspect in the case, according to sources briefed on the probe.