Note: there was an error on the site yesterday, in the "FBI Director Mueller Slammed In Scotland" article that should have read, "

Why was the Iraq war, that was concocted by Bush and Cheney on deliberately flawed intelligence, fought for oil and not for freedom." The line was mysteriously changed (hacked and removed).

FBI Director Mueller Slammed In Scotland

August 25. 2009

Video: Scottish Government Defends Bomber's Release - The Associated Press

FBI Director Robert S. Mueller is being slammed by the Scottish government for a caustic letter he wrote, condemning them for releasing, Lockerbie bomber,

Abdelbaset Ali al-Megrahi, who is dying of terminal cancer

. I certainly do not believe he should have been freed, but rather forced to live out his years in prison for crimes against humanity. However, Robert Mueller is in no position to criticize anyone with his track record.

Mueller, as head of the FBI, inexplicably has murderers running loose and for several years looked the other way to the criminal misconduct of men like Bernard Madoff and R. Allen Stanford. It was revealed, he knew for years they were breaking the law and did absolutely nothing to stop them, which would have saved investors billions.

Not to mention, he was at the helm of the FBI when 9/11 happened, which the Bureau could have prevented had HQ not stonewalled its own agents for corrupt purposes. Thousands died, which is way more than the fatalities in the Lockerbie bombing. How do you explain terrorists having a lower body count than you, Mr. Mueller.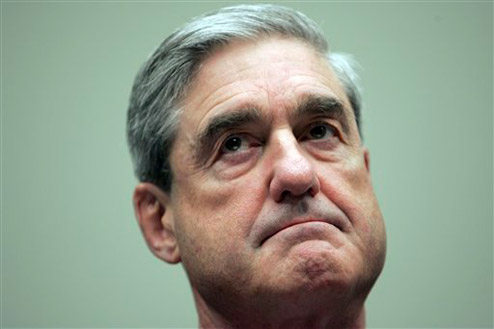 Robert Mueller
Your negligence is downright bloodcurdling, as terrorists are boldly proclaiming they shall launch new attacks and I don't doubt they will try. However, knowing you are in charge of national security should alarm anyone, after what you let happen the first time, on September 11th. Washington, D.C., New York, New York and Los Angeles, California, among other cities, are prime targets for terrorists with no mercy, yet the FBI is still in a terrible state of disarray thanks to you.
I am of the belief, you could care less about criminals being freed, as you've illustrated with your negligent conduct in numerous cases, including the aforementioned. What you dislike is the fact a case you worked on as prosecutor, has been undone, via freeing a terrorist after 8-years of what should have been a life sentence.
Side Bar: Mr. Mueller, what about the Bush family's special relationship with the Bin Ladens, prior to Osama flipping his lid. Why was his family allowed safe passage out of America during Bush's term, right after 9/11 happened. Why was the CIA in bed with Bin Laden prior to the bombings. Why was the Iraq war, that was concocted by Bush and Cheney on deliberately flawed intelligence, fought for oil and not for freedom. If you are going to throw stones, Mr. Mueller, make sure you don't live in a glass house.
FBI chief's attack 'out of order'
Mr Mueller suggested that Megrahi's release showed support for terrorists. Former Scottish First Minister Henry McLeish has described comments by the FBI chief on the Lockerbie bomber's release as "totally out of order". Scottish Justice Secretary Kenny MacAskill freed terminally ill Abdelbaset Ali al-Megrahi on compassionate grounds on Thursday.
FBI director Robert Mueller said the decision gave "comfort to terrorists". Mr McLeish said it was an unfair slur on the Scots justice system. A former lord advocate said it was "appalling". Megrahi, who has always claimed his innocence, served seven years, five months and four days of his life sentence for the bombing of the Pan Am jet over Lockerbie in 1988, in which 270 people died....
"Your action gives comfort to terrorists around the world who now believe that regardless of the quality of the investigation, the conviction by jury after the defendant is given all due process, and sentence appropriate to the crime, the terrorist will be freed by one man's exercise of 'compassion'.
"Your action rewards a terrorist even though he never admitted to his role in this act of mass murder and even though neither he nor the government of Libya ever disclosed the names and roles of others who were responsible."...