Florida Foreclosure Law Firms Under Investigation
August 24. 2010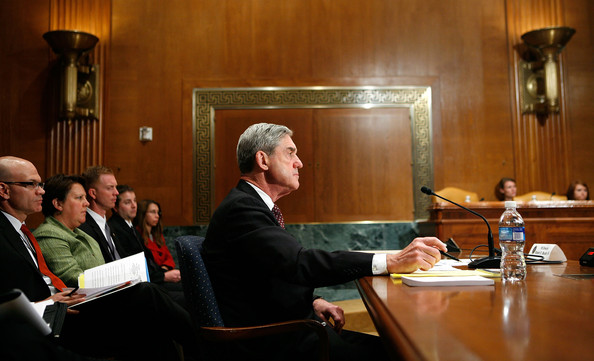 Robert S. Mueller in Congress being bashed, as usual, yet his criminal behavior never improves
As mentioned in the Aisha v. FBI lawsuit, in paragraph 28, I have been targeted three times by the same law firm, Marshall C. Watson, who brought three fraudulent foreclosures against me, in a bid to rob and terrorize me in conjunction with Madonna. This criminal misconduct cost me $300,000 and property.
This month, the Florida Attorney General announced he has opened a criminal investigation into three local law firms, the first one being the Law Offices of Marshall C. Watson, for fraudulently placing people's homes into foreclosure and filing false papers with the court, to speed up illegal seizures of people's properties. It is what I have alleged about the law firm for years.
It has been apart of a wider criminal campaign, to criminally shake loose from my possession, my Copyrighted Catalog worth billions (read the lawsuit). The corrupt FBI were informed of the case in 2005, yet looked the other way, as they are led by a dirty, taxpayer money wasting, bribe taking, Nazi, named Robert S. Mueller, who is a known racist.
He has been sued a number of times for discrimination, harassment and criminal negligence. He operates the FBI with a terribly racist agenda, believing minorities are inferior and that it is appropriate and just, that white corporations criminally exploit our labor and possessions, as though we have no rights.
That Nazi scum almost cost me my life with this misconduct. Under Muller's crooked leadership at the FBI, the agency criminally violated their Congressional mandate, which amounts to obstruction of justice, racketeering, criminal violations of the Civil Rights Act, fraud, bribery, criminal mischief and aggravated harassment.
This misconduct almost cost me my life and as such, he has made the worst enemy he has ever had in his corrupt life. As such, I have made it a point to publish his criminal misdeeds at the FBI, not just in my case, but in many others, which became site exclusives that received millions of web hits worldwide.
And as Mr. Mueller arrogantly peered into my private life, in territory he had absolutely no business, criminally violating the U.S. Constitution, putting his crooked nose where it does not belong, I posted the fact he has cheated on his wife with two young women, while hypocritically sanctioning FBI employees for doing the same.
If he continues in the criminal misconduct, like a nosy housewife with nothing better to do (and Mueller does act like a girl), than peer in other people's personal lives, he shall wake up to find more of his personal and professional business on this website.
Side Bar: Mr. Mueller, did you know that passing on funds to your family members that came from less than honorable means, makes them guilty of receiving ill-gotten gains, which is a felony.