Jay Z And Madonna's Tidal Officially Branded A Bad Business Move And Flop By The Mainstream Press
May 5. 2015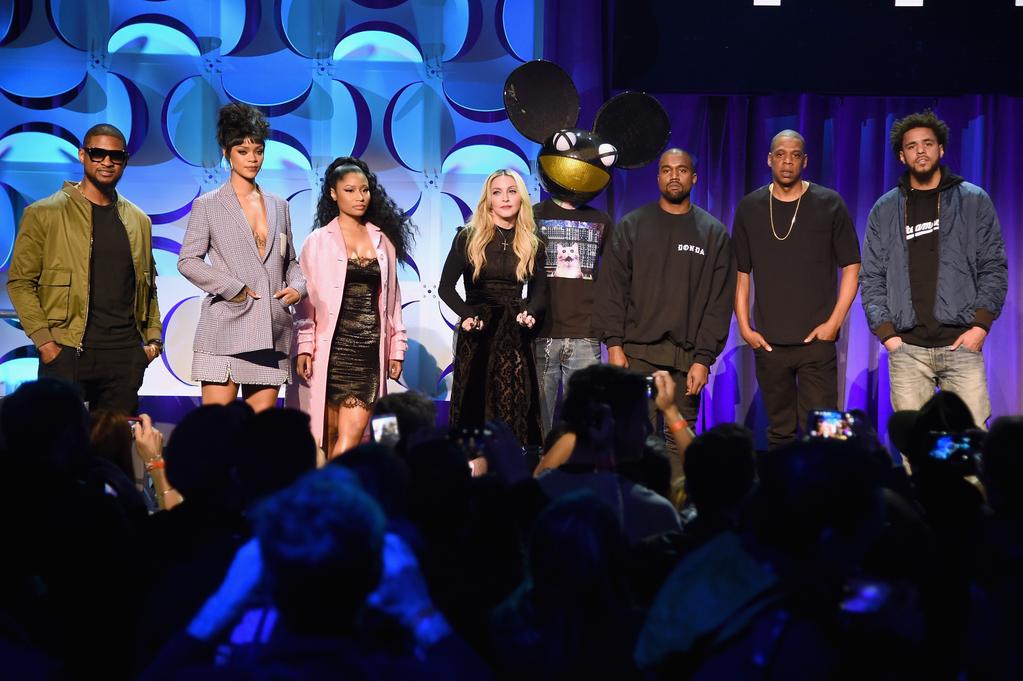 Usher, Rihanna, Nicki Minaj, Madonna, Deadmau5, Kanye West, Jay Z and J Cole (also known as Hollywood's self-professed "Illuminati")
Rapper Jay Z publicly complained over a "smear campaign" by Spotify and Apple's respective music streaming services against his upstart Tidal (which I call Tidy Bowl after the toilet cleaner). Many online have noted Tidal is a blatant, substandard rip off of Spotify. Therefore, why would Spotify like Jay Z and company for stealing their intellectual property and ripping off their business, in trying to take bread off their table.
Either Jay Z and Madonna are crazy or bonafide idiots or both. If you rip someone off, of course they're going to hand your butt to you. What dream world are you detached, delusional, greedy Tidal stars living in where people thank you for ripping them off and stealing from their business.
Many news outlets are stating Tidal is a massive failure and fiasco (see "story source" article below summarizing news reports on Tidal). Delusional Jay Z is insisting otherwise, conceding the business is not a hit, but allegedly has "67,000 subs." He must mean 67,000 sub sandwiches.
Jay Z, a man known in the industry for falsifying record sales and running a Soundscan sales scam he was caught red-handed perpetrating in violation of fraud laws, is clearly lying again. If 67,000 people had subscribed to Tidal at $9.99 to $19.99 each, the CEO wouldn't have run for the exit with many employees leaving with him nor would Jay Z have taken to Twitter posting prepared statements from his lawyer about the crumbling company. As your ridiculous lyric that has become a meme online states, "We don't believe you. You need more people."
STORY SOURCE
Jay-Z's Historical Tidal Disaster Continues: Taylor Swift, Rihanna, And Beyoncé Aren't Helping
Jay-Z apparently thought his new Tidal service would expand his career and make him not only a respectable musical talent, but a greatly-admired businessman. Needless to say, the service has become a historical disaster and one that many think could be one of the biggest business venture mistakes ever. The Daily Beast describes what many see as the reason for Tidal's epic failure.
"The idea behind Tidal is that these higher subscription fees will lead to greater royalties for the artists—so it's pretty hard to understand how this endeavor is 'for fans,' as Jay Z claims. Tidal's logic seems to be that fans' money will now go directly into the pockets of the artists, but if the monthly premium is more than competing music streaming sites like Spotify and Apple's Beats Music, how does this benefit the fans, and not just pad the pockets of these equity-blessed entrepreneurs?"
Mashable describes Jay-Z's Tidal as a "train wreck."
"Fast forward a month, and the app is a tanking embarrassment. According to App Annie rankings watched eagerly by developers, Tidal fell out of the top 500 most downloaded apps in the U.S. on April 18. Three days later, it had dropped to No. 870. A rumor began the next day that Beyonce and Jay Z would launch an album exclusively on the service; that only got Tidal back up to No. 664 in the charts."
Jay-Z is trying to calm down the horrible publicity Tidal has been receiving. According to Vibe, the megastar says Tidal is doing just fine.
"Taking to Twitter with #TidalFacts, a 'stream of consciousness,' Jay Z set out to clear the air about the Tidal wave. Assuring users that the service is 'doing just fine,' Hov shared that the service has over 700,000 subscribers, and that it aims to be around 'for the long haul,' by providing artists with higher royalty rates as well as other forms of entertainment for users. He also shared the company's equity value in an effort to dispel that he and his partners are out to make the rich, richer."
Jay-Z has not only put his reputation on the line, but has made such superstars as Taylor Swift, Rihanna, and his wife Beyoncé look bad. Certainly, one has to credit Jay-Z for trying to come up with a service that is beneficial to both the artists and music listeners, but the approach to Tidal appears to be have been flawed from the very start. Do you think Jay-Z can recover from the Tidal disaster? Let us know in the comments section.
RELATED ARTICLES
Jay Z And Madonna's Failing Tidal Music Service Is Hemorrhaging Money While Inadvertently Increasing Rival Spotify's Revenues
Snoop Dogg's Son Slams Jay Z, Beyonce, Rihanna And Madonna For Being Greedy And Not Caring About The Public