Judge William Turnoff - Defendant Given Stocks Aren't A Turnoff To Him
Judge William Turnoff was the magistrate judge on my case Aisha v. Madonna, which I wrote of in this site (click here) that Judge Cecila Altonaga corruptly presided over. He was her oversight.
I ended up having to request that she recuse herself from the case, as she had a severe financial conflict of interest she willfully did not disclose. Not to mention, from the outset was nasty, abusive, unjust and very adversarial towards me, for no reason, when I showed her the utmost respect. She did this because she was protecting the lawbreaking defendants who put food on her family's table.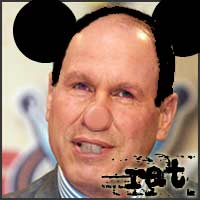 Michael Eisner
Turns out, magistrate Judge William Turnoff also had stock from one of the defendants in my case as well, Michael "Disney Shareholders Hate Me" Eisner, and did not disclose it either. This is in willful violation of the Judicial Cannons.
Another Florida litigant accused Judge William Turnoff of corruption in a lawsuit where he awarded against him, in favor of Michael "I'm Banished From Disney And Not Even Mickey Will Talk To Me" Eisner.
To read my lawsuit that I am referring to please visit www.aishamusic.com/lawsuit_main.htm