Lindsay Lohan Arrested
May 28. 2007
Lindsay: do I look wired, cause I totally am?! Do breathalyzers pick up crazy too?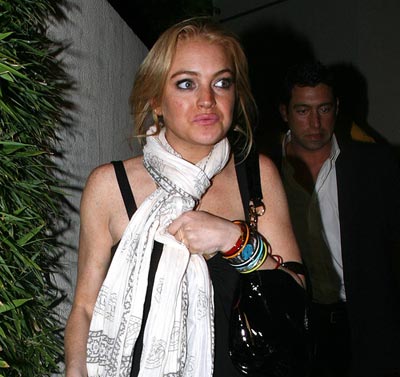 Looks like what I wrote on this web site a week ago on May 19, 2007 about Lindsay Lohan, turned out to be prophetic. She was arrested a week later. On May 19, 2007 I wrote regarding Lindsay:
"What goes around comes around. The D.A. may fail, but God never does. You and your friends Paris and Joe Francis can be cellmates." Judiciary Report May 19. 2007 click here
A week later, on May 26, 2007, Lindsay was arrested after she crashed her car into a tree at 5:30AM in the morning, on her way back home after a night of partying, then going back on the street again and having a fight with her lesbian girlfriend.
Ok, that wasn't normal. They are a sad lot. All present look inebriated, confused and crazy.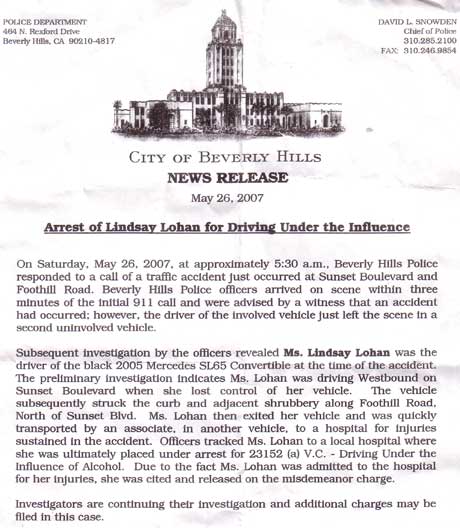 TMZ the spelling bee champs wrote "Cops fine coke in Lindsay's car." And I thought I had typos: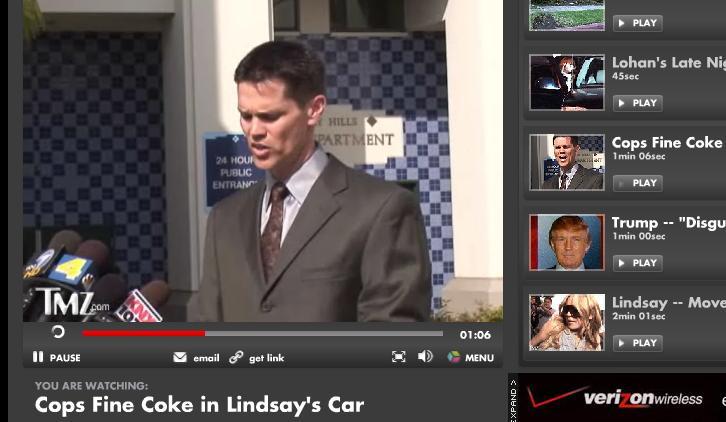 So, to recap:
DUI
Cocaine
Fleeing the scene of a crime (when she should have called the police or 911)
Offender is a minor (aged 20)
Damage to public property
People online on sites like Bossip are complaining that when black rapper Eve crashed her car in Hollywood, she was arrested and cuffed on the spot, having to spend the night in jail, unlike Lohan, who got caught on a DUI with cocaine, but was cited, arrested and then allowed to go free.
It does appear to be a double standard, but some explained it as, because she was at the hospital, injured, she was allowed to go free.
I understand why they did it, but it turns out, Lindsay really wasn't that injured, as she went out getting drunk and puking everywhere the next night.
I'm not making excuses for Eve cause she's black, as am I. Don't drunk drive anymore Eve or you're gonna end up seeing Adam on the other side far quicker than you anticipated. Not to mention, hitting the pearly gates on a DUI is not the way to go. Pardon the pun.
However, Lohan's case is worse, as a serious drug is involved as well. Cocaine is no joke. Cocaine seriously impairs a person sitting down at home, let alone driving.
I don't care what color you are, black, white or otherwise, getting caught drunk and with cocaine in your glove compartment, says you are a danger to innocent, law abiding drivers on the road and pedestrians.
Forget your image and your career - public safety comes before all that. You need to get off the road. Full stop.
This is your third incident. This is a chronic, pardon the pun, pattern of misconduct with you. What if a pedestrian had been on that curb where your car slammed into the tree.
For many months now, I have alleged in my Sound Off Column that Lohan is a drug addict - even though she kept denying it. Deny it now.
What was that cocaine doing in your glove compartment - research? No.
I also stated something else months ago in my Sound Off Column that her dad today expressed the same in a press interview:
"When Lindsay was in [the Los Angeles treatment clinic] Wonderland . . . give me a break. What kind of rehab facility lets people leave the grounds?"
When it happened a few months ago, I couldn't believe she was allowed to leave. I also said in my Sound Off Column that Lindsay needed to stop lying to herself and the rehab facility and tell them all her issues: alcohol, drugs and sick cult involvement (Kaballah).
People don't get better by lying to themselves or the people trying to help them.
Normally I don't blame the parents. There are decent people out there whose kids couldn't be further from them in conduct, via mischief and inappropriate behavior. Outside influences, such as bad friends, can sometimes wreak havoc.
However, Lindsay's mom is a grade A enabler. She is out partying with her too. She is out drinking with her too. She's out making excuses with her too. While Lindsay's substance abuse problem is not benefiting anyone.
If you had a child doing the stuff Lohan is, God forbid, would you really encourage what she is doing or make excuses for it. No, right.
Lindsay's mom amazingly doesn't see it that way. At least Britney's father said, hey, this isn't right. Even Lohan's own father is saying her conduct is not going to help her. Yet, her mom, is making excuses for it.
How can you, Mrs. Lohan, encourage this. You are a mother. You are in your 40's. It's time to be responsible. It's time to be a parent. You aren't her sister. You are her mother.
Lindsay who is at fault as well, has just about destroyed herself, on your watch.
Stop trying to relive your youth through your child.
Career Damaged
Lindsay's recent woes are not furthering her career either, as one site is stating people in Hollywood are saying she is now uninsurable for films.
Svedka Vodka also pulled out of sponsoring her 21st birthday party, due to the crash. This means she won't be paid for it.
Why were they sponsoring it in the first place. She is known for going around looking drunk. That's not responsible drinking.
Her image is going to take an even further hit. Certain other entities will not want to pay her for endorsements either.
More Lohan Lasciviousness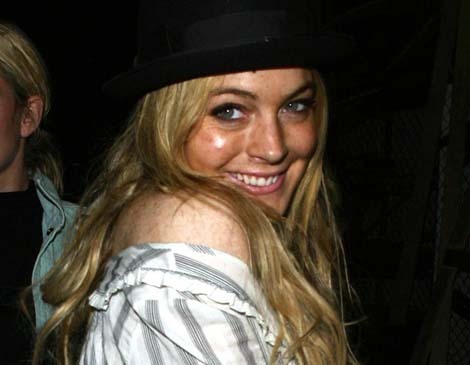 Three days before the crash, on March 23, 2007, Lindsay Lohan was tossed out of a hotel for indecent exposure and disruptive conduct:
Lindsay Lohan was allegedly thrown out of New York's Soho Grand hotel for arguing with Calum Best.
The 'Mean Girls' star, who recently returned from a romantic Bahamian holiday with the notorious lothario, threw a tantrum when Calum checked into the hotel with another woman.
The 20-year-old actress - who was treated for alcoholism in rehab earlier this year - then partied until 1.30am before collapsing in the hotel lobby.
A source said: "She was writhing on the floor and everyone could see that she wasn't wearing any panties. Her date and bodyguard looked horrified but they didn't do a thing to help her so the night manager carried her to her room."
Lindsay then allegedly kept phoning Calum's room and then went to bang on his door.
A source said: "He came to the door and opened it a bit, she peeked inside and saw the woman there. She went cuckoo. She yelled at him, slammed the door and banged on it some more."
The actress was reportedly escorted back to her room, but when her disruptive antics continued she was asked to leave the hotel at 5.30am. She checked out an hour later." - Ask Men
Not Understanding Their Fame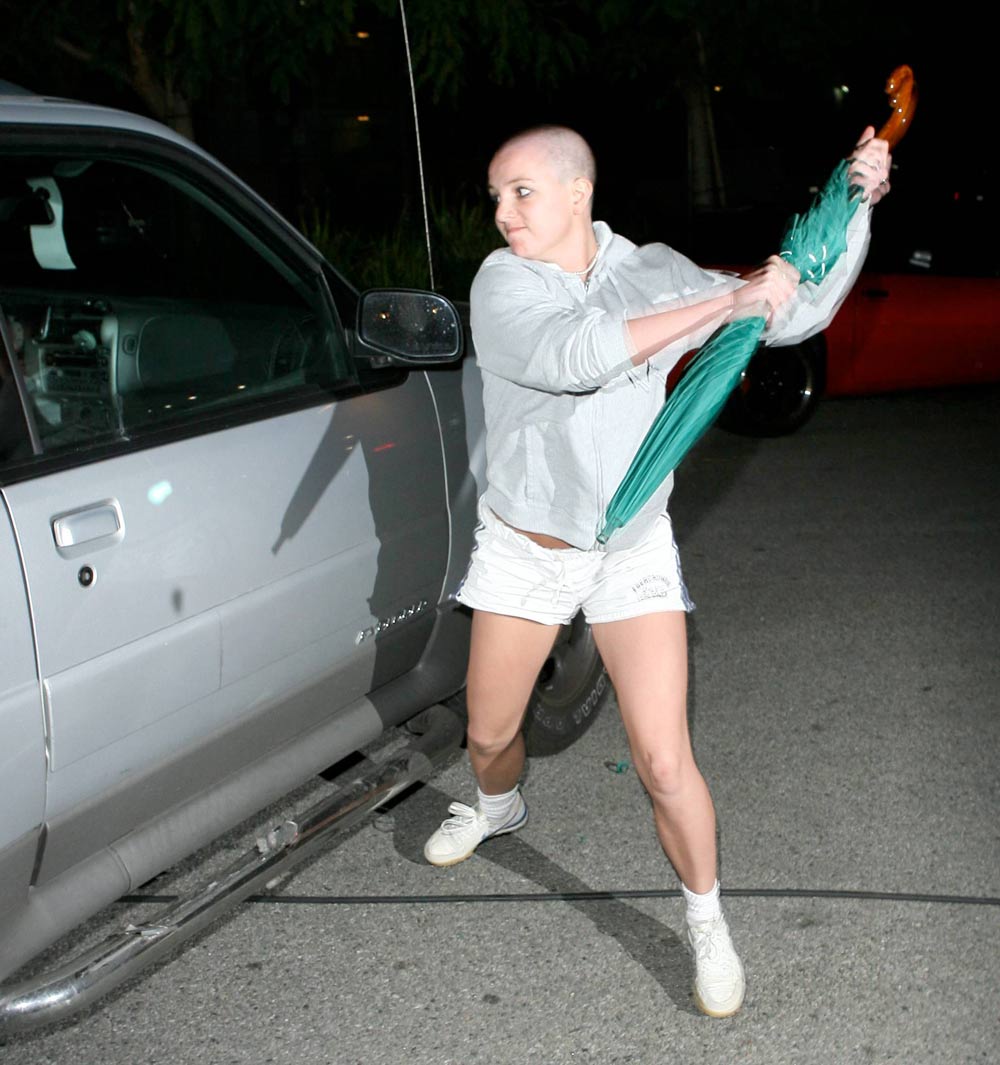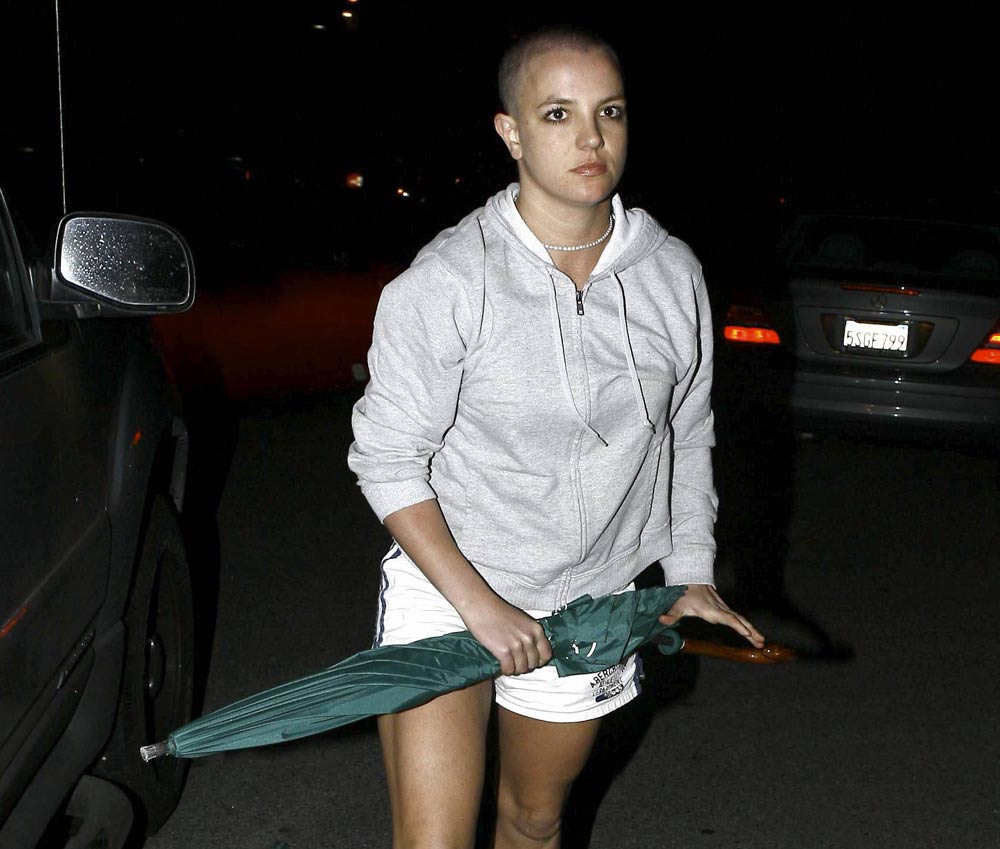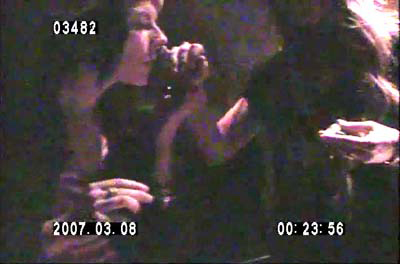 Celebrities like Britney Spears, Paris Hilton, Nicole Richie and Lindsay Lohan are not understanding their fame.
It's not the good kind of fame, where you are applauded and respected for your work and contributions to society.
It is the kind of fame where everyone is looking at you like a train wreck or freak show of sorts. Something to mock, deride and look down upon, while thinking, maybe we're normal after all.
Questioning your abilities, stating you have no talent and are famous for nothing. People aren't looking on in admiration. They are looking on with the attitude of let's-see-what-stupid-thing-they'll-do-next.
Old Hollywood, who aren't exactly saints either, are looking on at new Hollywood with very low expectations. As in how much lower can they go.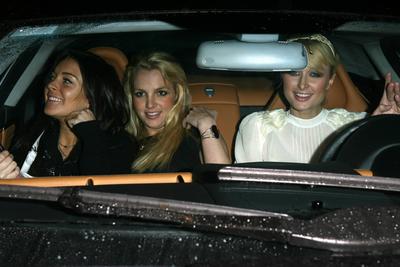 Speaking of that, how ironic is it that all four girls, Britney Spears, Paris Hilton, Nicole Richie and Lindsay Lohan, are in Madonna's Kaballah cult. They've all flipped out recently.
They all have drug and alcohol problems, driving incidents, public indecency and episodes of strange conduct that has left everyone repulsed and shocked.
Many who know them are voicing their dismay and shock as well.
Classic Cult Conduct
This is classic cult conduct. If you read papers by well known doctors and experts on cults, you will discover that Britney Spears, Paris Hilton, Nicole Richie and Lindsay Lohan's strange conduct fits the profile to a tee.
It's a fact that cults encourage drug use as it makes cult members malleable, indecency as a form of control via guilt and humiliation and bizarre conduct, to create isolation from friends and family. It makes the subjects easier to control and promotes isolation from rational friends and family, who would tell them their conduct is wrong.