Madonna Pimping The Kids
September 9. 2009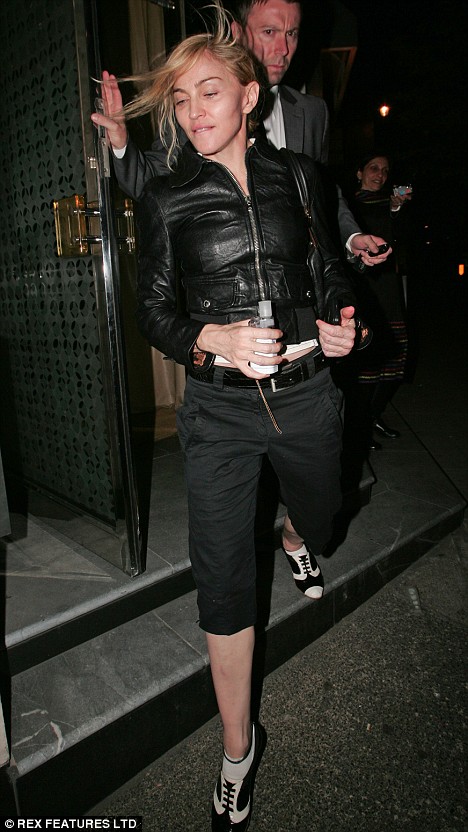 The world is tired of that face
Madonna was slammed recently for dressing up her preteen look-alike daughter, in the same trollop get-up and bimbo make-up she wore in her lewd 1980's "Like A Virgin" video.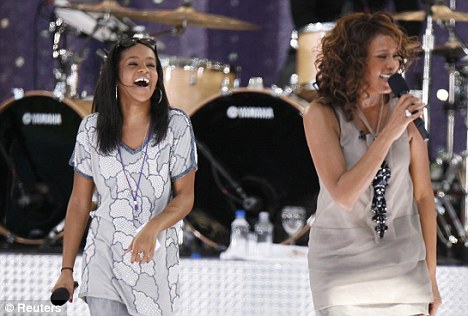 Whitney Houston and daughter Bobbi Kristina
Apparently, Madonna could not stand the fact singer Whitney Houston did a duet with her daughter last year and also sang with her on Good Morning America. Houston's daughter does actually have talent and can sing. Madonna's daughter is another story. Since Madonna's gene pool lacks talent, she did the only thing she knows how to do, dressed her 12-year-old daughter up in inappropriate attire, resembling a mini-prostitute and placed the preteen in her latest sexually charged music video.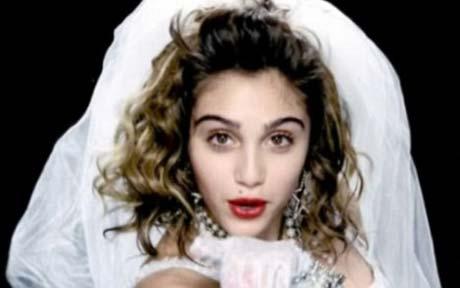 What kind of mother does something like that. She is setting that girl up for a massive fall, sending her down that path. Madonna tried to get her daughter a role in the most recent Harry Potter film, by putting out a deceitful item in the press, stating her daughter, who is not an actress, had been cast in the movie, which was a complete lie. The film was released this summer with no trace of her daughter.
The horrors those children must have seen via the sick Kabbalah cult Madonna has subjected them to, not to mention the acrimonious, debauched relationships with man after man, traipsing in and out of their mother's life and home, bought via their mother whoring herself out in explicit public acts over the years and stealing copyrights from everyone in sight. Yes, the music industry's answer to Madoff.
Madonna criticised for using daughter in racy video
PTI 4 September 2009, 02:10pm IST - LONDON: 'Queen of Pop' Madonna is no stranger to controversy, but the pop star's latest gimmick involving her 12-year-old daughter Lourdes has stirred a hornet's nest. The pre-teen is dolled up in full wedding garb with a veil, white lace gloves and a slash of scarlet lipstick in the 51-year-old pop star's latest video, emulating her mother's look in her controversial single 'Like A Virgin', reported Daily Mail online.

The fact that Madonna is seen making out with her 22-year-old boyfriend, Brazilian model Jesus Luz, in the same video has added to the furore. The popstar had earlier pulled her eldest child into the spotlight when she brought her on stage during the curtain call of her epic 12-month global tour 'Sticky and Sweet'. Lourdes who is affectionately called Lola, had raised eyebrows with her revealing outfit, the same as Madonna's troupe of dancers...

http://timesofindia.indiatimes.com
What is Madonna doing thrusting 12-year-old Lourdes into the limelight?

Thursday, 3 September 2009 - ...What is Madonna doing? The sight of her 12-year-old daughter dragged up in full bridal outfit and red lipstick in Madge's latest video – recreating the pose from her 1985 hit song "Like A Virgin" – had me shuddering at so many levels.
Never mind the hypocrisy of exploiting your daughter – Lourdes also joined her mother on stage, on the penultimate night of her Sticky & Sweet world tour in Israel – while demanding privacy for your family. Why is Madonna – the self-styled most original woman on the planet – so hell-bent on turning her daughter into a mini-me?...

...Lourdes is a pre-teen. Madonna was 25 when she made the video for "Like a Virgin". Which makes all that squelchy "touched for the very first time" imagery just a bit more palatable...But this video is a step too far. What worries me is the effect on little "Lola" herself. It's hard enough being the daughter of a very famous woman. Child stars rarely grow up sane. Even fame by proxy makes you unpopular with other kids, who can sniff out hype and inauthenticity...

And "Lola" actually has quite a few more problems than the average pre-teen. Her 51-year-old mother is dating a 22-year-old... And Lourdes, bless her, looks 12 going on 38. It's not her fault. When she's older, the mono-brow and bushy eyebrows will give her the dignified chic of Frida Kahlo. But she shouldn't be going round slathered in lipstick and fake beauty spots yet. Which makes you wonder: will Madonna ever be able to cede the spotlight in a natural, maternal way to her children?

I can see that the world's most famous single mother needs to make up for things a bit at the moment. She owes Lourdes. They've moved country – and schools – yet again. What 12-year-old wouldn't love to go on stage for a bit of stadium adulation? But it's not smart – and it's not caring...

http://www.independent.co.uk