Megan Fox Jealous Of Rosie Huntington-Whiteley
September 17. 2010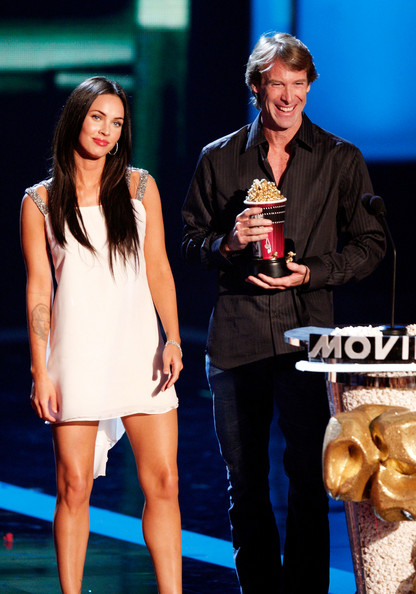 Megan Fox and Michael Bay
Several weeks ago, the Judiciary Report wrote that Megan Fox dislikes and is jealous of actress, Rosie Huntington-Whiteley, who has replaced her in the Transformers movie franchise (see: Megan Fox Doesn't Like Rosie Huntington-Whiteley and Transformers Has Moved On But Megan Fox Has Not). At first her rep denied the story that was first reported on this website. However, yesterday, Megan Fox admitted she is jealous of Huntington-Whiteley and slammed the actress stating she cannot play the role the way she did, proving the Judiciary Report right.
It was clearly a tough blow and one she has unwisely leaned on cocaine to not confront. It wasn't a good idea for Transformers' director, Michael Bay, to replace Fox midstream, but she clearly enraged him to precipitate such a move. Fox claims she left the franchise, but she was fired after fighting with Bay, as leaving would have meant breach of contract and a lawsuit filed against her.
STORY SOURCE
Megan Fox Says Seeing 'Transformers 3' Will Be 'Weird'
Sep 16 2010 6:45 PM EDT 4,354 - Megan Fox may have left the cast of "Transformers 3," but that doesn't mean she's completely snubbing the franchise. In fact, when MTV News caught up with the actress at the Toronto Film Festival, Fox insisted that she plans to check out the latest installment of the fantasy juggernaut.
"I will see it," Fox said while promoting "Passion Play" at the Toronto International Film Festival. "I'm gonna see it."
The actress did admit that watching the battle of the 'bots continue on without her will be fairly odd. "I might be a little jealous when I see somebody kissing my Shia [LaBeouf], wearing my jeans that I ... already had been fit for," Fox conceded. "It's kind of weird, actually."
Fox also observed that her replacement, onscreen newcomer and Victoria's Secret model Rosie Huntington-Whiteley, won't work the leading-lady role quite like her. "She's 6 feet tall also, so maybe they're not the exact same jeans," Fox quipped about the ad-campaign vet slated to play LaBeouf's love interest Carly. "But it will be strange."...