Michael Jackson Misses Court -
Nose Caving In
November 18. 2008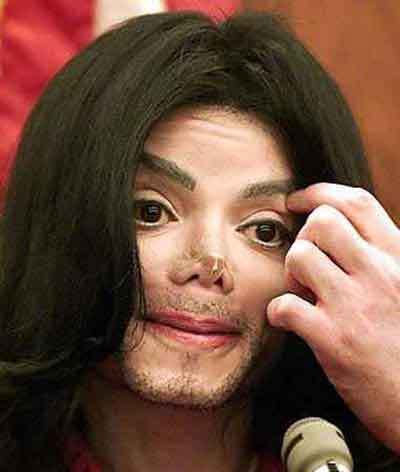 According to claims being made in the Michael Jackson gets sued by a Sheikh case, the pop star was not in court today due to his plastic surgery victimized nose caving in...again.
The Sheikh, tired of Jackson's sheep doo doo, suggested Michael put a band aid on it and get his sequined butt to court.
My coverage of that story was so poetic (okay, no it was not LOL).
Michael's Mystery Malady—Jacko Sicko of Court?
Michael Jackson is hoping a doctor's note can get him out of his latest lawsuit…
An attorney for the Bahrain royal, apparently in the loop on the nature of Jackson's illness, said "if the diagnosis is positive" on the test results, it could be taken care of easily and with little more than a bandage—fixes which, when previous appearances are taken into account, seem to hint at an ailment of the nasal variety.