More On The Chris Brown Assault On Rihanna
Rihanna Previously Attacked Her Brother, Smashing A Bottle In His Face
Rihanna Was Seeing Someone Behind Chris Brown's Back
Chris Brown And Rihanna Cancel Planned Appearances
February 10. 2009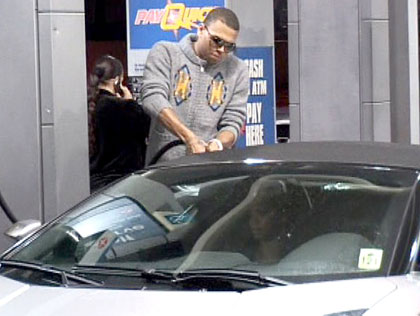 Chris Brown and Rihanna before the attack

Sony Music artist

Chris Brown has cancelled his appearance at the upcoming NBA All-Star Game and is not speaking to the press regarding his violent assault on girlfriend

Rihanna who is a member of the twisted

Kabbalah cult

.

She has cancelled her birthday party

that was to be held in New York

and upcoming concert dates as well. Brown has been dropped from two endorsements, Wrigley's gum and the Milk ads. Both companies denounced the violent incident as not in keeping with their standards of decency.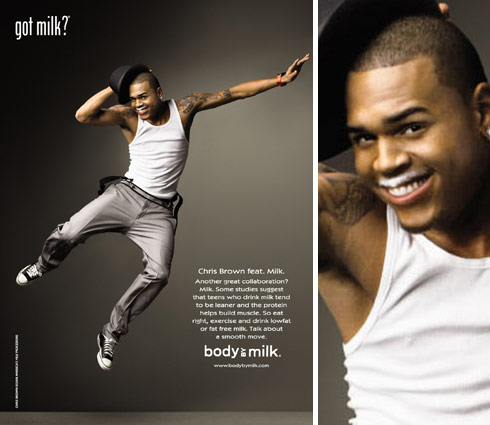 Chris Brown's milk ads
Rihanna upset and provoked Chris Brown in a terrible way on Sunday, which led to the vicious fight. She said something that had him seeing red. It does not excuse what he did, but being in
She's been very cruel to quite a few individuals, sleeping with other people's husbands and boyfriends, bragging about it in industry circles, ripping off people and believing the hype about her career, that is not going to last, as it is not based on substance.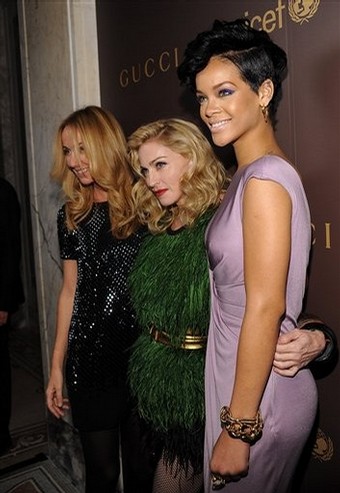 Madonna and Rihanna at a Kabbalah function in New York
She knowingly stole her image from FeFe Dobson and several of her rip off songs from my Copyrighted Catalog, she procured in a dirty deal with fellow Kabbalah member Madonna. She is a complete fake. She is what is known as a pretender to the throne.
However, she became quite arrogant and smug, reveling in various misdeeds, most would be ashamed of. She is an absolute disgrace.
She was even seeing someone behind Chris Brown's back. She brought out the worst in him.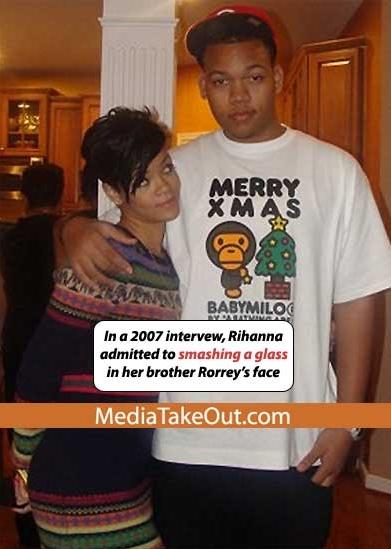 Rihanna and her brother
S
he also bragged about hitting her own brother in the face with a glass bottle, stating physical fights are quite normal for her. That is so evil and vicious. She is crazy, as I have been alleging all along. I have never even so much as raised my voice or hand to one of my siblings, so I don't understand that type of conduct.
Separately, a famous African actress alleged over a year ago that Chris Brown grabbed her by the arm very forcefully and tried to get her up to his hotel room against her will, with her manager having to intervene, to pry him off her. He was in Africa for a concert.
Injuries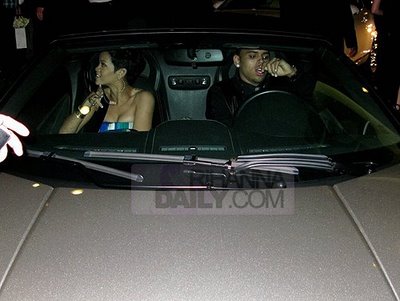 Chris Brown and Rihanna before the attack
A witness told Radar Magazine they heard Rihanna screaming in the hospital after the attack, suffering from several contusions, bite marks, a bloodied nose and split lip.
Chris Brown's attack on her is inexcusable and no woman deserves that, but at the same time, people need to use common sense when dealing with others. Why provoke someone that you know has a terrible temper as bad as your own. Why get in his face. Why say vicious things to him that you know will set him off. Why provoke him to greater anger.
Both their careers are ruined now, for fighting each other the way they did, like animals. He has more fans than she does and they are already turning on her online. They are angry and blaming her for this. On the flip side, women not his fans are angry at him for beating a woman. In short, they are both losing fans over this.
Not to mention, going Hannibal Lecter on each other at their ages, biting each other up like dogs, betrays their mindset. You two proved to the public what I alleged about you both weeks prior in that you are crazy and engaging in very unethical, unsavory conduct behind the scenes. It's sad it took something like this for people to see the truth.
Hollywood Stars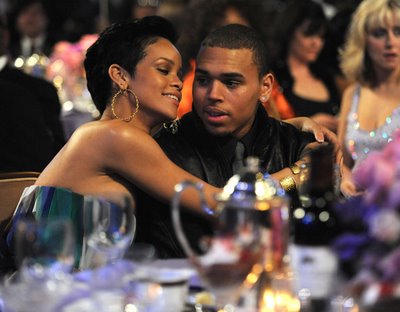 For quite a while, I have told readers of this site that the entertainment industry is not what it seems and some of your favorite artists are crazed individuals, engaging in very questionable conduct off camera.
I have no reason to lie to you. I don't enjoy writing about their improper conduct either, as much of it is quite sick, but having been a victim of their craziness, unprovoked, I got a bird's eye view of how many behave in Hollywood.
You need to stop idolizing Hollywood stars, as they are not better than you. As I've stated before, some of them are worse in conduct than the average person, believing they have some unwritten right to break the law and that they are also above it. They encourage each other in lawlessness and debauchery.
Chris Brown should be charged and sentenced to jail, but in Hollywood, the justice system often, not always, goes quite corrupt.
SHOCKING ADMISSION: RIHANNA ADMITS TO VIOLENT FIGHTS WITH BROTHER ... SMASHING HIM IN THE FACE WITH A GLASS!!!
COMPLEX:Did you see 300?
Rihanna:: 300 is one of the best movies I have ever seen. The choreography, the fighting, the costumes, the production—phenomenal. I make everybody watch it.
COMPLEX:So you didn't think it was too violent.
Rihanna::Oh, not at all. That was the good part. I'm the oldest child with two brothers. We talk all the time now, but we used to fight—and when I say "fight," I don't mean arguments, I mean physically fight.
COMPLEX: Who won?
Rihanna::I hit the older one in his face with a glass bottle.
COMPLEX: Whoa. Remind me not to pi*s you off.
Rihanna::Yeah, my mom was pretty upset.
MEDIATAKEOUT.COM EXPOSE: AN INSIDER'S VIEW ON CHRIS AND RIHANNA'S VOLATILE RELATIONSHIP … AND WHY THINGS WENT SO WRONG!!!!!!
But Rihanna's not the only one with anger management problems. As MediaTakeOut.com reported to you last year, Chris Brown isn't afraid to let his fists fly either. As the below photo's show, last year Chris Brown got into a brutal brawl at a German nightclub.
And there's more. MediaTakeOut.com reported to you in 2007 that a South African woman claimed that Chris Brown "manhandled her". Here's an excerpt of that report:
According to a number of witnesses who spoke with MediaTakeOut.com, Chris Brown ran into [South African] actress Khanyi Mbau at the launch of The Real Goboza - a South African weekly entertainment show. And it was during that meeting that all the drama ensued.
Khanyi claims that during a conversation with Chris, the R&B singer grabbed her by the arm in an aggressive manner and asked that she go with him to his hotel room. The South African actress explains, "I tried to pull away but his grip was just too tight."
That's when, according to the lovely actress, her manager came charging to the rescue. Mbau tells, "Malcolm [my manager] had to pull me away from Chris."...
Chris Brown Bounces NBA All-Star Appearance
Chris Brown will not be rising from the ashes in Phoenix this weekend. The R&B star, arrested last night for allegedly assaulting girlfriend Rihanna, has pulled out of his scheduled appearance Sunday at the 2009 NBA All-Star Game.
The 19-year-old had been tapped to introduce the players with Shaquille O'Neal before tip-off at Phoenix's US Airways Center. His "No Air" partner Jordin Sparks will be singing the national anthem.
"Chris Brown has withdrawn from NBA All-Star events," an NBA spokeswoman confirmed to E! News today.
Eyewitness At Hospital: "I Could Hear Rihanna Screaming"
…"Rihanna was clearly very upset by what had happened and I could hear her screaming. Rihanna was trying to get her point across about something, she sounded like she was crying as she tried to get to put her point across."
"Her staff was also very shaken by what had happened. Later on I saw one of the assistants crying into the shoulder of the security guard. I left at 4pm, happy to get out of the place, something terrible had clearly happened to Rihanna."…
Rihanna's New York City Birthday Party Canceled
Rihanna was planning on celebrating her 21st birthday on Feb. 20 with a big, splashy party in New York City.
However, I'm told her music label has, understandably, canceled the pricey soiree, which it had been putting together for about a month.
The bash for about 200 or so guests was to have had a carnival theme with various "sideshow" attractions, says a source familiar with the planning.
Although organizers were having difficulty securing sponsors for the party because of the economy, my source says Cîroc vodka had already or was about to sign on as the leading sponsor…
Brown's squeaky clean image falters
LOS ANGELES (AP) — At this point, Chris Brown would have been better off getting caught with a bong.
At least then, the scandal enveloping his white-hot career could have been dismissed by some as a youthful indiscretion.
But Brown's arrest in connection with an alleged assault of a woman has potentially devastating implications for the 19-year-old heartthrob because it unravels the charming, wholesome image that fans know and love.
"If it's true, his career is probably over," said Billboard magazine's editorial director, Bill Werde, although he cautioned that "it's important to withhold judgment until all of the facts are known."…