Movie Mogul To Charlie Sheen: Donít Be A Lindsay Lohan
February 26. 2011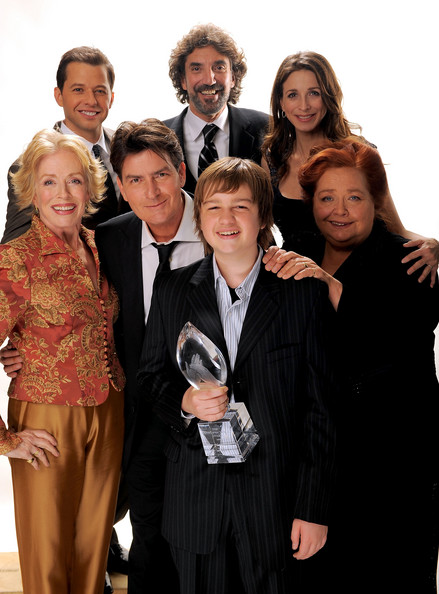 "Two And A Half Men" Cast
Morgan Creek productions CEO, James G. Robinson, has admonished actor Charlie Sheen, not to become another Lindsay Lohan, who has shown herself to be one of, if not the, most unreliable entertainers in Hollywood. Sheen gave volatile radio interviews this week, sounding like the movie character Gordon Gekko from his film "Wall Street." He's having a mental breakdown.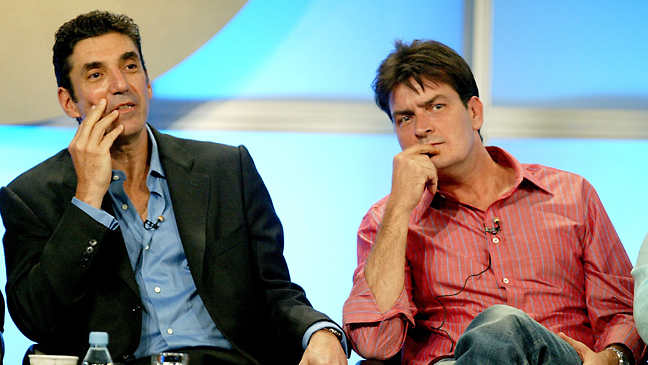 "Two And A Half Men" Producer Chuck Lorre And Actor Charlie Sheen
Morgan Creek's Robinson stated, "I'm not going to risk putting Charlie in the movie ("Major League 3") if he continues messing up. Obviously with Major League 3 there's a huge part written for Charlie's character ... but after dealing with Lindsay Lohan on 'Georgia Rule,' I can speak for someone who has experienced the difficulties of working with an actor dealing with addiction. I won't go through that again. If Charlie doesn't straighten up ... I unfortunately can't put him in the movie. When Lindsay was doing 'Georgia Rule,' she would miss full days of work. When an actor doesn't show up for work, you can lose half-a-million dollars a day paying the 250 other people there for the shoot and the costs for the set."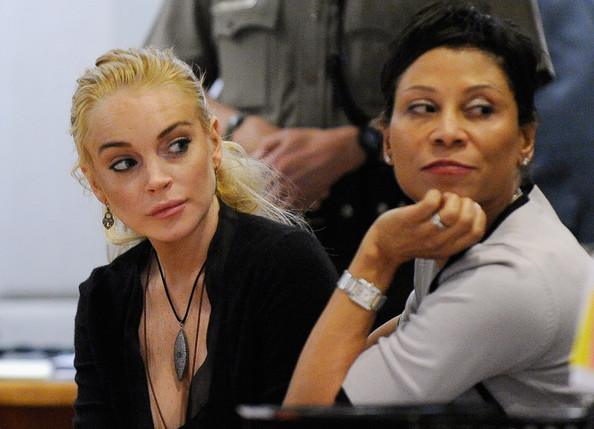 Lindsay Lohan Looking At The Prosecutors With Paranoid Expression, Whilst Seated Next To Her Lawyer Shawn Chapman Holley
Sheen's dad, actor Martin Sheen, has earnestly asked people to pray for his son, who is battling addiction, which has turned into mental illness, under the influence of a Hollywood guru/cult. Sheen's top sitcom "Two And A Half Men" has been shutdown indefinitely, due to his chronic outbursts and hospital stays for drug abuse.
That's $2,000,000 per episode gone for the man that has attracted a group of insincere, money loving girlfriends. Whether he knows it or not, Sheen is not in a good place right now and needs sincere help from somewhere reputable.
STORY SOURCE
"Two And A Half Men" Cancelled Indefinitely After Charlie Sheen Rant
Charlie Sheen Costing CBS Major Sitcom Bucks
Charlie Sheen Back In Rehab After Cocaine Bender
Charlie Sheen Sues Porn Star For Extortion
Porn Star Stripper To Sue Charlie Sheen
Lindsay Lohan Upset Charlie Sheen Is Treated Better