New Audio With Footage Released Of The Laquan McDonald Murder By Chicago Police Officer Jason Van Dyke Is Even More Infuriating (Video)
November 27. 2015
New footage has been released of the murder of 17-year-old Laquan McDonald by Chicago police officer Jason Van Dyke and it contains the sound that was scrubbed from the original video. Chicago Mayor and former Obama Administration alum, Rahm Emanuel, originally stated at a press conference that the dashcam video of McDonald's shooting has no sound. However, someone obtained a version of the dashcam video with sound and leaked it.
Original video of Laquan McDonald murder was released without sound:
The version of the video with audio is that much worse and more infuriating, as you hear bullets firing from Van Dyke's gun, the officer reloading and shooting again, in what was a preventable murder based in police brutality. The audio is jarring, as the shots just kept ringing out, one after another, leaving the underage teen dead in a pool of his own blood. The video reveals after the first two shots McDonald was incapacitated and on the ground. However, officer Van Dyke chose to fire 14 more bullets in an act of excessive force.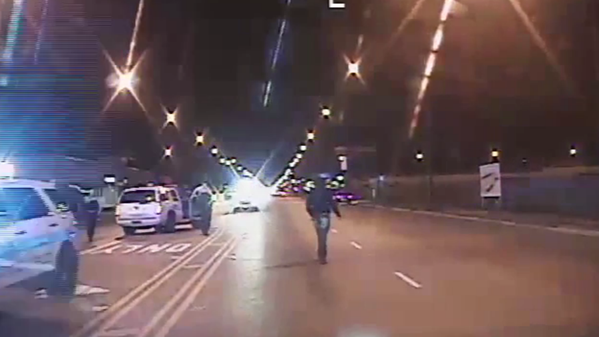 A still from the dashcam video of Laquan McDonald's shooting
Van Dyke, a known racist, showed no regard for the young black teen's life. Regardless of what racists think, everyone has rights. The court system is not set up to allow police officers to use excessive force in determining the death penalty on a public street. The misconduct McDonald is accused of, was a misdemeanor, not worthy of Van Dyke playing judge, jury and executioner ending the teen's life.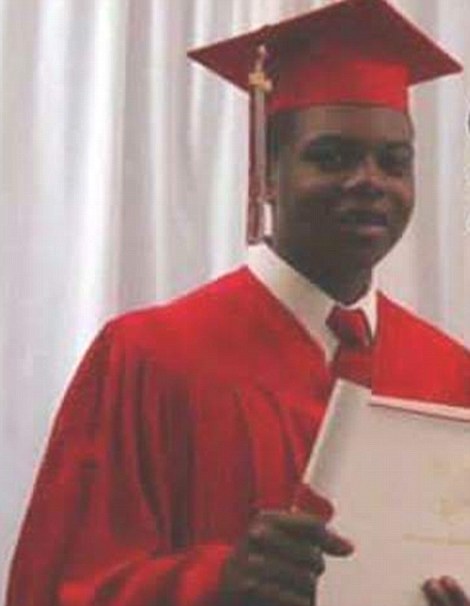 Laquan McDonald
The city of Chicago is under fire for covering up the crimes. For a year they did everything to suppress the case, refusing to release videos and files that illustrate McDonald was senselessly murdered in an act that was not self-defense. It took a court judge to order the city of Chicago's government to release the tape, as they kept resisting legal requests. In doing so, the government co-signed the crimes via the cover up that constitutes corruption. It's one thing when an employee does something crooked, but when it is brought to the government's attention, if they go along with it, that is corruption and a cover up, making them accomplices to crime. It is the equivalent of stating you agree with something evil that was perpetrated against someone.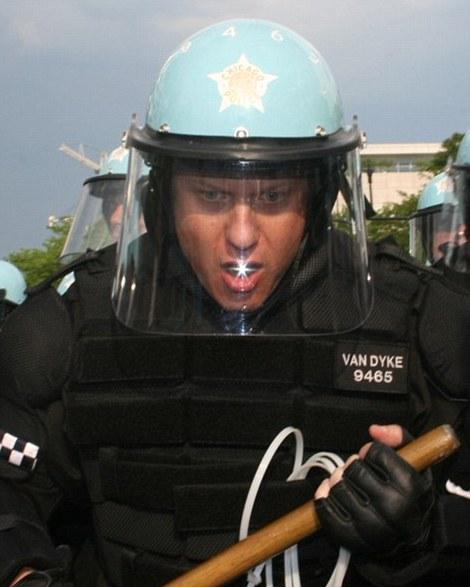 Police officer Jason Van Dyke
Previously, the Judiciary Report proposed legislative lines be drafted on a congressional level (federal) legally compelling police officers to exercise restraint in cases when confronting suspects, meaning shooting unarmed people to death who are trying to flee from you should never be an option (Congress Needs To Enact Legislative Guidelines Regarding Police Brutality).
RELATED ARTICLES
Michael Slager And The North Charleston Police Department In South Carolina Have A History Of Brutality Against Black Men Prior To The Illegal Killing Of Walter Scott
Footage Released Of Tennis Star James Blake Being Wrongly Tackled And Body Slammed By New York Police Before Being Arrested For Crime He Did Not Commit (Video)
Police Officer Who Shot And Killed 12-Year-Old Black Boy Was Initially Rejected From The Police Force As 'Mentally Unprepared' And 'Weepy' With Poor Shooting Performance (Video)
Top Forensic Pathologist Michael Baden States There Was No Evidence Of A Struggle Between Mike Brown And Police And He Should Not Have Been Shot So Many Times
New York Police Officers Put Pregnant Black Woman In A Chokehold And Called Her Husband A 'Nig*er' (Videos Of NYPD Attacks On Pregnant Women Of Color)
South Carolina Police Officer With History Of Abuse Chokes, Slams And Throws 16-Year-Old Black Girl Across Classroom Committing Assault On A Minor (Video)
CNN Reports The National Guard In Ferguson Threw Gasoline On The Fire Of Racial Tensions During Mike Brown Protests By Calling Black Protesters N*ggers
Darren Wilson Resigns From His Job As A Police Officer In Ferguson And Will Not Receive Severance Pay In The Killing Of Teen Mike Brown (Video)
Tennis Player James Blake Tackled, Slammed To The Ground And Arrested By New York Police Department In A Case Of Mistaken Identity (Video)
Shocking Video Released Of Police Officer Engaging In Excessive Force Against 14-Year-Old Black Girl In Texas Resulting In Suspension (Video)
Cop Tases Woman For Filming Him Engaging In Police Brutality, Calls Her A 'Dumb B***h' And Lies Stating She Tried To Run Him Over (Video)
South Carolina Police Officer Charged With Murder For Shooting A Fleeing Black Man In The Back 8 Times Then Framing Him For Theft
Riots Erupt In Baltimore Over Freddie Gray Killing By Cops Reiterating The Need For A Federal Law Regarding Police Brutality (Video)
Protests Erupt Over New York Grand Jury's Decision Not To Indict Police In The Choking Death Of Black Man Eric Garner (Video)
Brave Man Who Filmed Police Officer Michael Slager Framing And Murdering Walter Scott Speaks Up On What He Saw (Video)
Deputy Sheriff Charged With Manslaughter In The Shooting Death Of Black Man Who Was Already Handcuffed On The Ground
Man And His Wife Arrested In Separate Incidents After Filming The Killing Of Eric Garner By New York Police Officer (Video)
Protests Erupt As Police Officer Not Charged For Shooting Unarmed Mentally Ill Black Man 14 Times For Sleeping In A Park
DashCam Footage Released Of Walter Scott Fleeing In Fear From Murderous Police Officer Michael Slager (Video)
Michael Slager Indicted For Shooting Unarmed Black Man Walter Scott 8 Times In The Back As He Ran Away
South Carolina Cop Who Choked, Body Slammed And Threw 16-Year-Old School Girl Fired From His Job
Texas Police Officer Apologizes For Excessive Force Against 14-Year-Old Black Girl At Pool Party
Police Open Fire On Man And His Son In Louisiana Killing 6-Year-Old Disabled Boy
Eric Harris Is The Latest Unarmed Black Man Shot And Killed By Police (Video)
The Walter Scott Murder Is A Reminder Police Officers Need Body Cameras
Congress Needs To Enact Legislative Guidelines Regarding Police Brutality
Police Use Taser On Man 20 Times Killing Him In Act Of Excessive Force
6 Police Officers Charged With The Death Of Freddie Gray (Video)