Obama's Secret Service Involved In Another Tawdry Sex Scandal
More Agents Implicated In A Pattern Of Promiscuity
April 27. 2012
The U.S. Secret Service is in trouble again. After being the brunt of criticism over hiring prostitutes for drinking and sex parties in Cartagena, Colombia this month, during a state visit with President Obama, a new scandal has surfaced. This time it is regarding their trip to El Salvador, to protect President Obama.
It is being alleged, during President Obama's 2011 El Salvador trip, his Secret Service detail went to strip clubs and received sexual favors from strippers in the VIP section. A local that worked with the Secret Service during their trip, was led to believe they "did this all the time" based on what the agents told him. The owner of the strip clubs in El Salvador frequented by the Secret Service confirmed the story.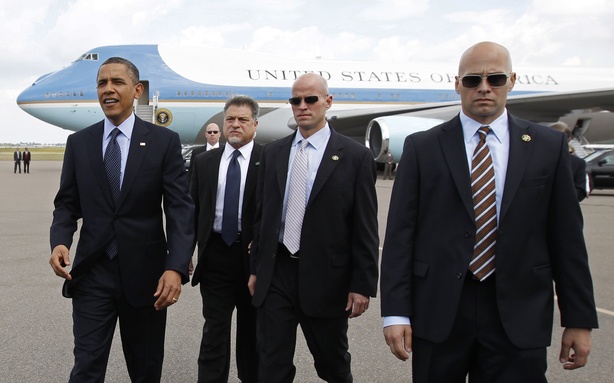 President Obama and members of his Secret Service detail
There seems to be a culture of hedonism at the Secret Service and it poses a problem in the area of protection (er, security protection, not sexual protection). Drug taking and wild sex with strippers and prostitutes will sap their strength, sobriety and alertness, which poses a danger to any president they protect. They must be at their physical best at all times whilst on the job or a head of state could die, which would be tragic.
STORY SOURCE
Report: Secret Service agents partied with strippers ahead of Obama El Salvador visit
April 26, 2012 7:33 AM Updated at 9:30 a.m. ET - (CBS News) As the fallout continues from revelations that Secret Service agents took prostitutes back to their hotel in Cartagena, Columbia, just days ahead of President Obama's recent trip there, it appears others may have done the same with strippers in El Salvador in 2011, CBS affiliate KIRO-TV in Seattle reports.
In El Salvador, KIRO-TV reporter Chris Halsne spoke to a U.S. government subcontractor who claims to have accompanied a group of Secret Service agents to a strip club shortly before Mr. Obama's 2011 trip to the country. The subcontractor, who is not named in the KIRO-TV report, claims members of the Secret Service advance team received "sexual favors" in a VIP section of the club. Additionally, the subcontractor said at least two of the agents took escorts back to their hotel. According to the subcontractor, an agent said they "did this all the time" and "not to worry about it."
RELATED ARTICLES
The Secret Service Prostitution Scandal Is Spreading Again With People Dragging Obama Into It
More Of President Obama's Secret Service Agents Fired Due To Prostitution Scandal
Secret Service Prostitution Scandal Expanding As More People Are Investigated
Obama's Secret Service In Prostitution Scandal During State Visit To Colombia