Report: Kabbalah Cult Under Grand Jury Investigation
March 28. 2011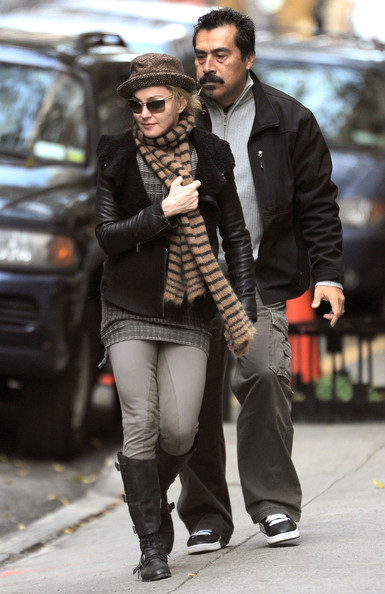 Mad-onna
According to Roger Friedman, a journalist on Madonna's payroll, her psychotic Kabbalah cult is under grand jury investigation in New York. Grand juries are used to render criminal indictments in the American justice system. According to Friedman, witnesses have been served subpoenas.
As reported last week, Madonna and Kabbalah, have misappropriated millions of dollars in funds donated to their mentally ill charities "Raising Malawi" and "Spirituality For Kids" which is a front to defraud the public for the aforementioned people's enrichment.
The family behind the cult with the pop singer, the Bergs, all live in luxury in multi-million dollar Beverly Hills mansions, as does Madonna, who draws a big monthly salary from Kabbalah, due to her career having dried up for the past several years. The woman has put out financial flop after flop taking on the charts, yet is buying $40,000,000 homes and expensive cars, all through criminal thievery.
No where in the world can one legally use tax exempt status to acquire financial donations and sell products, but pockets proceeds for one's self. It is completely criminal. However, Kabbalah Centers are a hotbed of crime, engaging in everything from financial fraud and human trafficking to hacking and illegal wiretapping.
Madonna and her cult have also been sued by people employed to work on their behalf, who have not been paid. Courtenay Geddes, who gave them $20,000,000 as a charitable donation, has also filed suit.
At the end of the day, Madonna could care less about Malawi and is using them as a cash cow to solicit money for herself and fellow cronies. She adopted two kids from the impoverished African nation, because it is trendy in Hollywood, kept her name in the papers and is a means to compete with publicity magnet, actress, Angelina Jolie.
Most Jewish people denounce Kabbalah as very mentally ill and a scam, proclaiming its adherents insane people. However, that didn't stop crazy Madonna from promoting this madness all over the world and dragging her kids and a number of Hollywood stars into the mix, such as Britney Spears, Lindsay Lohan, Chris Brown, Rihanna, Lady GaGa, Charlie Sheen and Steve-O, to name a few, who've all gone insane since joining Kabbalah.
However, don't hold your breath on serious criminal charges springing from the aforementioned case. Madonna is known in industry circles for issuing financial bribes to escape the consequences of her crimes.
After all, she's already bribed the FBI according to a very credible source who has never steered me wrong, as the site's track record attests. Madonna is after all the Satanic madwoman that flew into a rage (like Chris Brown) and beat up a preteen kid (Keith Sorrentino) on a New York street, in front of witnesses, then bribed her way out of criminal charges. It doesn't say much for the justice system, now does it.
RELATED ARTICLES
Madonna Fraudulent Charity For Africa Squanders Millions On Big Salaries & Luxury Items For Greedy Kabbalah Members
Chris Brown Showed Up In My Neighborhood