Rihanna Album Price Drastically Cut
November 23. 2009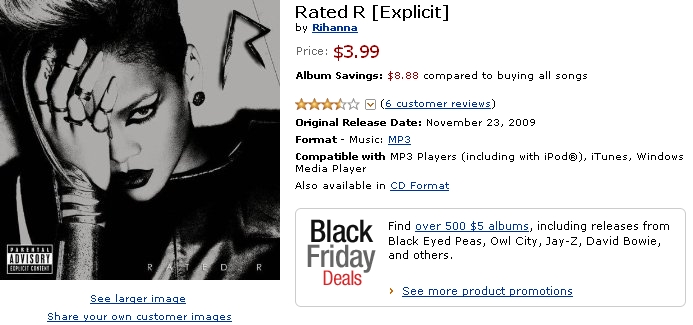 Rihanna's vile CD "Rated R" retailing for $3.99
Due to Susan Boyle's album being on course to sell 500,000 for the week and Lady Gaga leading on the iTunes chart, Rihanna's label has slashed the price of her rip off CD "Rated R." Clearly "R" stands for ridiculous, as the songs are full of violence, guns and profanity and as such has been stickered with an explicit warning. Not a good choice for a Cover Girl rep.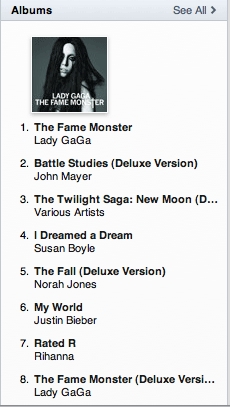 iTunes chart reveals Lady Gaga at #1 and Rihanna at #7
She has embraced a terrible darkness with this derivative project, she turned into garbage that is damaging her mind and emotions. She and Jay-Z are mixed up in Freemasonry and espousing the beliefs of the Illuminati movement and it is coming out in their music, videos and stage shows.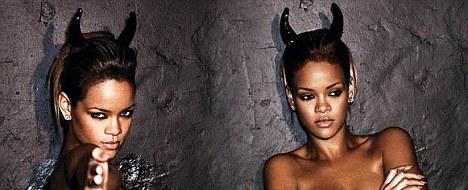 Rihanna wearing Devil horns
Do not follow them in this embrace of all things moody and dark, as it is depressing and will invite awful thoughts and feelings into your mind and life. Times are hard enough. People don't want this dark garbage dragging them down even more. People need hope and God. Not music about shooting and killing people (Rihanna's rip-offs "G4L" and "Russian Roulette").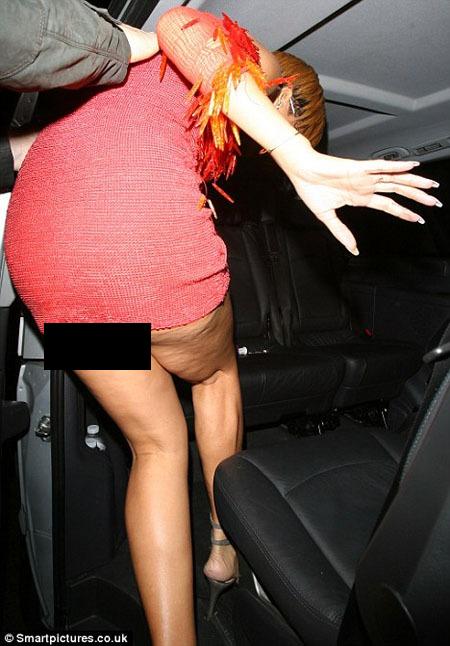 Rihanna continues to make a drunken spectacle of herself
STORY SOURCE
DREAM COMES TRUE
Susan Boyleís Columbia album, I Dreamed a Dream, which hit the streets today, is already selling two to three times the estimated pre-release total for retailers, on top of breaking the all-time pre-order record at Amazon.com. Based on current tallies, the disc will easily top 500k and could go even higher. (11/23p)
http://www.hitsdailydouble.com
G4L lyrics
I lick the gun when Iím done
Cause I know that revenge is sweet, so sweet
This is a gang.
Ladies bang, baby, bang.
Tell me what you need? OhhÖ
Any motherf***** wanna disrespect
Playiní with fire finna get you wet
How i'd feel down there on your knees?
Got these girls like a soilder, trippin, itís goin down, down, down
Iím ready to roll
Girl, Iím with you
If they get you to get me
Come on! Letís go!
B****, Iím with you
Whip your whip if you wit me
Chrous:
You know Iím down
Iím down for lifeÖloaded, reloaded
Letís go
Gangsta for lifeÖítil the day that I die
Yeah, I promise Iíll stand in high
Cause you know that Iím down, you know I'm down
Gangsta for lifeÖ
We driviní by with them headlights off
We know where you stay
Know what you did
We donít play that s***
N****, we donít play, noÖ
Everybody quiet when you did your dirt
Actiní like a B**** finna get you hurt
Break your life down to the knees, oh
I got these girls like a soilder, trippiní, itís going down, down, down
Iím ready to roll
Girl, Iím with you
If they get you to get me
Come on! Letís go!
B****, Iím with you
Whip your whip if you wit me
Chrous:
You know Iím down
Iím down for lifeÖloaded, reloaded
Letís go!
Gangsta for lifeÖítil the day that I die
Yeah, I promise Iíll stand in high
Cause you know that Iím down, you know I'm down
Gangsta for lifeÖ
Come on we ainít done yet
Got a lot to handle
We ainít take over the world yet
Boom!
We a army
Better yet a navy
Better yet crazy
Guns in the air
Guns in the air
Guns in the air
Canít hurt us again when you come around here
We got our guns, got our guns, got our guns, got our guns
We got our guns in the motherf****** air, ohh
Iím down for life
Gangsta for life
Iím down for life
Gangsta for life
Chorus:
You know Iím down
Iím down for lifeÖloaded, reloaded
Letís go!
Gangsta for lifeÖítil the day that I die
Yeah, I promise Iíll stand in high
Cause you know that Iím down, you know I'm down
Gangsta for lifeÖ
I lick the gun when Iím down
Cause I know that revenge is sweet