Rihanna And Chris Brown's Dueling Interviews
November 6. 2009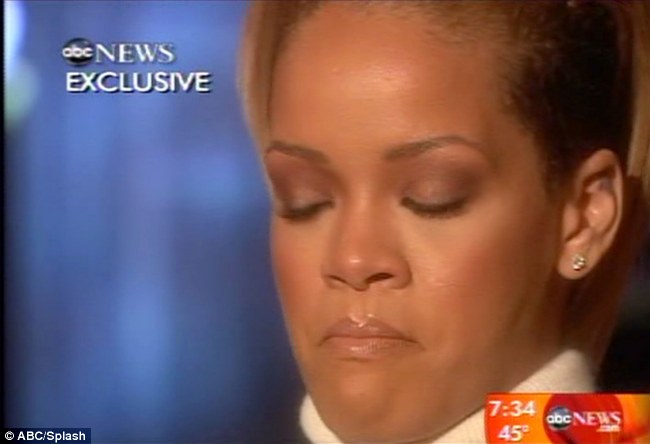 Iím so tired of Chris Brown and Rihanna, but as this is a website that covers current events and their conduct is of legal interest to me, I am obliged to report on the dysfunctional miscreants. Both singers gave interviews today, regarding the terrible physical fight they had in February 2009, which resulted in a court case and conviction against Brown.
Rihanna was caught in lies during an interview with Diane Sawyer on the television show 20/20. What she stated to Diane Sawyer during the interview that aired today, contradicted what she said to the police in February 2009, after the domestic violence incident, invalidating items that appear in the official report on the case.
Ten months ago, she told the police she started losing consciousness when Brown beat her repeatedly. Now, she tells Diane Sawyer she didn't start to lose consciousness. Ten months ago, she told the police Brown was becoming increasingly violent towards her, having thrown her against a wall during one fight and smashing the car windshield in another. Now, she tells Diane Sawyer it's not true, prompting the veteran interviewer to state, either it is or it isn't true, which is it.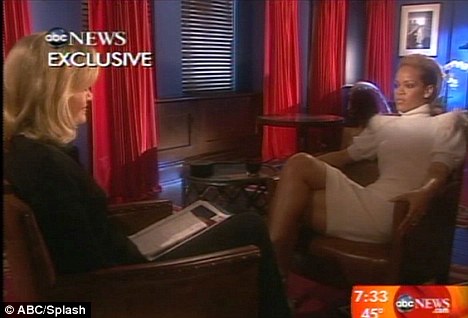 Rihanna speaking to Diane Sawyer
Rihanna would still be with Chris Brown today, if sites such as this one didn't slam her for the negative message it sent to impressionable audiences reuniting with him. She was very arrogant, smug, cocky and coarse during the interview. Rihanna's media coaching came apart during the Sawyer interview, where she looked like a liar, because she is one. She is a woman that previously bragged of beating up men, including her own adult brother, who she hit with a glass bottle to the face. She is not stranger to violence and lied about not hitting Brown or provoking him.
Months ago, her producer Ne-Yo stated in an interview that he saw Rihanna and Chris Brown physically fighting before and it troubled him. Therefore, coupled with other items that have been made public, Rihanna is a liar, attempting to save her career, by lying to the public on television for sympathy sales.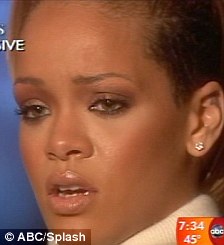 I do believe Brown beat her that night, but she is lying and not telling the truth, which has been going around the industry for months, that she attacked him first and he snapped. However, it does not justify his conduct. But it doesn't justify her hitting him either. No one should be hitting anyone.
He had no business hitting her back. He kept trying to put her out of the car when he felt his temper exploding, but she refused to exit the vehicle, continuing to rile him up. That is not wise. It is not good to be confrontational with people in situations, where things can turn into a physical fight in a matter of seconds.
Furthermore, Rihanna admitted to Diane Sawyer that she went back to Chris Brown after the fight and the two reunited. Months ago, this site was the first to state Rihanna and Chris Brown had reunited (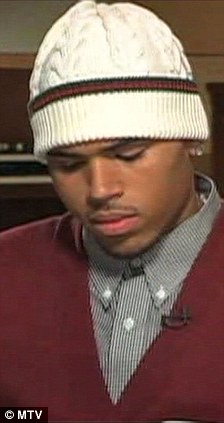 Chris Brown
In reference to people being famous at a young age, Rihanna smugly stated to Sawyer, "The word no doesn't exist. There is no right or wrong. You just do what you want to." Apparently that includes criminal copyright infringement. Clearly, those are the rules she disgracefully lives by.

I do have sympathy for domestic abuse sufferers, but I would be lying if I stated I was sorry for Rihanna. She also stated regarding her stolen music that she, "Built this empire." Don't you mean stole this empire, you arrogant fraud.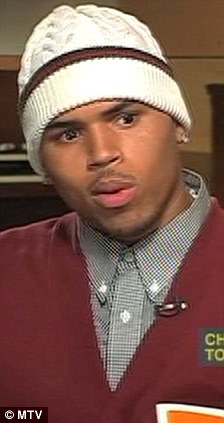 You knowingly and arrogantly built a so-called empire on criminally stealing copyrighted music that was to benefit AIDS and cancer victims and used the ill-gotten proceeds to enrich yourself and those in your circle. That's roughly five felonies. For what AIDS and cancer sufferers have lost because of you and your fellow thieving cronies in Kabbalah and Hollywood, you deserve every bit of evil that befalls you in this life, as disease sufferers are the real victims, having lost so much more than you have in this ordeal.