Robert Mueller Has Done Work For Michael Flynn And Sony Pictures In Massive Conflicts Of Interest (Russia Probe)
October 3. 2017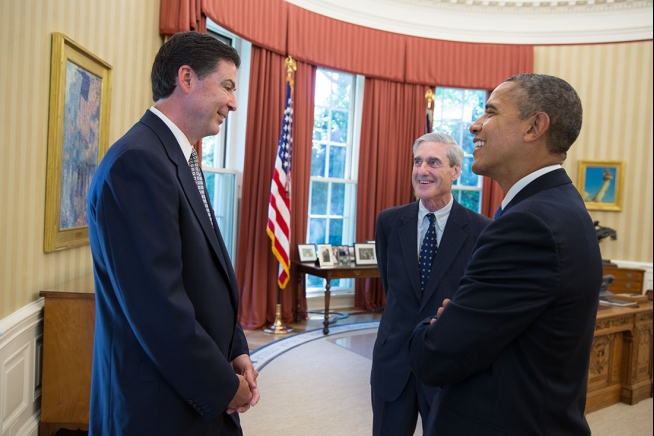 Left to right: former FBI Directors James Comey and Robert S. Mueller, and former U.S. President Obama
Corrupt former FBI Director Robert S. Mueller, is currently investigating U.S. President Donald Trump and his cabinet. As a part of that investigation, Mueller, who is an attorney, is investigating Trump's former national security adviser, Michael Flynn, for failing to disclose he gave a speech at an RT News event in Russia. However, Mueller failed to disclose to Congress and the federal government on disclosure papers that he did work for a company called IronBridge, which is a corporation that is connected to Michael Flynn. Mueller did the same thing he is investigating Flynn for, which is hypocritical.
Another interesting note, for years I have publicly stated online that Robert Mueller took a bribe at the FBI to derail and stonewall my human rights abuse case, concerning psycho pop singer Madonna and her cohorts at Warner Bros and Sony, with whom she has business ties and illegally used and sold items from my preexisting, private, Library of Congress copyrights, which she got an illegal copy of through commissioned hacking. Mueller also broke the law in Britain as well.
Government documents recently made public in the Russia probe regarding President Trump, reveal Mueller works for Sony (see CNN article below). It is highly corrupt, considering Mueller corrupted my case regarding Madonna, Sony and Warner and innocent people died because of it. Everything regarding my case will come out next year. Mueller will have a lot of explaining to do.
STORY SOURCE
Mueller briefly did legal work for a company involved with Flynn
Updated 5:28 PM ET, Thu September 14, 2017 - A spokesman for Mueller told CNN that Mueller did litigation work last year for IronBridge. It's not clear whether the legal work for IronBridge would constitute a conflict for Mueller's handling of the Flynn investigation. Washington (CNN) Special Counsel Robert Mueller briefly did some legal work for a company that was part of a Middle East energy and arms project pushed by Michael Flynn, the former Trump national security adviser who Mueller is now investigating as part of the Russian meddling probe.
A spokesman for Mueller told CNN that Mueller did litigation work last year for the entity, called IronBridge, while Mueller was a partner at the WilmerHale law firm. He said the IronBridge work wasn't listed in Mueller's ethics disclosure form released last month by the Justice Department because it didn't meet the threshold for which disclosure is required. Mueller's filing listed multiple major legal clients including Facebook, Apple, Sony Pictures and the National Football League.
"The reporting requirement for public financial disclosure reports requires that you report any source that paid more than $5,000 for your personal services in any calendar year," said Peter Carr, a spokesman for the Special Counsel. "In June 2016 while at Wilmer Hale, Mr. Mueller spent less than half an hour on an IronBridge litigation matter that was handled by another partner. That amount did not meet the reporting requirement."
IronBridge was one of several consulting companies that were working on the proposed business deal, partnering with the Saudi government and Rosatom, Russia's government-run nuclear energy agency, to build nuclear energy plants in Saudi Arabia. An attorney representing IronBridge CEO Michael Hewitt didn't immediately respond to a request seeking to clarify whether Mueller's work for IronBridge was connected to the Middle East energy project.
Democrats in Congress this week sent a letter to Mueller accusing Flynn of failing to disclose a trip he took to push the project, which they alleged would be a legal violation. Mueller has not responded and it is not clear whether the nuclear plants are part of the special counsel investigation.
Hewitt's attorney sent a letter to Democratic lawmakers in July, saying "our clients are not aware of any monetary payments made by IronBridge Group, Inc. or IP3 Corporation to Lieutenant General Michael Flynn." IronBridge was formed in June 2016, according to Hewitt's attorney, around the time that Mueller did the IronBridge litigation work...
RELATED ARTICLES
Wikileaks Releases Hacked U.S. Federal Government Documents Showing The CIA And FBI Are Spying On People In Their Homes Via Hacking Smart TVs And Backdoors In Computer And Phone Operating System Confirming Previous Judiciary Report Site Claims
Obama Administration Wastes Huge Sums Of American Taxpayer Money Breaking The Law In America, Britain And Jamaica On Behalf Of Madonna's Kabbalah Center In Committing Egregious Human Rights Abuses
Madonna, Jay Z, Beyonce, Rihanna, Rita Ora And Jessie J Sued Over Copyright Infringement, Invasion Of Privacy, Commissioned Criminal Harassment And Assault Via The Kabbalah Center
Madonna's Criminal Conduct At The BBC In Britain Has Nasty Racist Slavery Connotations To It (Anthony Joshua, Daniel Kaluuya)
FBI Agent Arrested For Accepting A $200,000 Bribe To Derail A Criminal Case The FBI Was Supposed To Be Investigating
Hollywood, FBI And CIA Holding Up Life Saving Pharmaceutical Drug Patents Out Of Financial Greed
Another FBI Agent Caught Taking Bribes To Derail Serious Cases (Video)