February 11. 2009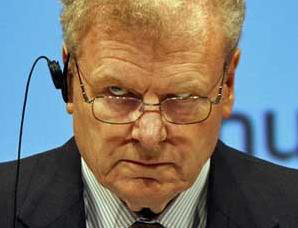 Sony chairman Howard Stringer

It was announced recently that Sony's PlayStation sales plummeted

in news that came as a shock to many. The sales decline began two days after the

boycott against them was ramped up.

Sony pinned its hopes on the game console to bring in huge returns, especially over the holidays, but it has been experiencing very poor sales. Meanwhile Nintendo and Microsoft's sales are still good.

By God's grace, my boycott against your company is proving quite effective, but continue playing chicken with me and see which legal court the case against you is going to end up in. Jeopardizing one of the companies that is pride of Japan, Mr. Stringer, with your unlawful deeds and criminal theft, is very inadvisable.

They shan't thank you when this is all over, when a settlement making amends for what was stolen, could have saved their sales. Why should I sit back and let you rob me in such a horrific way and destroy my company, as you attempted to do, to steal my Copyrighted Catalog that you've been illegally using. I will not tolerate it - not now and not ever! You are in for the fight of your life and the God I serve never lost a fight.

PlayStation 3 Sales Follow Sony Plummet

Sony heading downhill

Sony has announced its third-quarter (October to December 2008) financials, part of which included news of PlayStation sales. None of it makes for uplifting reading.

Let's deal with the worldwide gaming division numbers first:

Hardware
PS3: 4.46 million unit sales. This is 440,000 units down on the same period last year.
PS2: 2.52 million - down 2.88 million units year-on-year.
PSP: 5.8 million - down 680,000 units year-on-year...

Operating income for the division was down a staggering 97% compared to the same period in 2007 - and this was despite reduced costs of manufacturing for the PS3...