Teens Under Pressure By Hollywood To Have Sex
December 28. 2010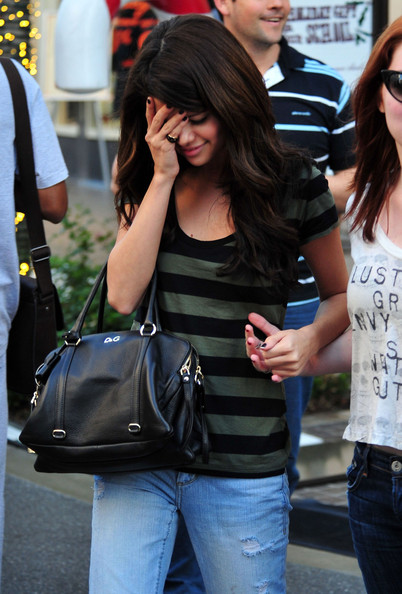 Selena Gomez
The latest news indicating Disney actress, Selena Gomez, 18, removed her "promise ring" regarding abstaining from sex until marriage and visited the tour bus of handsome 16-year-old singer, Justin Bieber, is a reminder of the ever mounting pressure on teens to engage in sexual intercourse. One hopes Bieber and Gomez are not giving into peer pressure.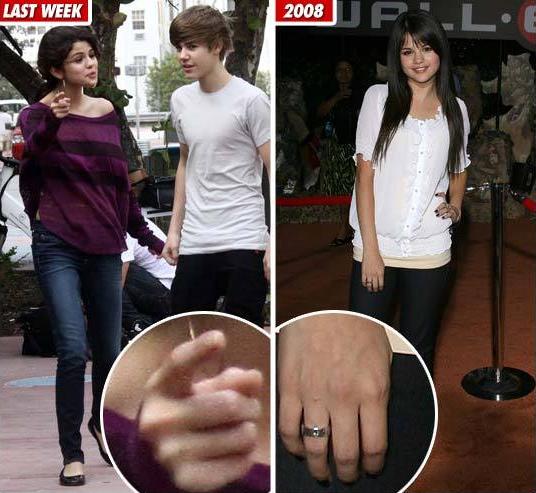 Selena Gomez and Justin Bieber (photo courtesy of Fame, Getty and TMZ)
Hollywood has led the pack in the sexualization of teens. The Judiciary Report and Sound Off Column have been writing about this subject for years, regarding lewd and vulgar entertainers such as Britney Spears, Christina Aguilera, Lindsay Lohan, Rihanna and Beyonce, which has now made it into mainstream media papers and on news sites, giving even more coverage to an important topic.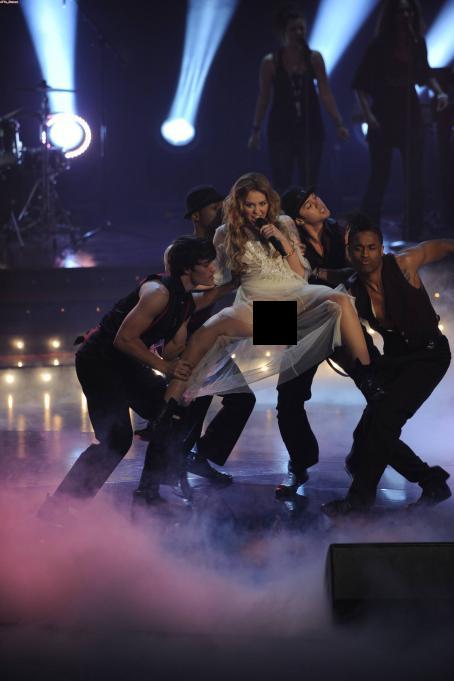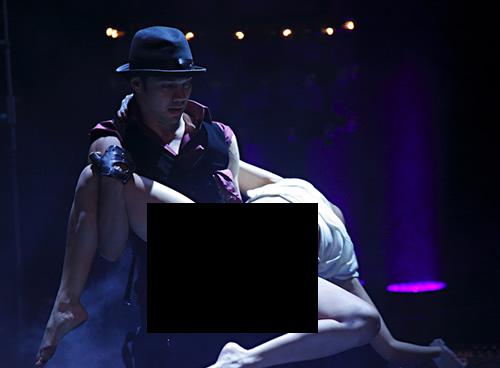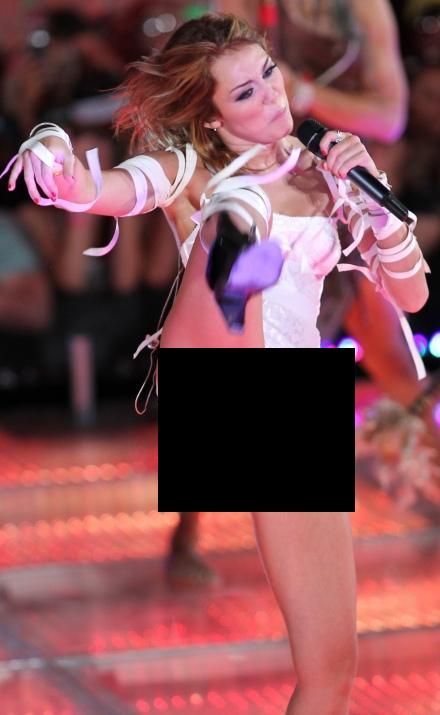 An underage Miley Cyrus repeatedly spreading her legs for audiences in 2010 (photos redacted by the Judiciary Report)
So many bad examples have been set by Hollywood. Spears led the charge, as did Christina Aguilera, Lindsay Lohan, Rihanna and Beyonce. A new generation has followed, such as teen star Miley Cyrus' plunge into exhibitionism and drug taking.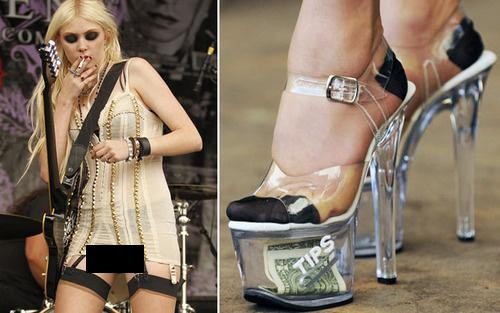 Taylor Momsen at 16, wearing lingerie on stage and smoking, while wearing stripper shoes
Last year, 17-year-old "Gossip Girl" actress, Taylor Momsen, began crassly bragging about penis size, vibrators, drug use, alcoholism and chain smoking cigarettes, beginning at age 16, providing a toxic role model for young girls. The underage actress is constantly and incoherently stumbling around Hollywood, as she is ramp packed with drugs, alcohol and other people's DNA.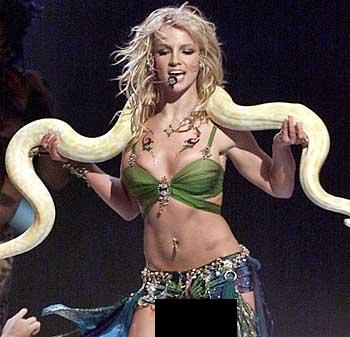 Britney Spears started this lewd trend among teen stars
Madonna's daughter, a friend of Momsen, was spotted wearing bracelets glorifying illegal drug taking, also following in her mother's footsteps, with the elder bragging about her drug use at a Rock n' Roll hall of fame ceremony. What a self-destructive family.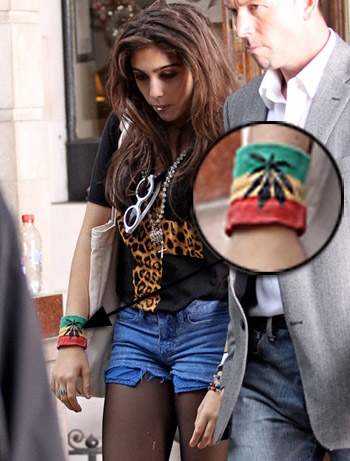 Madonna's daughter Lourdes Leon
Madonna's daughter Lourdes Leon is already dressing like a street walker and promoting drug use (see marijuana bracelet on right arm). Rumors abound in New York and London about what she has been getting up to at school, in Kabbalah rituals at the center and behind closed doors. It has been said the Kabbalah cult and others in their social circle expect certain things from her, due to her mother's promiscuous and vulgar behavior and things have happened as a result.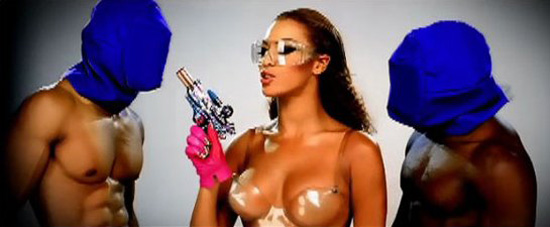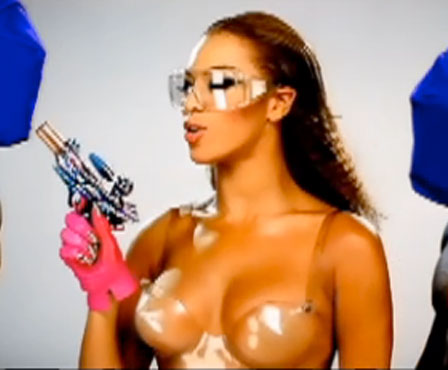 Beyonce in vulgar, sexually suggestive music video
It is utterly tragic that these public figures do not care about the terrible messages they send people's children, via their bad behavior, all in the name of gaining so-called cool points in the press. How do kids all over the nation and the world deserve such a poor example. It is also a poor, pedophilic excuse for entertainment, being propagated by Hollywood for profits.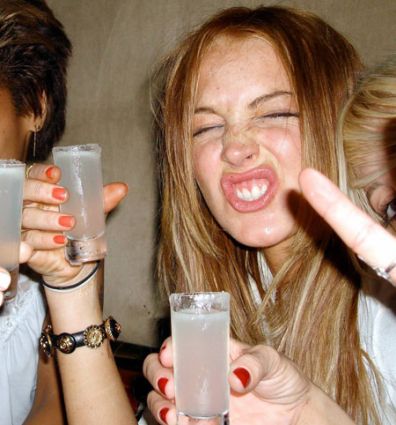 A drunk Lindsay Lohan drinking shots of alcohol
There is nothing cool about teen pregnancy, STDs, alcoholism, addictions and overdoses. Do not follow the bad example being set by Hollywood and its fame hungry stars, as it is your life you will be playing with in doing so, to disastrous results.
RELATED READING
Prime Time TV 'Objectifies and Fetishizes' Underage Girls, Study Says
Published December 16, 2010 LOS ANGELES – Long gone are the days when Marcia Brady's sweet smile and Winnie Cooper's brains and beauty were how television represented teen-age girls. According to a new study conducted by the Parents Television Council (PTC), Hollywood is shockingly obsessed with sexualizing teen girls, to the point where underage female characters are shown participating in an even higher percentage of sexual situations than their adult counterparts: 47 percent to 29 percent respectively.
'Glee' in trouble with Parents Television Council--'sexualizing young girls'
* December 16th, 2010 3:39 pm ET - For the third time this year, "Glee" has come under attack by the Parents Television Council (PTC). In a new study, out today, the PTC identifies a number of prime time television shows as "sexualizing" young girls. The report, titled "New Target: A Study of Teen Female Sexualization on Primetime TV," is based on an in-depth analysis of the 25 most popular shows in the 12-17 demographic throughout the 2009-2010 television season.
Good Girls Gone Wild
Published: October 29, 2010 - IT happened again this month, a familiar pop culture cycle: the provocative pose, the righteous fuss, the blushing assurance that no offense was intended. This time around it involved actresses from "Glee" in GQ magazine, tapping into their inner tramps. Not long ago it was Miley Cyrus in Vanity Fair, giving the world a glimpse, or rather a glimmer, or really just the slightest insinuation, of her breasts...
That was the missing acknowledgment in the hullabaloo, both genuine and disingenuous, over the "Glee" photographs, which showed Dianna Agron in a very short plaid skirt and Lea Michele in white panties, legs spread wide. These images were less shocking than predictable, part of an established gallery that includes not only Miss Cyrus but also Britney Spears, who at one point proclaimed that she was a "Slave 4 U" (and demonstrated as much with a snake), in addition to Christina Aguilera, who got down and "Dirrty," as the song was titled and spelled, in chaps and little else...
http://www.nytimes.com/2010/10/31/fashion/31Starlet.html