Top BBC Executive Charged As Pedophile
November 2. 2009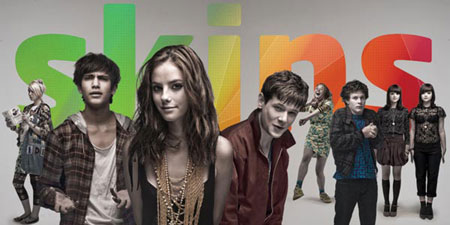 "Skins" (BBC/E4 explicit teen drama)
This is a follow up to the articles Madonna Violates The Privacy Of Minors (October 7. 2009) and Did They Learn Nothing From Heath Ledger (October 8. 2009). In the aforementioned articles, I wrote of the BBC's misconduct in conjunction with Madonna, as added to the Aisha v. FBI case, regarding the pedophilic tone present in their misdeeds.
One month later it has been announced, via a news release published yesterday, "Top BBC man charged in child sex probe." Think about it - top man at the BBC has been arrested as a pedophile. By God's grace, the Judiciary Report has been proven right once again. Appalled, I kept wondering in my head and then in the aforementioned articles a month ago, how someone could do something so vile, as to violate the privacy of minors, as mentioned above in the October 7. 2009 article and transmit said contents on the airwaves as entertainment.
It takes an incredibly sick group of individuals, Kabbalah, to concoct and commit such depraved acts. Then again, depravity is Madonna's middle name. No sane, non-pervert, non-pedophile, would think such conduct is acceptable human behavior (or lawful for that matter). Don't drop the soap! Then again, you'd probably like that.
Now, if they'd only do a pedophile sting in Hollywood, but then again, the head of the FBI, Robert S. Mueller, doesn't believe in arresting rich and famous people. Therefore, known celebrity pedophiles are quite safe and behave very egregiously as such. When you take shows such as "Skins" into consideration, replete with underage sex, 15-16 year-olds simulating sex on TV, even with teachers a decade or two older than they are, you realize a few rotten eggs have hatched at the BBC, influenced by cult behavior.
Kabbalah has a sick foothold at the BBC. The cult is actively breaking domestic and international law there and is going to bring the storied network crashing down. First Kabbalah's front woman Madonna and her aforementioned madness at the BBC (Aisha v. FBI). Now, Lindsay Lohan, a Kabbalah actress audiences do not regard anymore and boycott in droves, with writers and producers refusing to hire her, has mysteriously been given a plum program at the BBC. Not to mention, another Kabbalah member, Gwen Stefani, has been living with a well-known BBC executive for years.
The BBC is a historic British institution and Britons are going to tar and feather you lot over the desecration and destruction of the network, with the trust governing the channel already scrambling to establish new ethics rules, in the face of all these scandals. Mark my words, this is not going to end well in terms of public reaction, regarding what those Kabbalah cult loons have in the pipeline.
Top BBC man charged in child sex probe
A senior London-based BBC producer has been charged following a police investigation into child sex abuse, it has been reported. The employee was arrested as part of Operation Algebra, which led to the uncovering of Scotland's largest pedophile network earlier this year.
Detectives leading the inquiry alerted the Metropolitan Police and the man now faces court. Nearly 125,000 indecent images were seized during Operation Algebra which led to the conviction of eight men in May. Iain Livingstone, Assistant Chief Constable of Lothian and Borders Police, told the Sunday Mail newspaper: "We referred a case involving a serious offender to the Met which involved a senior figure at the BBC.
"The individual was in a very senior position and he became apparent to us during Operation Algebra. "We passed that information on and the individual has now been charged and is awaiting court." A BBC spokeswoman said it would not be appropriate to comment.