Was Adrien Broner Wrong To Turn Down The Manny Pacquiao Fight Wanting More Money
July 29. 2016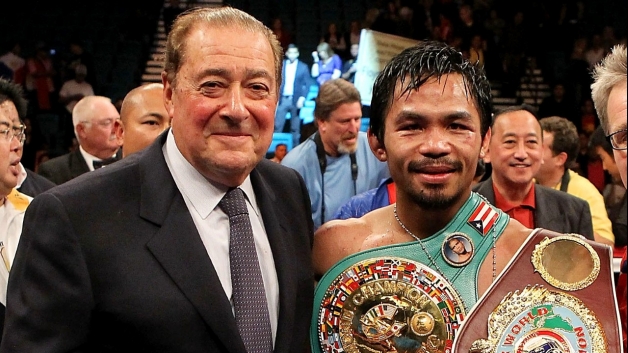 Bob Arum and Manny Pacquiao

Top Rank boxing promoter, Bob Arum, revealed during an interview with BoxingScene.com that boxer Adrien Broner turned down the opportunity to fight boxing legend Manny Pacquiao. Broner wanted more money than Arum was offering. Arum stated Broner "priced himself out of the fight" and "I was dealing with Al Haymon on making that fight. Al tried but Broner was asking for crazy money that nobody can afford, so he is out and Manny is looking for another opponent."

It is also being reported Broner wanted the bigger end of the 60/40 split in his favor and considering Pacquiao's position in boxing, that was not going to happen. Broner has been averaging $1,000,000 per fight and his rivals $50,000 (based on published purses). Therefore, Broner wanted well in excess of $1,000,000. Boxing fans wanted Broner to take the fight and are now accusing him on Twitter.com and Instagram.com of running from Pacquiao. Broner responded in anger to Arum statements, "F**k Bob Arum. Pay me what I deserve b***h." Such comments are not helpful. Arum is now trying to make a fight for Broner vs. his boxer Terence Crawford in November 2016.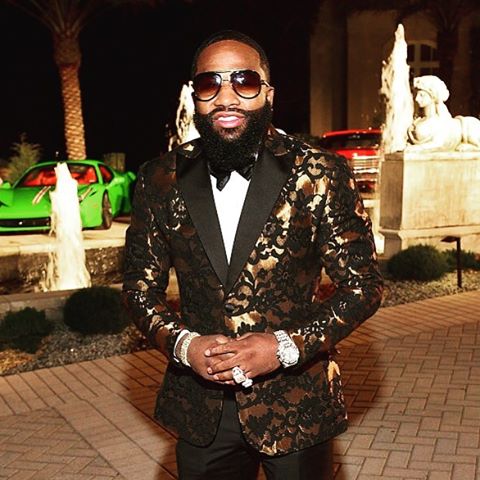 Adrien Broner
Since Mayweather has retired and Pacquiao retired and un-retired (LOL) Manny is the biggest draw in boxing. Other champions such as Tyson Fury (heavyweight), Deontay Wilder (heavyweight) and Canelo Alvarez (middleweight) are pulling in strong viewing numbers and millions of dollars per fight.
The problem is Broner wants to be the new Floyd Mayweather, but he has not fought long enough to bring in that type of money from boxing ticket sales and pay-per-view. You have to get in where you fit in. Once you reach that level, then you can demand the huge sums your pay-per-view numbers warrant (oops, I said warrant and Adrien is in jail - I'm just playing Adrien, don't get mad).
STORY SOURCE
Adrien Broner: F*** Bob Arum Pay Me What I Deserve B****
July 13, 2016 - Adrien 'The Problem' Broner has never been shy about voicing his opinion and this week on social media he's let fly at Hall of Fame Promoter Bob Arum. In recent times there has been speculation in the boxing world that if a Manny Pacquiao return were to happen in late 2016, which his promoter Bob Arum has said it will, that a possible opponent for the Filipino boxing icon could be Broner...
Recent reports on Boxing Scene suggested that Broner had priced himself out of the fight, according to Top Rank head honcho Bob Arum. But Broner has lambasted Arum this week on his Instagram account saying that he is not paying him enough to take the fight...
https://www.boxingnewsandviews.com
RELATED ARTICLES
Boxer Adrien Broner Causes A Stir On Social Networking In Stating He Is Voting For Donald Trump In U.S. Presidential Election Due To Promise Of Lowering Taxes
Boxer Adrien Broner Turns Himself Into Police On Assault And Robbery Charges Posting $100,000 Bail Adding To His Long Rap Sheet
Floyd Mayweather Retires With $1B In Earnings And Manny Pacquiao With $500 Million Proving Boxing Is A Lucrative Sport
Adrien Broner Talks About Unsafe Method Of Trying To Make Weight That Cost Him The WBA Boxing Belt
Warrant Issued For Adrien Broner's Arrest On Charges Of Assault And Theft Carried Out At Gunpoint
Boxer Adrien Broner Facing 3-10 Years In Jail Over Assault And Robbery Due To Gambling Incident
Boxer Adrien Broner On The Verge Of Tears Slams Former Mentor Floyd Mayweather (Video)
Adrien Broner Asks Fans To Write To Him In Jail But Some Are Questioning Why Because...
Boxer Adrien Broner Released From Jail But Still Faces Second Court Case
Floyd Mayweather Protégé Adrien Broner Loses Fight To Shawn Porter
Adrien Broner Scores Controversial Win Over Ashley Theophane
Boxer Adrien Broner Pleads Not Guilty To Assault And Robbery
Why Do Boxers Grow Out Their Beards During Training Camp
Showing Up Too Late To The Fight (Boxing)