Another BBC Exec Busted
March 4. 2010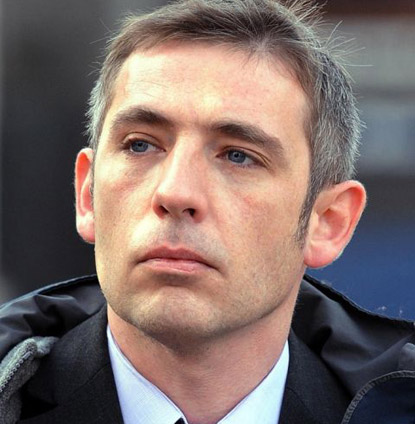 Benjamin Wilkins
Another BBC executive has been arrested for sex crimes. BBC producer, Benjamin Wilkins, 37, used hidden cameras to record himself having sex with different women. He placed the hidden cameras in his bedroom and bathroom, recording all the footage on DVD, without telling them.
The mother of his children found the DVDs and turned him in. He was arrested and sentenced to 9 months in prison. He must also register as a sex offender and be remanded to the list for 10-years. At his trial, his victims spoke of their disgust, trauma and how violated they feel.
Using hidden cameras to film people in your home, their homes, public bathrooms (toilets) or any other situation privacy is to be expected is illegal in Western countries such as Britain and America. Psychologists label said voyeurism a form of sexual dysfunction and mental illness. People that engage in such conduct are considered sex offenders.
RELATED ARTICLES
School's Illegal Defense For Spying On Kids In Their Homes With Webcams
Webcam Spying Vice Principal Gives Evasive Excuse
School's Illegal Defense For Spying On Kids In Their Homes With Webcams
Judge Orders School To Desist Webcam Spying
Top BBC Executive Charged As Pedophile
BBC's "Doctor Who" Admits Using People's Names, Image And Likeness In Scripts
Madonna Violates The Privacy Of Minors
STORY SOURCE
BBC man who secretly filmed himself having sex with lovers is jailed
04.03.10 - A BBC producer was jailed for eight months today for secretly filming himself having sex with five women. Benjamin Wilkins, 37, hid a camera in the smoke alarm above his bed and another in his bathroom. He kept the recordings on DVDs, each marked with the name of the woman and replayed for his sexual gratification...
One former lover said she needed counselling after discovering what Wilkins had done and felt "violated, sick, dirty and stupid"...Wilkins, of Brixton, pleaded guilty to 11 charges of voyeurism between January 2005 and July 2008. Sentencing at Inner London crown court, Judge Roger Chapple said he was punishing Wilkins "not for your sexual appetite or morals, but the trust you calculatedly betrayed". He added: "It's a cruel, selfish and serious betrayal of the trust [the women] had placed in you." The court heard that Wilkins's partner and mother of his two-year-old son had found the DVDs in his loft...On his release from prison, Wilkins must sign the sex offenders' register for 10 years.