Beyonce In Trouble For Stealing
Song
Credit
December 30. 2008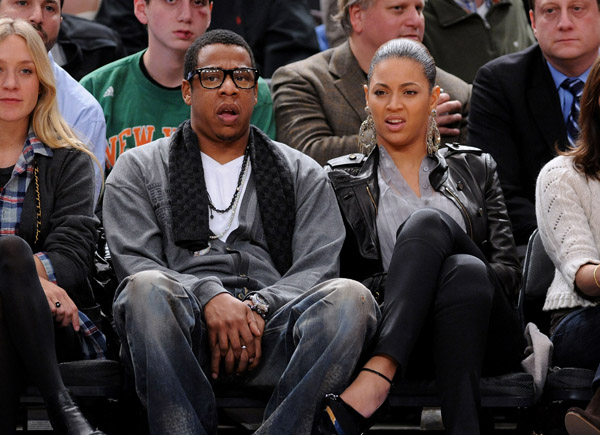 Beyonce and husband Jay-Z
It is clear singer Beyonce Knowles is losing her mind more and more as time passes. This week it was announced she is trying to steal credit for an Oscar nominated song from the Cadillac Records soundtrack titled "Once in a Lifetime."
While, I have not heard the song, the facts surrounding the story wreak of the typical misconduct Beyonce frequently engages in.
According to the Los Angeles Times and Media Takeout, the song in question was written by Scott McFaron and posted to his website, before the movie was ever made. His co-writers are Amanda Ghost and Ian Dench.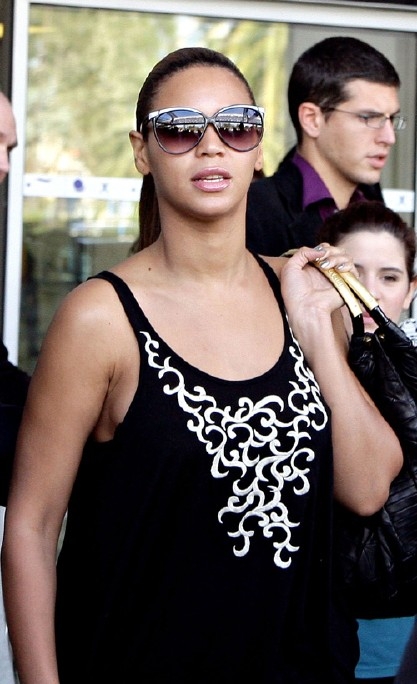 Beyonce later heard the song, liked it, rerecorded it for the film and then put her name on it as a writer, when she is not, illustrating an undeniable pattern of misconduct many have accused her of and sued her for. I do not understand why she will not stop doing this. It is crooked and looks crazy.
It is being reported that she may be disqualified from the Oscar nomination for this dishonesty and thievery, as only three writers are allowed per song and Beyonce's name makes four. They need to be glad, as in most cases she removes everyone's name and puts her own.
Nice way to keep letting your audience down, Beyonce, whilst simultaneously proving me and many other writers and artists correct, that have formally accused you of stealing our respective copyrights.
This twisted, obsessive, constant need you have to put your name as writer on other people's works makes you look crazy.
That's the only explanation I have for your conduct at this point.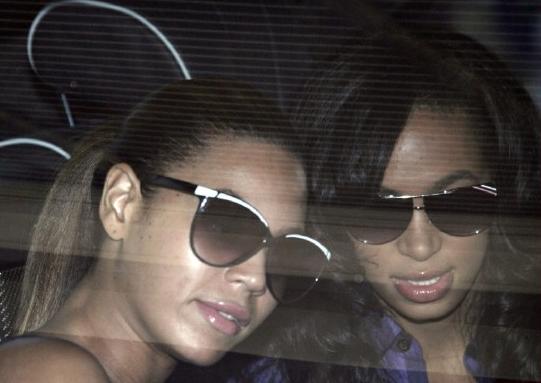 Beyonce and fellow song stealing sister Solange
Really, how many times are you going to get busted for this. How many times will the public slam and mock you before you get a clue and stop.
Your conduct is very questionable and is going to get you into serious legal trouble one day. The public is already turning off from you, hence your diminished record sales and movie flops.
Anyone can become a star in these times, but that does not grant one the right to steal assets from others and do as they please under the guise of fame. When you do such things you will attract the attention of the government.
People don't like witnessing such conduct from a public figure, as it is a big turn off and a disappointment. But sadly, artists and writers have no choice but to go public regarding your conduct, as you are stiff-necked, arrogant, stubborn, covetous and set in your unethical ways.
SCANDAL!!! BEYONCE MAY BE DISQUALIFIED FROM HER ONLY OSCAR NOMINATION!!!
December 27, 2008. MediaTakeOut.com told you last week that Beyonce was being considered for an Oscar for Best Song for her work in writing the song Once in a Lifetime from the movie Cadillac Records
Well, there's a little problem with that. MediaTakeOut.com is now hearing whispers that Beyonce may never actually have wrote the song. And that she may have lied about writing it - to get the Oscar nod.
Here's how it's being reported in the L.A. Times:
Scott McFaron (the main writer of the song) had said on his youtube page that the song was written before the movie was made. He had his performance of the song up on his youtube page and it is the same one in Cadillac Records, except the vocal arrangements, I guess that's where Beyonce gave her input.
Scott said that he, Amanda Ghost, and Ian Dench wrote the song. Only three writers can be nominated so Beyonce could be left out in the cold like she was in 2006 with her Dreamgirls song "Listen".
But maybe Matthew is trying to fix this right now. Just a week ago Scott totally redid his myspace page and deleted his youtube videos. But someone already has reported this to the Academy so we'll see what happens.
Bey … lying about writing a song … NAAAAAAAWWWW … it couldn't be!!!
LM*O!!! BEYONCE REALLY HAS SOME NERVE … THE CHICK IS STILL CLAIMING THAT SHE WROTE IF I WERE A BOY!!!
…But that's not how Beyonce would have you believe it. Here's what she had to say about writing the song:
Interviewer: Where did you get the inspiration to write If I Were A Boy? Because I've had some men who haven't lifted a finger for me…
Beyonce: Definitely from some life experiences … years ago with the boys, before I found me a man.
The chick is pathological with her storytelling … but the interview is really fun.