Congress To Sue Obama's Attorney General Eric Holder Over The 'Fast And Furious' Murders
August 14. 2012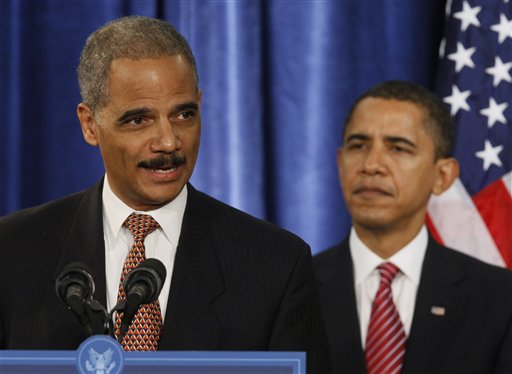 Eric Holder and President Barack Obama
The U.S. Congress has announced it will sue Attorney General, Eric Holder, over the "Fast And Furious" scandal that cost several hundred people their lives. It was revealed Holder trafficked illegal weapons to the Mexican drug cartels and did not put tracking devices on them. The weapons were used in a number of murders, which included the killing of several hundred innocent Mexican civilians and two U.S. Border Patrol agents, who were doing their jobs.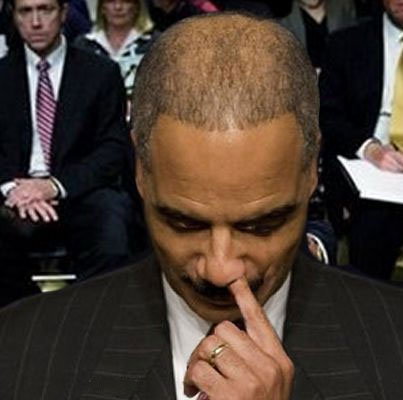 Eric Holder
Holder is of the belief he should receive a free pass for what is mass murder, but at the end of the day, he is no better than Colorado killer, James Holmes, who is a deranged schizophrenic that killed 12 at a movie theatre in Colorado, during a showing of the Batman sequel "The Dark Knight Rises." Holder illegally supplied the weapons that killed far more.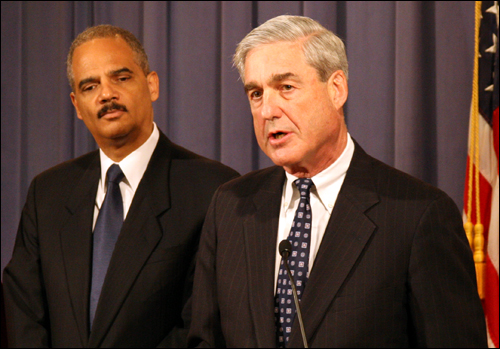 Eric Holder and the equally corrupt FBI Director Robert S. Mueller
It's not the only scandal he is involved in regarding mass murder. Another scandal is going to break regarding his misconduct in another government matter that led to the deaths of even more people over the past 4-years. President Obama should have fired, not defended Holder, as mass murder is inexcusable.
STORY SOURCE
Oversight committee to file contempt case against Eric Holder
Congress Sues AG Holder in Fast and Furious
RELATED ARTICLES
Bloggers File Documentation To Have Corrupt Attorney General Eric Holder Disbarred
President Obama's Attorney General Eric Holder Should Have Resigned
Contempt Of Congress Hearings To Proceed In The Legislature Against Obama's Attorney General Eric Holder
Report: The FBI Has Been Beating, Torturing And Threatening To Kill American Citizens If They Will Not Become Snitches (Informants)
Attorney General Eric Holder Told To Resign In Condemnatory Speech Aimed At His Corruption
More Evidence Surfaces Implicating Obama's Attorney General Eric Holder In Serious Crime
New Book On The Fast And Furious Scandal Implicates Eric Holder And The FBI In A Cover Up That Killed U.S. Agents
120 Congresspeople Call For The Resignation Of Obama's Attorney General Eric Holder
President Obama's Attorney General Eric Holder Connected To Banks Responsible For The Mortgage Crisis
Eric Holder A Massive Liability To Obama In The 2012 Election
Obama Being Accused Of Using Attorney General Eric Holder To Rig The 2012 Presidential Election
91 Members Of Congress Demand The Resignation Of Obama's Attorney General Eric Holder
73 Members Of Congress Sign A Vote Of No Confidence Against Obama's Attorney General Eric Holder Due To 'Fast And Furious' Deaths
Obama's Attorney General Eric Holder In More Trouble As It Is Revealed He Put Cash In The Hands Of The Drug Cartels In Mexico
Obama's Attorney General Eric Holder Retracts Denials He Made And Sent To Congress And Launches Another Cover Up Of The 'Fast And Furious' Deaths
President Obama Criticized For His "Complete Confidence" In Scandal Plagued Attorney General Eric Holder
Obama's FBI And DOJ Used Taxpayer Money To Arm Mexican Drug Cartels