Documentary Film 'Obama's America 2016' Rakes In Millions At The Box Office
August 28. 2012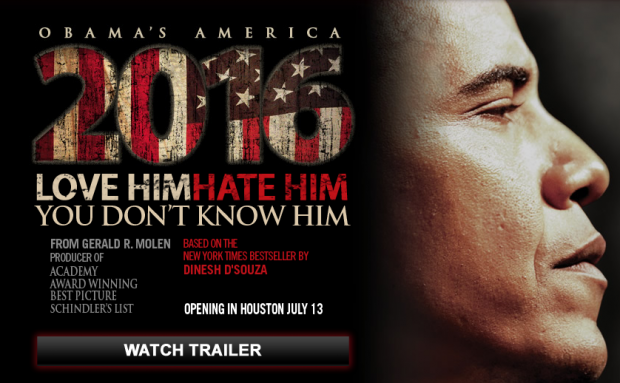 "Obama's America 2016" website trailer located at: http://www.2016themovie.com
This is a follow up to the August 22, 2012 article Controversial Movie 'Obama's America 2016' Featuring The President's Brother Is Picking Up Speed At The Box Office. The numbers are in and the documentary film "Obama's America 2016" has made millions of dollars at the box office.
This came as a surprise blow to the Obama Administration, which was banking on Sony, who President Obama gave unprecedented access to classified materials in a move that was condemned in Washington as illegal, to release a glowing film about him to boost his chances of reelection.
However, conservatives released this stealth doco ahead of the election and are capitalizing on it in several ways, from the box office to the voting booth. Despite the Obama Administration and Hollywood attempting to thwart the film, by severely limiting the number of theatres it is being shown in and having mainstream newspapers not print show times and locations for the documentary, which is underhanded, disgraceful and a violation of free speech and free press, the movie is a success anyway.
RELATED ARTICLES
Mitt Romney Chooses Paul Ryan As His Running Mate To Go Against Barack Obama And Joe Biden In The 2012 Presidential Election
Rising Unemployment Numbers Put A Damper On President Obama's Reelection Campaign
Black People Publicly Slam President Barack Obama For Promoting Gay Marriage Stating They Will Not Vote For Him
Mitt Romney Widens Lead Against Barack Obama In Presidential Polls After Gay Marriage Push By The President
Reports Indicate Barack Obama Promoting Gay Marriage Has Alienated Christian Voters In 2012 Presidential Election
Mitt Romney Leading Barack Obama In Polls In Key Swing States And Among Independents
Mitt Romney Like Hillary Clinton Accuses Barack Obama Of Lying In Campaign Ads
Supreme Court Upholds Barack Obama's ObamaCare But Mitt Romney Vows To Repeal It If Elected President This Year
Gallup Poll Indicates 57 Percent Of Americans Disapprove Of The Job Barack Obama Is Doing As President
Mitt Romney And His Political Party Have Raised More Money Than President Obama And The Democrats
President Obama Hit By Terrible Jobs Report That Critics State Harms His Chance Of Reelection
Gallup Poll Reveals Americans Favor Mitt Romney Over President Obama When It Comes To The Economy
Polls Indicate These Are Obama's Last Few Months In Office But He Does Not Agree
Mitt Romney Is Beating Barack Obama Again In Latest Gallup Poll To Predict The Presidency
Gallup Poll States Barack Obama Is Going To Lose The 2012 Presidential Election By A Landslide (2-12-12)