The FBI Needs To Learn To Prioritize
February 16. 2009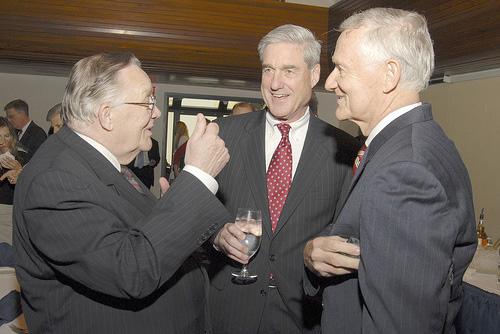 FBI director Robert Mueller (center)
FBI headquarters, who constantly complain to Congress that the entire Bureau is understaffed, has announced a new initiative, aimed at solving old civil rights murder cases. Given the nation's current, more pressing problems, I find this unbelievable. There's the financial crisis the FBI saw coming and let happen anyway, in addition to other matters such as p
arents that have gone to the FBI seeking help regarding missing children and been inexcusably told to go away.
Yet the FBI has time to mess around digging up
many old civil rights cases, of people CONFIRMED DEAD in race based killings, in a futile attempt at improving the agencyís tarnished image, after they murdered Martin Luther King jr., in a shame that will never be washed away. If you had done your jobs 50 years ago those people would not have died.
Please tell me FBI headquarters is not this stupid. Some of them sit there at their desks playing with their guns and picking their noses, while real living people, victims in heinous federal cases suffer. How do you justify that. Better yet, how do you sleep at night. Picking up old civil rights cases isnít going to change the publicís negative view of the FBI. No one is impressed with that. Youíve inexplicably and nonsensically tossed aside the living for the dead. How is that prioritizing? There are abducted children out there waiting to be found and brought home via some good detective work, yet youíre playing around with old cases dealing with the dead.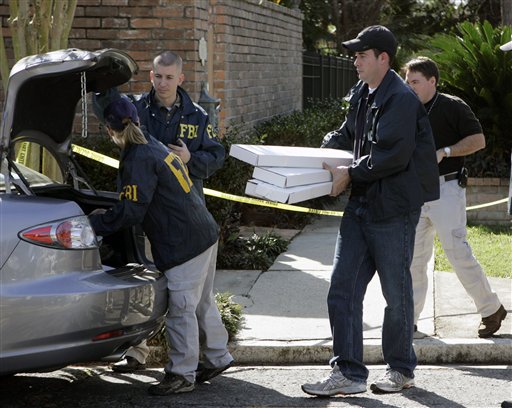 The nation is experiencing its worst financial crisis since the Great Depression and you have time and manpower to be fiddling with old cases of people that are no longer living. Then you go before Congress and complain you donít have enough money and lack agents. In light of recent discoveries, I do not believe for one second the FBI is understaffed. They've got over 30,000 agents and thousands more employees.

The problem is the FBI is run by a paranoid, hateful, racist, xenophobic lunatic with a penchant for wasting time and hundreds of millions of dollars in taxpayer money. FBI director Robert Mueller is disorganized and treacherous, using the agency on his behalf and that of his cronies, to settle personal scores and snoop where it is not supposed to, in violation of the Constitution and U.S. Code.

He is unfocused, unorganized and unjust and the American people have paid a mighty price for it. If the FBI eliminated certain types of cases, it would free up resources and manpower to work on more important matters vital to the nationís

protection

and

survival.

A.) Stop spying on innocent Americans and foreigners, wasting taxpayer money and manpower.

B.) Stop pursuing old civil rights cases of people who are dead, as under current circumstances, said cases do not take precedence over the living. It amazing how you could care less about civil rights cases of the living, especially when rich people are committing said crimes, yet become fixated on those of the deceased.

C.) Stop spending millions in taxpayer money trying to find what out happened to Jimmy Hoffa and DB Cooper. Corporate America is engaging in massive fraud destroying the U.S. economy and that of its allies. This takes precedence over FBI HQ showboating with cases like Hoffa and Cooper. You are not historians and archeologists. You are law enforcement. Jimmy Hoffa doesn't give two hoots about you...whatever cement pile the mafia tossed him in long ago. Stop spending millions in taxpayer money on these fruitless cases.

D.) Stop interfering in foreign cases that have nothing to do with you, wasting millions in much needed taxpayer money. If it doesn't have stars and stripes on it, get off it.

E.) Stop wasting hundreds of millions of dollars in taxpayer money on computer systems that do not work. Still, years later, nearly $1 billion spent and no technologically current, fully functional computer system. Things are so far-gone your IT director quit. That's a bad sign. Of course, the FBI would have bought the "magic jumping beans" and "Brooklyn Bridge" as well.

F.) Stop watching American groups like the Raging Grannies that peacefully practice their right to disagree with the government. Until one of those grannies pimp slaps former VP Dick Cheney, you have no business watching them. The time you take to watch people like them, you could be trying to find terrorists.

G.) Stop wasting millions in taxpayer money each year flying around in a private jet like you're some Fortune 500 CEO. The nation is in the midst of a terrible financial crisis you played a major part in letting reach to this horrible level. Show some conscience.

You clearly think quite a lot of yourself engaging in massive criminal negligence and crimes against the Constitution and humanity, whilst at the FBI, then misusing a private jet owned by the people of the United States for FBI agent related terrorism missions. Not ferrying you around to speeches.

You've cost the American people more taxpayer money than any other FBI Director in U.S. history. What a disgrace.

Congress Denies The FBI's Request For Stimulus Funds

In other news, Congress denied the FBI's request to receive stimulus funds

for the agency,

from President Barack Obama's bill that passed last week. However, the FBI continues to seek more taxpayer money to squander.

FBIís anti-fraud efforts get no boost from stimulus package

To many Republicans, the $75 million tucked into the economic stimulus bill to hire new FBI agents was wasteful or inappropriate, right up there with new icebreakers and stop-smoking programs...

When the 1,071-page version came out of the conference committee, the FBI reinforcements had been wiped out...

Vice President Joe Biden and Senate Judiciary Committee Chairman Patrick Leahy are among those arguing to beef up the FBIís anti-fraud efforts...

FBI pleads for info in civil rights-era killings

February 12, 2009 04:48:11 PM - JACKSON, Miss. ó The FBI pleaded for information Thursday about 43 unsolved civil rights-era slaying in Mississippi, saying time is running out because potential witnesses and suspects are growing old or dying.

The agency launched an initiative in 2006 to tackle cold cases from the mid-1950s to the late and 1960s, mostly in the South. Though the effort hasn't resulted in any new prosecutions, FBI Director Robert S. Mueller III said his agency remains committed to it...