Floyd Mayweather Denied Visa To Australia Due To Criminal Domestic Violence Jail Record
April 24. 2015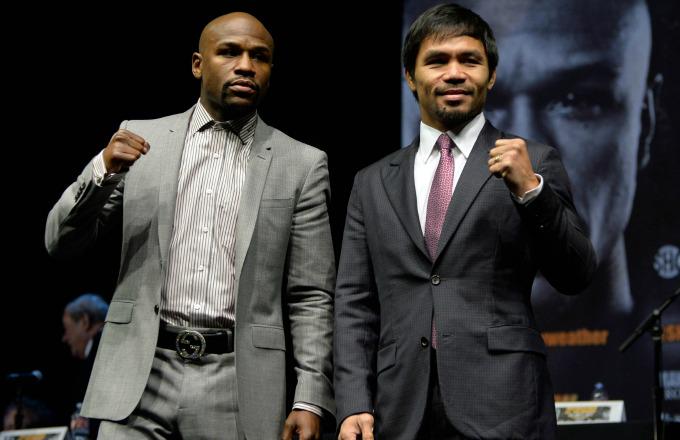 Floyd Mayweather is scheduled to fight Manny Pacquiao on May 2, 2015 in America
Champion boxer, Floyd Mayweather, has been denied entry into Australia, due to his criminal record in the Josie Harris domestic violence case, where he was sent to jail for beating the mother of his children in the presence of their kids. Mayweather was scheduled to make two appearances in Australia concerning business ventures and attend a charity event to raise money. However, the Australian Immigration Department refused to grant Mayweather a visa.
Immigration Minister, Peter Dutton stated, "A visa has not been granted in this case. The government takes very seriously its role in protecting the Australian community from the risk of harm by non-citizens who engage in criminal conduct and or conduct that is of serious concern. Visa applicants must demonstrate they are of good character, as required under the character test in the Migration Act 1958, before they are granted a visa. I am aware of Mr. Mayweather's background - both in terms of his professional success as well as his criminal history - as has been extensively reported in the United States and Australian media. In making character decisions, a range of factors are taken into account. This can include consideration of both a person's criminal history as well as their general conduct over a continuum of time, to reach an assessment as to whether they are of good character."
Recently, singer Chris Brown was denied entry into Canada twice, due to his criminal record in relation to the Rihanna domestic violence case. Rapper Snoop Dogg was denied entry into Britain due to his arrest record for attempted murder (acquitted) as well as drug possession. Many countries of the world, including the United States, have stringent rules regarding visa applicants and the requirement they not be felons or convicted of violent or drug related crimes, even if the drug crimes are misdemeanors, as opposed to the more serious felonies.
RELATED ARTICLES
Floyd Mayweather Announces Megafight Against Manny Pacquiao
Muhammad Ali Picks Manny Pacquiao To Beat Floyd Mayweather In Historic Fight
Manny Pacquiao Releases Song For MegaFight But Will Floyd Mayweather Do So As Well (Videos)
Floyd Mayweather Lashes Out At ESPN's Stephen Smith Over Manny Pacquiao Who Responds (Video)
Floyd Mayweather Alarms And Angers His Fans By Posting Photo Of His Parents And Children Adding Devil Faces To The Image