Madonna Is Criminally Committing Charity Fraud Using Malawi's Name To Raise $100,000,000 In Donations And Only Using 5% Of The Money On The Impoverished African Nation Keeping The Rest For Herself
Madonna And The Berg Family Have Stolen $90,000,000 In Malawi Charity Money
September 23. 2017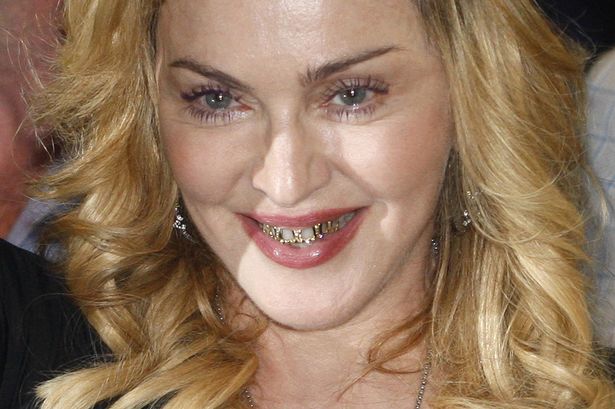 Madonna
Deranged pop singer, Madonna, has been using the African nation Malawi, to raise $100,000,000 and barely spent $7,000,000 of the money on the impoverished African nation. Madonna and her sick Kabbalah Center cult, have grossly misused funds solicited in Malawi's name, to live a lavish lifestyle in Los Angeles and New York. This criminal conduct has resulted in lawsuits against Madonna and the cult, by disgruntled donors who gave millions believing the funds would go to help starving Malawians.
One donor gave $20,000,000. Another donor gave $10,000,000. Some donors gave $1,000,000 to $2,000,000 each. They all believed they were helping poor Africans. Only to see Madonna and the Bergs, who run the Kabbalah cult, give themselves massive salaries as directors of the so-called charity and buy multi-million dollar homes.
In another act of charity fraud, Madonna criminally solicited $18,000,000 in money to build a girls schools in the African nation. However, Madonna only spent $8,659 on the school. However, Madonna has gotten away with committing these crimes and others due to $1,000,000 in bribes she paid the FBI and a $10,000,000 bribe she issued to the United Nations, to look the other way to crimes and human rights abuses she has been committing in several nations, including Malawi.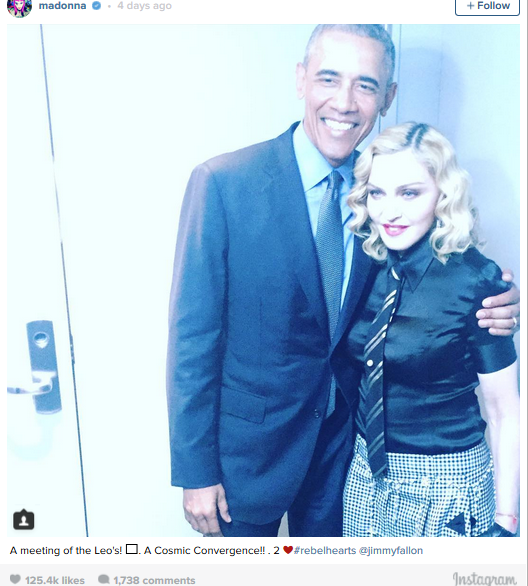 Barack Obama and Madonna
Newsweek magazine outed Madonna as illegally opening and maintaining millions in charity money in offshore accounts in the Cayman Islands. It is a criminal violation of IRS rules to obtain a tax free charity status and place the funds in offshore havens. No upstanding charity would hide donations in this manner. It is not private funds. Charity money is supposed to be held up to public and government scrutiny.
Thieving, vile Madonna has also been using poor Malawians for publicity, in trying to boost her highly negative public profile. Fraudulent Madonna sent out press releases proclaiming "Madonna gives back" via building a wing of a hospital in Malawi. However, it was done for a small fraction of the money she solicited in their name and has kept. Furthermore, the cult are using the hospital to run illegal, inhumane experiments in Malawi.
Madonna also solicited funds to build homes for the less fortunate in Malawi, received millions of dollars in donations from all over the world, bulldozed poor Africans homes and never built any replacements. She took possession of the land and has done nothing to build new homes. Madonna and the Berg family have kept the money.
Charity is not about making a profit. Madonna has criminally used Malawi and an undeserved charity status issued by the IRS to make millions of dollars in donations solicited from the public, but the funds are not making their way to the people of Malawi. This is absolutely disgusting on every level.
You all involved in that scam and corrupting justice are the worst of humanity and will occupy a disgraced and shamed spot in world history for it. God doesn't like ugly. All involved in scamming the public, exploiting and defrauding starving Malawian children and adults, and perverting the course of justice, will be severely punished by God for it.
STORY SOURCE
Forum query Madonna over $18 mil raised in the name of Malawi charity
September 16, 2017 - Forum for National Development (FND), a local group, has asked US pop star. Madonna to be accountable and explain the money she raised to build the academy for girls school in Malawi, which was abandoned. In a statement made available to Nyasa Times by the organization on Friday and signed by FND National Coordinator, Fryson Chodzi, Chikumbutso Mtumodzi, and its chairperson Bright Kampaundi, FND says they have overwhelming evidence that Madonna realised such huge amount of money in the name of building the academy but the project flopped.
"We have come across compelling evidence that Madonna raised US$18 million (Equivalent to Malawi Kwacha 13.5billion) for the school although she went ahead not construct the school shuttering the many dreams of young girls in the surrounding communities," the statement in part. FND says they do know and have corroborated with former board members of her Raising Malawi charity that only US$8,659 (Mwk 6,494,250) went to the school project.
Madonna reportedly raised US$18million for the Malawi school project and, in 2010, she laid the first brick at a ceremony in full view of the global media. But, in 2011, Raising Malawi announced that it was stopping construction of the school. According to a Newsweek report from April 2011, US$3.8million (Mwk 2.85billion) had been spent on the project, but only US$850,000 (Mwk 637.5million) had gone towards the work in Malawi.
The rest was spent by the Kabbalah Centre's Office in Los Angeles, United States of America. "The Newsweek investigation corroborated our findings that only US$8,659 of the US$3.8million her Public Relations firm said was spent on the academy, was paid out in Malawi," the statement. Madonna first came to Malawi in 2006 and after being touched with the high poverty levels, she pledged to use her personal money to change the lives of children especially the girlchild.
Since then Madonna has proposed mouth-watering projects and initiatives but only a few have materialized such as the construction of the paediatric ward in Blantyre. "She is also yet to tell us the cost as well. We believe Madonna using her global fame, has raised a lot of money in the last 6 years for various projects in Malawi but as FND we believe we have a civic duty to question her motives and hold her accountable where transparency is in short supply," reads statement in part.
"As FND we commend her for the life changing initiatives on the lives of Malawian children she now lives with, but then again, we will not lose sight of the fact that she has used the same adoption as a means of propping up her global image," the statement reads. Meanwhile, FND has put forward demands that Madonna should do or else the organization will take unspecified action;
-Madonna and her Charity must account for US$18million which was raised to build the Girls Academy in Malawi. -Madonna must justify how US$15million Girls Academy Project can be replaced with the US$300,000 project for the 10 school blocks under the Build On Project. -Madonna and her Charity must account to what has happened to the 10 schools she claimed to have built.
-Madonna and Build On Project must justify how the purported 10 school blocks could cost US$300,000 when a cost of constructing one similar school block in Malawi is US$6,000 and total would be US$60,000. Where has the rest of the money (US$240,000) gone to? -Madonna and her Charity must account in terms of how much was raised and spent on the Hospital ward built at QUEENS.
-Madonna must explain what will happen to the girls that were promised to join the Girls Academy around the communities who gave up their land for the construction of the academy. -Madonna must account for every single dollar that has been raised over the last 6 years through her Raising Malawi as the charity continues to send appeals and collect donations.
-Madonna must apologies to Malawians for duping them on the real reasons for not continuing with the Girls Academy and must make effort to handover any unused money to the Government of Malawi in order for them to invest in the education system.
RELATED ARTICLES
Wikileaks Releases Hacked U.S. Federal Government Documents Showing The CIA And FBI Are Spying On People In Their Homes Via Hacking Smart TVs And Backdoors In Computer And Phone Operating System Confirming Previous Judiciary Report Site Claims
Obama Administration Wastes Huge Sums Of American Taxpayer Money Breaking The Law In America, Britain And Jamaica On Behalf Of Madonna's Kabbalah Center In Committing Egregious Human Rights Abuses
Madonna, Jay Z, Beyonce, Rihanna, Rita Ora And Jessie J Sued Over Copyright Infringement, Invasion Of Privacy, Commissioned Criminal Harassment And Assault Via The Kabbalah Center
Madonna's Criminal Conduct At The BBC In Britain Has Nasty Racist Slavery Connotations To It (Anthony Joshua, Daniel Kaluuya)
Madonna Opens Hospital Wing In Malawi But Her Motives Are Highly Questionable