Madonna Paying For Sex - Part 2
June 4. 2010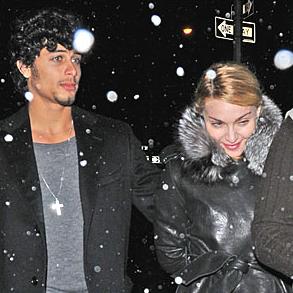 Jesus Luz and Madonna
Vengeful pop weirdo Madonna, 52, has taken back 23-year-old Jesus Luz, paying him for public appearances and sexual favors. People in the entertainment industry are laughing at her desperation and talking about it in certain circles, as Madonna repeatedly tried to destroy relationships and marriages throughout her fraudulent career and is now being played by a man, who is actively cheating on her with women...and men.
She has paid the young Luz significant sums of money to pretend he is in love with her and have sex with her, bringing the young man into her home, setting a bad example for her young, impressionable children. She even tried to create a career for him as a model, then a DJ and both failed.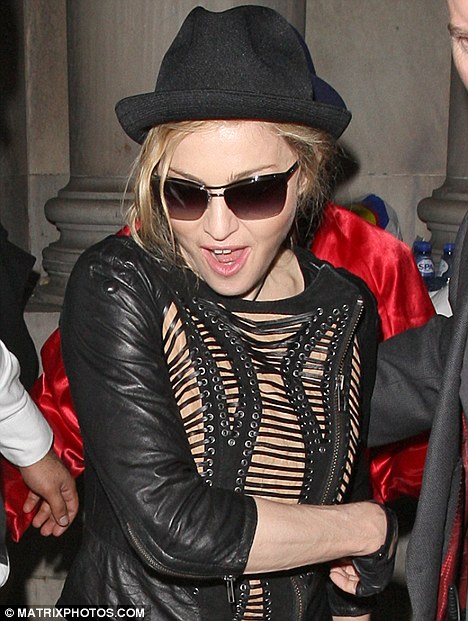 she looks ridiculous
In trying to keep up with other stars, she has once again fallen flat on her plastic surgery butchered face. Luz is making a fool of her, as he has not been discreet and people know, engaging in affairs behind her back, while she pays him like a sucker, to stay with her.
Usually men are the ones that end up played for fools in such a manner, but Madonna has convinced herself she is the one in control, when the man has been badmouthing her to others as crazy and manipulative.

even more ridiculous

Maybe if she'd stay out of other people's business, she'd see what's going on in her own life that people in New York and London are laughing about as comeuppance for all the relationships she broke up. Luz is cheating on her, just like ex-husband Guy Ritchie did, which this website broke first.

In unrelated news, Madonna is planning more plastic surgery to complete her Frankenstein look. She is reportedly shelling out $200,000 on the work to be done.

Side Bar: Madonna is clearly doing something wrong, as most women do not have to pay men to like them. Maybe if Madonna had her penis removed, she'd have more success with men.

RELATED ARTICLE

EXTERNAL ARTICLES:

4. Madonna and Jesus Luz - We have to give some props to Madonna, 51, and Jesus Luz, 23. There weren't many who thought a couple with a 28-year difference in age would last more than a month. However, since their initial meeting on a photo shoot in late 2008, the couple is still together, despite some brief break-ups along the way and the fact that Madonna is reportedly the same age as Jesus' grandmother.

Jesus Luz back at Madonna's home

The on-off relationship between Madonna and Jesus Luz appears to be on again.

Published: 5:27PM BST 01 Jun 2010 - The 51-year-old pop star's Brazilian toy boy, above, flew into London and is now ensconced at her £6?million Marble Arch pad. He has already been out partying (on his own) at the Aura nightclub in Mayfair. "He danced all night with a variety of girls," whispers my man with the Martini...

Madonna plans to plastic surgery for 52nd birthday

Posted on June 1, 2010 by cesa

- Turning her 52 birthday in the month of August, the pop diva Madonna may be itself a gift to go into surgery for plastic surgery. Britain's Daily Star has come out with a story that the queen of pop plans to spend $ 200,000 on plastic surgery in some parts of her body and face in an attempt to maintain its attractive look...