Prosecutors Move To Revoke Chris Brown's Probation For Lying, Fraud And Several Violent Violations
Will Chris Tell The Judge "Don't Judge Me" (LOL)
February 5. 2013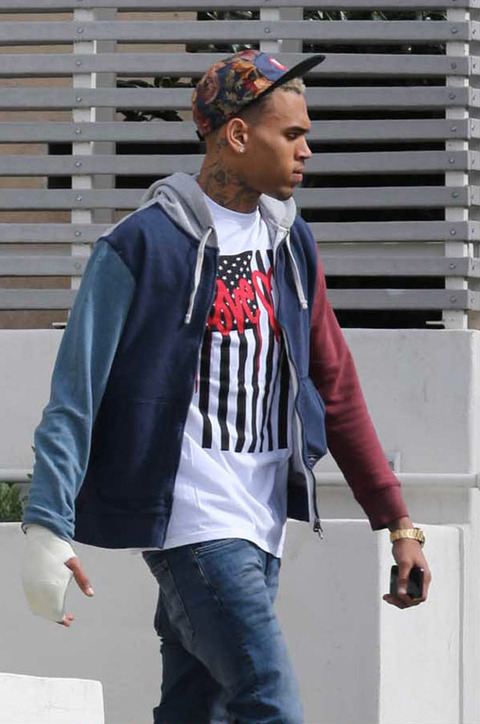 Chris Brown
Prosecutors in Los Angeles, California have filed paperwork to have the 5-year probation of felonious singer Chris Brown revoked. Brown has been on probation for a couple years, in connection with the Rihanna domestic violence case, where the singer's girlfriend began hitting him and he did his best MMA moves on her.
The main contention is Brown and his mother Joyce, in conjunction with the sheriff in his home town of Tappahannock, Virginia, have been falsifying probation reports, giving the singer credit for community service hours he has not served. Investigations were done by the district attorney's office and it was discovered others did the work and in certain instances, Brown had left the country for concerts when he was allegedly performing community service. Leaving the country without permission from the court whilst on probation is another probation violation.
While on probation, Brown has been getting into one confrontation after another, formally acknowledged in the prosecutor's motion for revocation. To recap (*takes deep breath before listing them all*) Brown threw a chair threw a window at the Good Morning America studios in New York, snatched a $500 iPhone from a fan in Miami, got into a bottle and glass club fight with rapper Drake at W.i.P. in Manhattan leaving several people with life changing injuries, beat up gay rapper Frank Ocean at Westlake Recording studios in Los Angeles over a parking spot and because he wouldn't shake his hand.
There's a new twist in the Frank Ocean case. On January 29, 2013, in the article "Chris Brown Is In Trouble And Facing Jail On Probation Violation As Frank Ocean Changes His Mind Demanding He Be Prosecuted For Punching Him" the Judiciary Report stated of Brown's fight with Ocean, "It would also be a hate crime, due to the fact Ocean is gay and Brown has a history of using phrases such as "f****t" online and to members of the public, who went to the press with their complaints." Sure enough, the police report released today reveals that during the fight with Chris Brown, gay Ocean was called a "f****t." This makes the assault a hate crime, carrying steeper legal penalties.
Jail will not be easy for Brown, who is considered a heartthrob. If they revoke your probation and put you in jail, for the first time in your life you will wish you looked like Jay-Z. The rapper resents Brown's looks and his hold over Rihanna.
RELATED ARTICLES
Chris Brown Quits Social Networking Again And This Time It's Instagram
Chris Brown's New Cast On His Hand After Frank Ocean Fight Being Spun Two Ways By Those For And Against Him
Chris Brown Is In Trouble And Facing Jail On Probation Violation As Frank Ocean Changes His Mind Demanding He Be Prosecuted For Punching Him