Rumors Swirl That Lebron James Is Having An Extramarital Affair With Rihanna Due To Her Brazen Behavior Courtside And Outside The Cavaliers Locker Room Before And After Boarding His Private Jet
Rihanna Acting Like A Groupie
June 6. 2015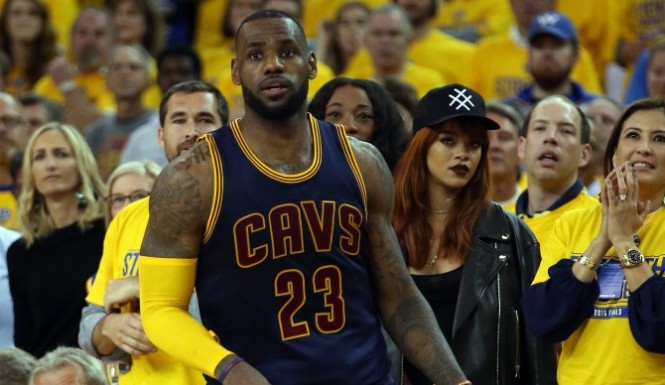 Rihanna looking obsessed with Lebron James, bringing negative attention and distraction not good for an athlete or team in the NBA finals.
Singer, Rihanna has caused a scandal online and in the press, over her flirtatious and fawning conduct, regarding married NBA basketball star, Lebron James. Reporters stated Rihanna was spotted outside the dressing room of Lebron's team, the Cleveland Cavaliers, acting like a groupie, repeatedly calling for him in earshot of the press. Courtside at the game, she was seen flirtatiously looking at and motioning for him. During the game Rihanna kept yelling Lebron's name so loudly, the owner of the rival Golden State Warriors stated he switched seats with someone else to get away from her. Later that night, Rihanna was seen getting on Lebron's private jet, which had flown her to the game. This is all so highly disrespectful to his wife.
Rihanna is known for cheating with men who are married or otherwise taken. Rihanna has been having sex with her mentor, Jay Z, since he signed her as a 16-year-old aspiring singer (who ironically can't sing). To this day, Rihanna is still cheating with Jay Z, who is married to singer, Beyonce. Rihanna has also cheated with married music and film industry executives for career promotion, songs and films.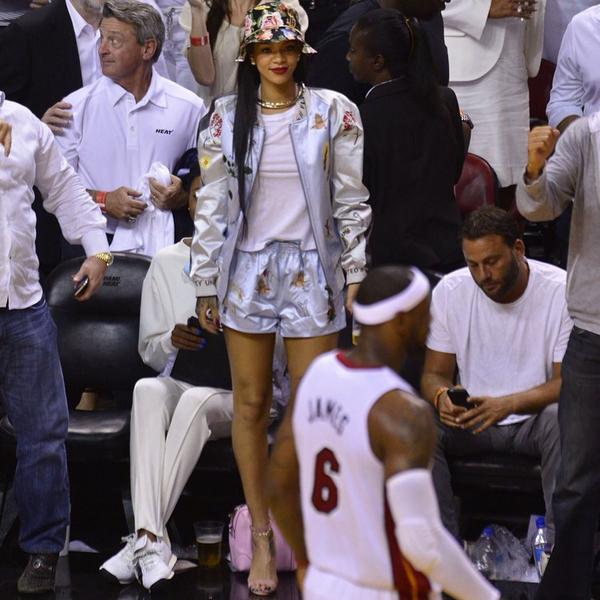 Rihanna has been messing with Lebron
Recently, the Judiciary Report revealed Jay Z has been pimping out his recording artists, Rihanna and Rita Ora, to have sex with athletes in America and Britain, among other places, in trying to get them to sign with his company Roc Nation and do other business deals with him and his artists. The site has since been proven correct in this claim via public admissions by rappers Eminem and ASAP Rocky as well as boxer Adrien Broner, among others (Jay Z Is A Pimp (Rihanna And Rita Ora and Boxer Adrien Broner Says F**k Jay Z, Rihanna And Her P***y After The Rapper Pimps Her Out Again (Video) and Rihanna And Rita Ora Slammed Again As Music Industry Mattresses In ASAP Rocky's New Song 'Better Things' and Eminem Confirms This Site's Previous Claims That He Had Sex With Rihanna).
Jay Z has also caused an immense amount of offense in music and sports circles in trying to get entertainers and athletes to break their existing contracts, regarding companies and executives, who have invested a lot of money in them, using sex with Rihanna and Rita as inducements. Only criminals do business this way. Intelligent, capable, gifted business people don't resort to such illegality, crudity and low brow behavior.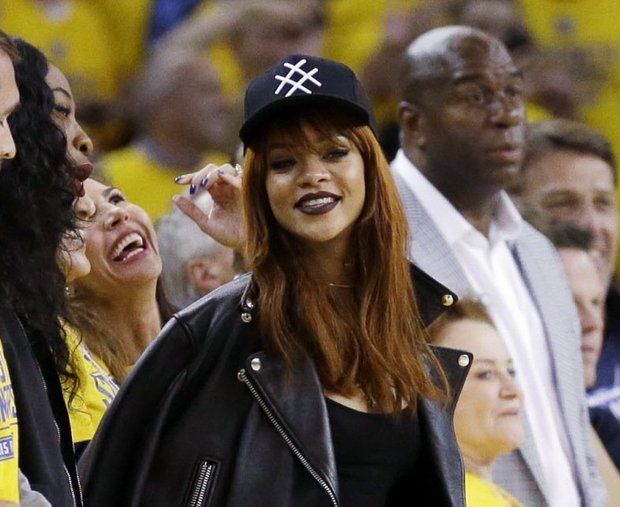 Rihanna courtside at Lebron's game against the Golden State Warriors
What Jay Z is doing regarding Rihanna and Rita Ora is prostitution, which is illegal. It all looks bad that these two so-called singers, who act like they are above others, are two cocaine sniffing whores at the end of the day and Jay Z is their pimp. Is this how your mothers raised you, to be living on your knees in front of married and taken men, for money and fame, acting as sperm dumpsters. I have no respect for this type of behavior, as do all people with any common decency. What about the wives, girlfriends and children of these men. They don't deserve this disrespect.
And Jay Z is a dog, not giving a darn about people's marriages and relationships, in sending these STD riddle women after these men for financial gain (and you know what, like what Rihanna and Rita Ora have become famous for in industry circles, Tidal and Roc Nation still suck). You are damaging people's families and relationships. Have you no decency or shame. As the phrase goes "God doesn't like ugly" and something very bad is going to come out of all of this.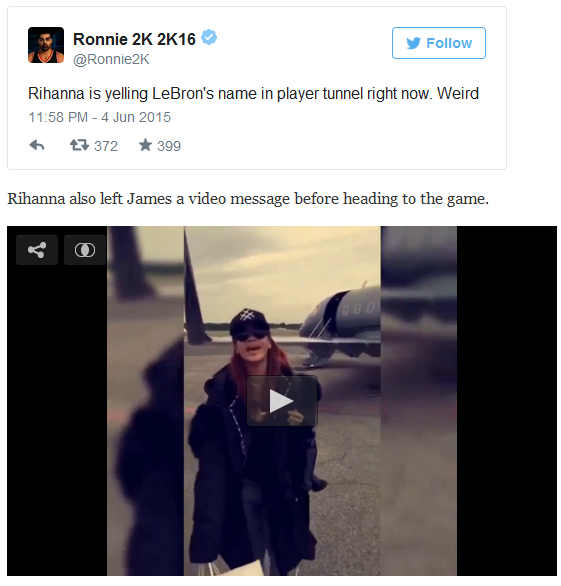 Rihanna sending Lebron a video message before boarding the private jet he sent. She is out of her mind! He's married.
I feel so sorry for Lebron's wife, his high school sweetheart, Savannah James (nee Brinson), who was adamant he leave Miami and my favorite team, the Miami Heat, due to the toll the cheating with women has taken on their relationship. Now here comes Rihanna with her whorish behavior and advertising it for the whole world to see, distressing his wife. Are you that desperate for attention you'd open his wife and young children to public embarrassment.
Previously, a reporter with security clearance in Washington, tweeted Lebron was flirting with and exchanging numbers with a woman during a gathering at the White House. It caused a bit of a scandal on social networking. Now Rihanna is letting the whole world know his business. One thing's for certain, Rihanna's behavior is not good for Lebron's focus, career or endorsements.
STORY SOURCE
Rihanna Kept Yelling for LeBron James at the NBA Finals Last Night for Some Reason
June 5, 2015 3:26 PM - Rihanna's influence on NBA games is well documented—stats show that teams play substantially better when she's there. Last night, she sat court side at the first game of the NBA Finals between the Cavs and the Warriors. Clearly, something she saw made an impression on her, because after the game she felt a burning desire to convene with the game's top scorer, Lebron James.
Several reputable sources claimed that she was yelling his name repeatedly after the game near the locker rooms, including Yahoo! Sports editor Marc Spearer. "For some odd reason, Rihanna screamed "LeBron" several times by Cavs locker room," he tweeted. More Tweets and behind-the-scenes info from people hearing Rihanna's yells for LeBron
Rihanna Keeps A Low Profile After Hopping On Lebron James' Private Jet
Just one day after reportedly getting flown out by Lebron James for the finals, Rihanna was spotted flying solo to her favorite Santa Monica restaurant, Giorgio Baldi, on Friday night: Rih kept it low key in ripped jeans, a leather jacket, and a baseball cap. Is she trying to keep the attention off her now that side-piece rumors are swirling between her and Lebron?
Warriors Owner Moved Away from Rihanna Because She Was Rooting for LeBron James
Jun 5, 2015 - Rihanna was talking that talk all night during Game 1 of the NBA Finals, and Golden State Warriors owner Joe Lacob had enough of it. Lacob's courtside seat was sandwiched in between Rihanna's and his fiance's, but he eventually swapped with his fiance: How come? Well, as discussed in a panel run by Chat Sports, Rihanna was going wild for Cleveland Cavaliers superstar LeBron James:
The hip-hop artist is an avid fan of the King. After LBJ erupted for 44 points in a losing effort against the Dubs, RiRi could be heard screaming his name near the Cavs' locker room: Lacob wanted to be very clear that Rihanna's seats were purchased, not given to her: After the game, Lacob—wisely—fought back the urge to gloat to Rihanna about Golden State's win:
Typical Rihanna. Sometimes she thinks she's the only LeBron fan girl in the world.
MTO EXCLUSIVE JUMPOFF ALERT: Rihanna Flew To The Game Last Night . . . On LEBRON'S PRIVATE JET . . . And Hung Out With BRON After The Game!! (Yes . . . We Have RECEIPTS)
June 5, 2015: Rumors are SWIRLING AND TWIRLING everywhere - that Rihanna and LeBron have something going on. What happened? Well FIRST OFF, Rihanna flew to San Francisco from New York for the game last night - on a jet that was chartered by NIKE for LeBron James. This is NOT rumor, it's #FACTS#. Second, she was spotted backstage yelling like a GROUPIE for LeBron after the game.
Third, LeBron did NOT bring his wife on the road with him for this series. According to folks close to Bron, he claims that Savannah needs to stay home with the KIDS (including their newborn) . . . but it's really so that LeBron can have his freedom. Anyways, all signs seem to point to Rihanna being Bron's JUMPOFF . . . and it wouldn't be her FIRST time playing the SIDE CHICK role. We're not going to JUDGE . . . but LeBron James needs to focus MORE ON HIS GAME . . . and less on catering to his alleged Bajan SIDE PIECE if he wants to win this series.
Where Is Savannah? Did Lebron Fly Rihanna Out For Game 1 Of The NBA Finals?
Posted at 7:15 PM on June 5, 2015 - By Bossip Staff - After yesterday's NBA Finals Game Lebron James apparently had to answer to a certain pop star who made a special trip to see him. If you believe the latest reports, Rihanna traveled to Oakland's Oracle Arena via Lebron who graciously flew her and her friends out on his private jet. Hollywood Life reports:
Rihanna really has the best life! The singer reportedly hopped on LeBron James' private plane to catch the first game of the NBA Finals in Oakland, Calif., June 4 and she looked like she was having such a blast! We didn't know they were such good friends, did you? Rihanna loves basketball, so it was no surprise when she turned up to watch the Cleveland Cavaliers star LeBron James take on the Golden State Warriors in game one of the NBA Finals.
She was sitting courtside with her girlfriend Melissa Forde and in a video posted to Melissa's Instagram page you hear RiRi say: "LeBron here we come baby!" It was a really close game and although the Cavaliers lost 108-100, it was so much fun to watch! In the cute video that Melissa posted, they are boarding their flight and on the tarmac Rihanna is spinning in circles and seems so excited to go to the game. RiRi loves the sport and she's spotted sitting courtside weekly!
Rihanna And LeBron James Dating? Rumors Swirl After Singer Flies To NBA Finals On LeBron's Private Jet
Posted: June 6, 2015 - Rumors that LeBron James and Rihanna may be secretly dating have been circulating this week after the singer flew out to watch game 1 of the NBA Finals on the Cleveland Cavaliers star's private jet. Rihanna was seen sitting courtside rooting for LeBron and the Cleveland Cavaliers, then later was calling for LeBron outside the lockeroom. For some odd reason, Rihanna screamed "LeBron.." several times by Cavs locker room. — Marc J. Spears (@SpearsNBAYahoo) June 5, 2015
Rihanna was such a big cheerleader for LeBron in fact that the owner of the Golden State Warriors had to move to get away from her. ICYMI: @Warriors owner Joe Lacob says he moved seats away from @Rihanna during Game 1 because she was rooting for the @cavs #behindthegame — Chat Sports (@ChatSports) June 6, 2015
But Lacob was a good sport about it, and said he resisted the urge to rub it in later when the Cavaliers lost to the Warriors in overtime. "I didn't want to do that. Thought about it." Joe Lacob on getting in LeBron fan Rihanna's face after the @warriors win #behindthegame — Cleveland Cavaliers (@ChatCavs) June 6, 2015
Though there was no suggestion that Rihanna and LeBron James are secretly dating, the singer's appearance still sparked rumors that there could be something going on between the two. Some outlets even reported that they are indeed an item, though no proof was offered. The rumors that Rihanna and LeBron James are an item seem to be off as both seem quite content in their love life. The singer has been spotted with French soccer player Karim Benzema, signaling that she may be done with her fleeting romance with actor Leonardo DiCaprio and on to a new boyfriend.
A source told the Hollywood Gossip that Rihanna and Benzema were spotted together on a late-night group date. "Rihanna and Karim were across from each other … There were about four people at the table and a few more in another table from the same party. They came separately and they were speaking French."
LeBron James is taken as well. He has been with Savannah Brinson for more than 12 years, dating back to when they were students at St. Vincent-St. Mary's High School in Akron, Ohio. The two got married in 2013 and last year welcomed their third child, a daughter named Zhuri. The rumors don't seem to pass the smell test, either. If LeBron James and Rihanna were going to risk their reputations with such an illicit affair, it's unlikely they would do it so blatantly and in front of such a big audience.
RELATED ARTICLES
Rihanna And Rita Ora Slammed Again As Music Industry Mattresses In ASAP Rocky's New Song 'Better Things'
Boxer Adrien Broner Says F**k Jay Z, Rihanna And Her P***y After The Rapper Pimps Her Out Again (Video)
Eminem Confirms This Site's Previous Claims That He Had Sex With Rihanna