10 Million Sony PSN Credit Card Info Stolen, 2.2 Million Offered For Sale
May 2. 2011
The unprecedented Sony hack that will reportedly cost the company $24 billion dollars, has taken a new twist. It is being reported 10,000,000 unencrypted credit card numbers have been stolen from the Sony servers in San Diego, California and 2,200,000 of them have been offered for sale by hackers.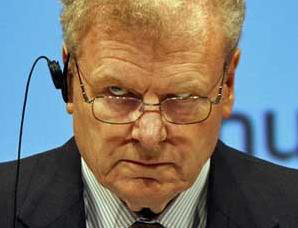 Howard Stringer
As someone who has been the victim of identity theft in an unrelated incident, I feel sorry for the people whose financial data has been compromised. In response to cries from PSN users for a Sony boycott, company executives apologized yesterday. However, based on online feedback, I donít think it will help, as PSN users are defecting to Microsoft.
RELATED ARTICLES
Sony Badly Hit By $24 Billion Dollar Hack
Sony Playstations Seized Over Patent Theft Lawsuit
Sony Continues To Release Sub Par Michael Jackson Material
Sony Lying About New Alleged Michael Jackson Song
Sony To Rip-Off Transformers With Voltron Reboot
Shakira & Sony Stole Music From African Artists
Sony Singers Putting Their Worst Foot Forward
Sony Loses Lawsuit For Stealing "Down Under"
STORY SOURCE
Sony says 10M credit card numbers may have been stolen
Now up for sale: Your PlayStation Network (PSN) credit card info, including CCV numbers