Barack Obama Says In Defeatist Tone During Second Debate Against Rival Mitt Romney 'When I Was President'
October 17. 2012
During last night's second debate regarding the 2012 presidential election, U.S. president Barack Obama stated "when I was president" in a defeatist tone. He all but admitted defeat and the resentful expression on his face said much regarding his personal feelings on the matter. Obama was not pleased with Romney using his economic record against him.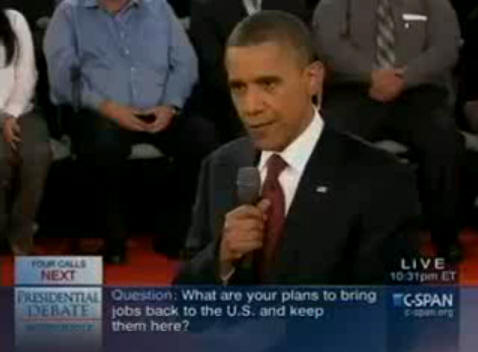 Obama looking like he wants to head butt Romney, who at one point during the debate told him to "sit down!" This is some WWE stuff.
It has been a rough campaign for Obama and the first debate against Romney knocked him for six. He was not expecting what unfolded, yet the Judiciary Report warned he would get clobbered because of the economy. Obama continues to get bad advice from the yes men and women in his circle and it is not helping him. They should have told him the truth from the start.
RELATED ARTICLES
Documentary Film 'Obama's America 2016' Rakes In Millions At The Box Office
U.S. Economy Is Stagnating In A Troubling Pattern And Cycle Of Corruption
The U.S. Economy Takes Another Nose Dive On Dismal Job Numbers And Negative Manufacturing Data
Pollster States If The U.S. Economy Does Not Improve Barack Obama Will Lose The Election To Mitt Romney
Barack Obama In Over His Head With The Economy And In Need Of Help
U.S. Economy Adds Fewer Jobs Than Expected In A Significant Slowdown
Mitt Romney Ad Slams Barack Obama For High Unemployment Among Minorities
Ben Bernake Rings Sobering Alarm On The Dismal State Of The U.S. Economy
Joe Biden: We Can't Replace The 8 Million Jobs Lost
Ben Bernake Didn't See The Financial Crisis Coming
Bernake Defends Reckless Spending
U.S. Unemployment Continues To Rise
The Benefits Of Government Cost Cutting
GDP Data Shows The Recovery Failed