Justin Bieber Taunted By Thief Who's Been Releasing Embarrassing Videos From The Singer's Stolen Laptop With More To Come
October 12. 2012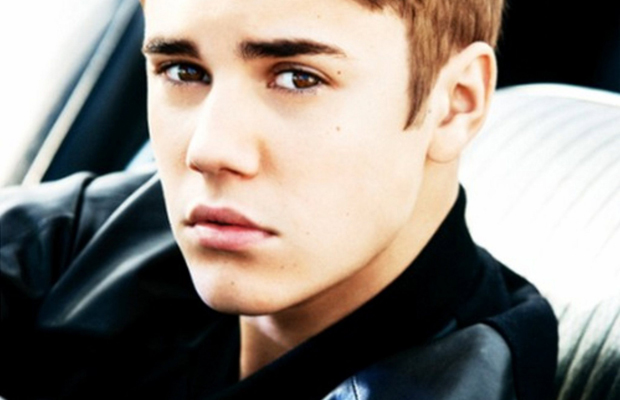 Justin Biebebr

A Twitter user that goes by the name https://twitter.com/gexwy has been terrorizing 18-year-old pop star Justin Bieber, regarding his stolen laptop. The anonymous person has been releasing videos from Bieber's laptop and threatening to ruin him. He promises the worse will come at noon today.

One of the video clips that has already been released shows Bieber getting flirty with girls in a pool and none of them are his girlfriend Selena Gomez. The Judiciary Report was the first to state over a year ago that Bieber cheats on Gomez (

Justin Bieber And Selena Gomez Are Having Relationship Problems - Part 3

). He's a Bieber cheater.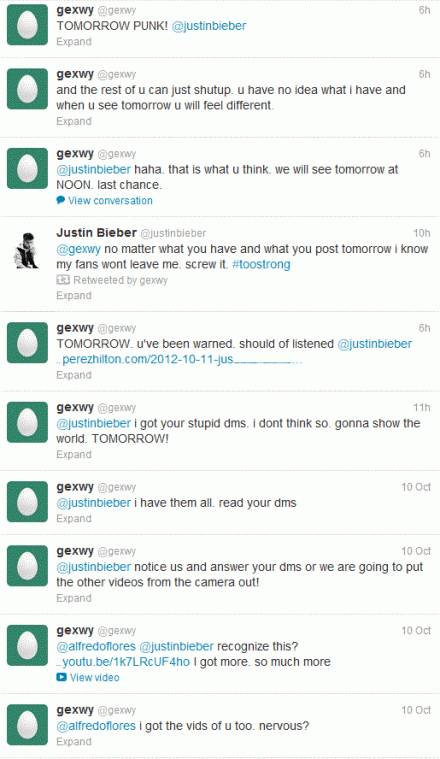 Bieber being threatened
Ironically, a few hours before the video clip from Bieber's stolen laptop was released, I stated on Twitter, "Justin Bieber says his laptop with 'footage' on it was stolen and he is upset. Hope for his sake that 'footage' isn't a sex tape. Does Justin Bieber's stolen laptop contain embarrassing photos, unreleased music or anything else he would not want in the public domain. Has Justin Bieber reported his stolen laptop to the police. If his financial data is on there that could be a problem. Justin Bieber stolen laptop. People should be careful of storing passwords as any laptop thief, hacker can access your emails, accounts."
I really hope this isn't a ploy by someone in his camp to try to toughen up his image, as he is still considered a teeny bopper. It's sometimes those in one's circle in the industry that do such things. Either way, a sex tape is not going to accomplish that, as Bieber still looks like a kid. Therefore, getting indecent is not the answer.
RELATED ARTICLES
Is Hanging Out With Actor Mark Walhberg Corrupting Pop Singer Justin Bieber
Selena Gomez Getting Broody And Wants To Marry Justin Bieber
What's Going On Between Pop Singer Justin Bieber And His Manager's Protégé Carly Rae Jepsen
Picture Of Justin Bieber Grabbing His Penis Upsets Audiences
Has Justin Bieber Succeeded In Toughening Up His Image To Appeal To A More Mature Audience
Justin Bieber Spotted Engaging In Underage Drinking And Second Hand Weed Smoking
Exactly Who Is Styling Justin Bieber And Why Haven't They Been Committed Yet
Paparazzi In Los Angeles Are Still Dangerously Chasing After Singer Justin Bieber Endangering His Life
Justin Bieber's Friends Are Encouraging Him To Cheat On Selena Gomez
Justin Timberlake Slams Justin Bieber: Put A Wig On A Chipmunk And Train Him To Act Like A Black Man
Justin Bieber Labeled A Racist In His Native Canada Over Comments He Made In Interview
A Famous Gay Hollywood Film Producer Wants Justin Bieber And Not Just For His Films
Justin Bieber Paparazzi Chase Case Said To Be Strong
Justin Bieber Looked Terrified When Cop Pulled Him Over For Speeding (Photo)
Justin Bieber Waiting To Find Out If He Will Be Charged For Assaulting Paparazzo
Photographer's Assault Complaint Against Justin Bieber Sent To Prosecutor As Criminal Case
Justin Timberlake Returning To The Music Scene But Will He Recapture His Crown From Justin Bieber