London Bridge And Borough Market Terrorist Attacks Claim 7 Lives And Wounds 18 People
June 5. 2017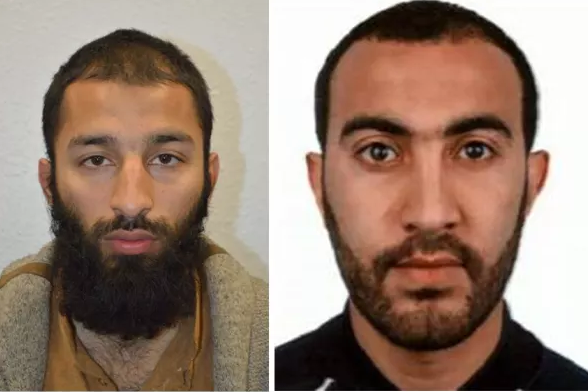 Khuram Shazad Butt and Rachid Redouane committed terrorist attacks in London on Saturday, along with a third accomplice who has currently not been named. The men became radicalized watching You Tube videos.
London, England has sustained another terrible terrorist attack. On Saturday, June 3, 2017, three radicalized men used a van to run over tourists on London Bridge, in similar fashion to the Parliamentary terrorist attack two-and-a-half months ago. Then, they sped off to popular Borough Market and attacked several more people, randomly stabbing innocent individuals with knives. In total 7 people were killed and 18 were wounded during both attacks. Witnesses heard the terrorists screaming "this is for Allah" and "this is for Islam" before violently attacking innocent people. Police arrived and shot and killed the three terrorists.
As previously stated in the Judiciary Report, landmarks need to be protected. In choosing landmarks to wage acts of jihad, these terrorists are willfully killing innocents and attacking Britain, France and Germany's tourism at the same time, via deliberate, calculated and barbaric acts of unprovoked violence. These types of terrorist acts are difficult to prevent, as they use everyday items, such as vehicles and knives.
It's time the government arrested the 2,500 - 3,000 known radicals/jihadis on the terrorist watch list. They need to build a prison for radicals/jihadis or empty a wing of an existing prison, releasing lesser offenders who were jailed for non-violent, non-drug dealing crimes and use the space to house people on the watch list.
Members of the public have been stating one of the terrorists, Khuram Butt, who goes by the name "Abs" or "Abz" was a known hate preacher in Barking, a town just outside London, that was written about on this site two weeks ago. Apparently, one of the terrorists, Butt, worked at the KFC. Ironically, in 2013 I tweeted on Twitter about the KFC in Barking, as a good one (I would eat at that KFC in 2012). However, Butt does not look familiar. Reports indicate he worked there some time around 2015 and possibly prior.
One lady reported Butt to police for trying to radicalize her children at a local park, by offering them money and candy, while trying to brainwash them about Islam. One of his friends also stated he reported Butt to police for praising suicide bombers who committed acts of carnage against innocent people. Butt also appeared in the Channel 4 documentary "The Jidhadis Next Door."
The recent terror attacks in London were waged by people whose parents were immigrants to Britain. Therefore, under United Nations laws, they cannot be deported. Therefore, Parliament needs to strengthen legislation and approve funding for rounding up jihadis on the watch list, as this cannot continue. There is no reasoning with this. Brainwashing has them devoid of reasoning. There can only be containment via incarceration.
STORY SOURCE
Pictured: Terrorists who launched horror attack on London Bridge killing seven people
4 hours ago - These are the faces of two terrorists behind a horror attack on London Bridge which left seven people dead and 18 critically injured. Khuram Shazad Butt and Rachid Redouane, both from Barking, were two of three men involved in Saturday's attack, Scotland Yard confirmed on Monday.
The pair, along with a third attacker, mowed down pedestrians on London Bridge before launching a rampage with 12-inch knives in Borough Market while wearing fake suicide belts. Seven people were killed in the attack with a further 18 still critically injured in hospital. All three men were shot dead by armed police eight minutes after terrified bystanders called 999.
Butt was known to police and the security services and was the subject of an MI5 inquiry which started in the summer of 2015. After the investigation was launched a call was made to the police anti-terrorist hotline alleging he had extremist views...
RELATED ARTICLES
Terrorist Khalid Masood Became Radicalized In Prison Like So Many Others Before Attacking Innocent People Outside London's Houses Of Parliament In Westminster
ISIS Claims Responsibility For The London Terrorist Attack By Khalid Masood That Occurred Outside Houses Of Parliament In Westminster
Terrorist Attack At The British Parliament In London's Palace Of Westminster Leaves 5 Dead And 40 Injured (Videos)