Rupert Murdoch's Ex-Wife Wendi Deng Is Now Dating A 22-Year-Old Male Model After Years Of Looking At His Evil Face
December 29. 2017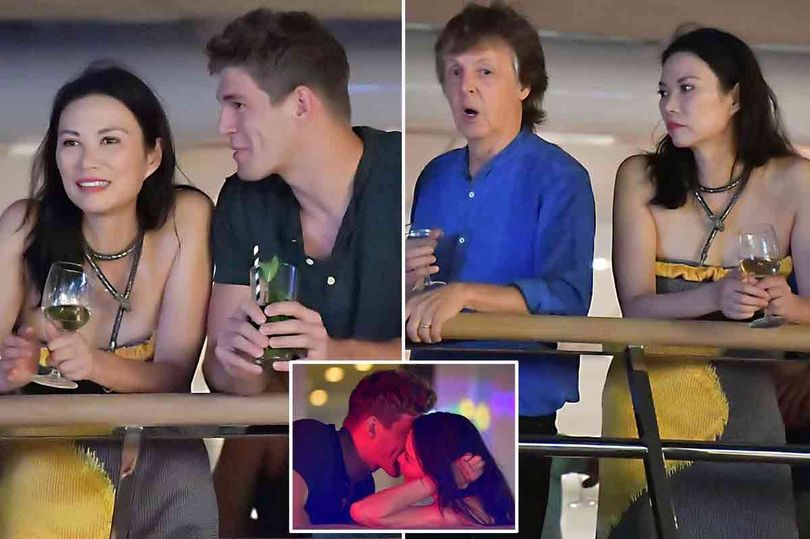 Wendi Deng and boyfriend Bertold Zahoran (pictured left and center) at a yacht party thrown by Paul McCartney (right). Photo montage by the Daily Mirror.
Greedy, vile News Corp owner Rupert Murdoch, 86, is an evil man, who is also not easy on the eyes. That didn't stop Wendi Deng, 49, from marrying Murdoch years ago for his money, after an adulterous relationship. It was his third marriage and her second. Wendi cheated on Murdoch during their marriage with younger men, in a story I broke first. Then, the Daily Telegraph broke the news that Wendi has a crush on then British Prime Minister, Tony Blair, who is the godfather of her eldest child.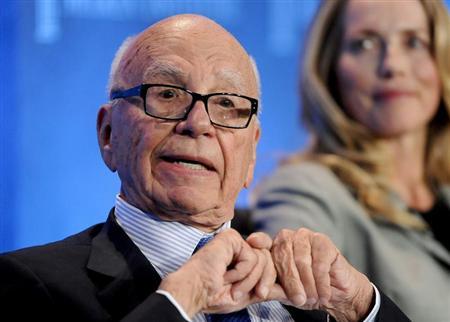 Rupert Murdoch
Wendi's infidelity with younger men, her crush on Blair, whom she kept flirting with, coupled with her scorn over the phone hacking scandal, which I also broke first, resulted in him filing for divorce in 2013. Wendi has harbored a significant amount of scorn for the phone hacking scandal and the disgrace and public hatred it brought the family. It was too much for her to handle and not what she had agreed to, as she'd only married him for money. Now that Wendi is divorced from Murdoch, she is openly dating younger men, illustrating this was her preference all along, just as I had previously written.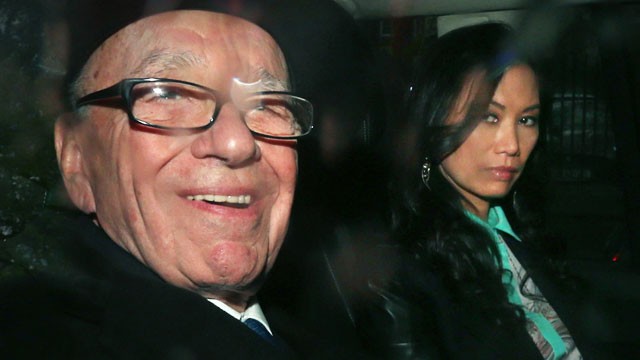 Wendi Deng with a scornful look on her face while sitting next to then husband Rupert Murdoch

This week, Wendi was secretly photographed at a private yacht party, kissing her 22-year-old boyfriend, Bertold Zahoran, who is a model. They have been dating for a year. Truth be told, Zahoran is closer to her children's age than her own. Murdoch's children with Wendi are 16 and 13. Wendi seems quite taken with Zahoran. However, she seems more taken with him than he is with her, which doesn't bode well. I can't imagine her kids from the marriage to Murdoch are happy with their mom dating a man who is that young. Many kids find that embarrassing and some of their peers will tease them over it (though they should not do so, as it is unkind).
Side Bar: I'd broken the story on Murdoch (and Madonna) regarding phone hacking, as they invaded my privacy (which they've not stopped doing) for undue financial gain. I also broke the story on Wendi cheating on Murdoch for the simple reason he and Madonna's sect interfered in my family life and personal life, on their orders. They sent disgusting members of the sect to show up at my home and that of my family members in America and the international community, in acts of outright criminal stalking, trespassing and harassment. They also criminally invaded my family members' privacy.
During a trip to Britain in 2012, Murdoch's executive, Andy Coulson, who went to work with slavetrader and former Prime Minister, David Cameron, against Parliament's wishes, began crazily and angrily muttering at me in South London, when I was minding my own business. He was under criminal investigation at the time in the phone hacking scandal I broke (he went to prison in the phone hacking case shortly after).
Cameron, who was thoroughly corrupted by Murdoch and company, criminally and complicity allowed my family to be harassed in Britain, with someone claiming to be a government agent showing up on my elderly, physically sick aunt's doorstep (Parkinsons), frightening her (that was only one example of improper behavior, there were other incidents). A government worker also began to harass a British athlete over me. So, I recently outed Cameron on cheating with Murdoch's executive, Rebekah Wade Brooks. Not only did Cameron literally have his penis in a pig's mouth in one scandal...he also had it in Brooks.
The aforementioned people involved in this deranged cabal are nothing but a bunch of vile, racist, perverse bullies, who believe black people are to be criminally exploited and abused. I will not tolerate it. And make no mistake, you will fall and fall hard in clear sight of the world, who will demand your heads on platters when the full truth comes out about the evil, insidious things you have been doing and how many people it has harmed...
STORY SOURCE
Rupert Murdoch's ex Wendi Deng, 49, cosies up to model lover, 22, as they party on yacht with Sir Paul McCartney
00:05, 29 DEC 2017Updated00:12, 29 DEC 2017 - Rupert Murdoch's ex-wife Wendi Deng has been pictured canoodling with her model lover on board a yacht beside Sir Paul McCartney. The couple, who have an age difference of 27 years, puckered up in the Caribbean island of St Barts. Wendi, 49, enjoyed a glass of wine with Bertold Zahoran, 22, as she watched a gig by Jimmy Buffett alongside Sir Paul, 75.
The Beatles singer is holidaying with his fashion designer daughter Stella, 46, and his wife, Nancy Shevell, 58. Wendi split from billionaire Murdoch, 86, in 2013, after 14 years of marriage. They remained friends and Murdoch has since married ex-supermodel Jerry Hall, 61...
RELATED ARTICLES
Madonna's Criminal Conduct At The BBC In Britain Has Nasty Racist Slavery Connotations To It (Anthony Joshua, Daniel Kaluuya)
Madonna's Kabbalah Cult Is A Threat To British National Security (Harvey Weinstein, Rupert Murdoch, Kevin Spacey)
Rupert Murdoch's Obsession With Sienna Miller In The Phone Hacking Case Over His Sexual Attraction To Her
Rupert Murdoch Finalizes Divorce From Wife Wendi Who Knows His Dirty Secrets (Including Phone Hacking)
Rupert Murdoch Has Been Running Sky And The BBC In Criminal Violation Of British Law
Rupert Murdoch Hacked British Spy's Computer And Is Forced To Pay Financial Damages
Wendi Deng Murdoch Cheated On Rupert Murdoch Getting The Yang Somewhere Else
Rupert Murdoch's Wife Wendi Sure Loves To Flirt With Younger Men