The Obamas Dislike The Kardashians Reality Shows And Do Not Want Their Daughters Watching Them
October 18. 2011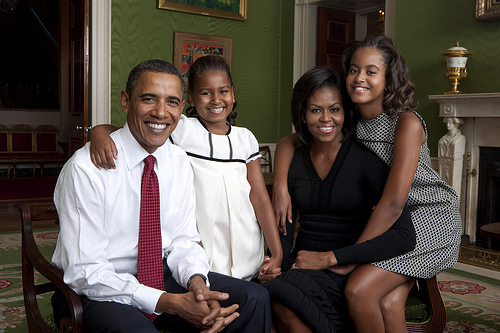 The Obamas
U.S. President Barack Obama and wife First Lady Michelle Obama, dislike the reality shows starring the Kardashian family. During an interview this week, Mrs. Obama stated of the Kardashian sisters, "Barack really thinks some of the Kardashians -- when they watch that stuff -- he doesn't like that as much, but I sort of feel like if we're talking about it, and I'm more concerned with how they take it in -- what did you learn when you watched that. And if they're learning the right lessons, like, that was crazy, then I'm like, okay."
Regrettably, Kim Kardashian has set a terrible example for young women on how to behave in society. She has gone from man to man and done very questionable and unethical things for money. She is not a role model and has led her sisters astray, in her quest for fame with no musical or acting ability to back it up. Kim's mom, Kris Jenner, has become a Christian minister, so here's hoping she talks to her daughter, as she is running with a terrible set in the music industry, in search of a singing career and they are going to land her in terrible trouble.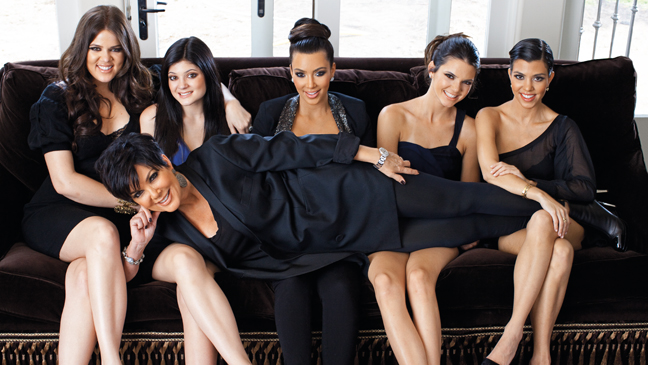 The Kardashians
Having written that, I find it highly hypocritical that Obama dislikes the Kardashians, yet constantly consort with the likes of Jay-Z and Beyonce, the thieving, degenerate couple, who are constantly sued for flagrantly breaking the law in acts of copyright infringement, criminal copyright infringement and racketeering of all things, destroying people's careers and lives, with the rapper openly assaulting innocent folks, in acts caught on camera. He's hardly reformed.
You have a problem with the Kardashians, yet have no qualms about having your preteen girls hanging out with a vulgar, scantily clad, unintelligent, butt shaking R&B singer, who is pretending to be pregnant for publicity and her rapper husband that has a profane song called "P***y" and a Satanic one he titled "Lucifer." Yet, these are the people you have around your children. You even had Jay-Z posing in your chair in the White House. Remind me again why you're in charge of this country, because right now, all I'm seeing from you is a double standard and very poor judgment.
RELATED ARTICLES
Kim Kardashian Voted The Most Annoying Celebrity
Are The Kardashians Overexposed
Website Bolsters Claim Beyonce Knowles Is Using A Surrogate Via Her Former Pregnant Personal Assistant
Beyonce's Baby Bump Suspiciously Shifts, Folds, Bends And Creases During Television Interview
Reeling From The Failure Of Her Current CD Beyonce Is Ill-Advisedly Rushing Back Into The Studio And While Pregnant
Beyonce Steals Again But This Time From Sam Cooke, En Vogue & A European Artist
The FBI Corruptly Granted "Sovereign Immunity" In The Aisha v. FBI Case
Jealous Jay-Z Acts Like Rihanna Is His Wife While Beyonce Sufferers Fake Pregnancy Rumors
Report: Jay-Z's Sex Partner Rihanna Wants To Fire Him As Her Manager
One Of Jay-Z's Sex Partners Insults His Wife Beyonce On Twitter
Is Jay-Z Cheating On Beyonce Again
Beyonce's Dad Sues For Being Fired Over Stealing From Her
Beyonce Knowles Settles Copyright Infringement Case
Producer: Beyonce Stole Credit For Bootylicious
Beyonce Keeps Stealing From The Braxton Family
Sony Music Making Excuses For Beyonce's Album Flopping
Beyonce's New Album Flops
STORY SOURCE
First Lady On Her Girls: "Like Any Mother, I'm Just Hoping I Don't Mess Them Up!"