A Teary Eyed Rebekah Brooks And Her Coconspirators In The Phone Hacking Scandal Face First Court Hearing On Bail
June 14. 2012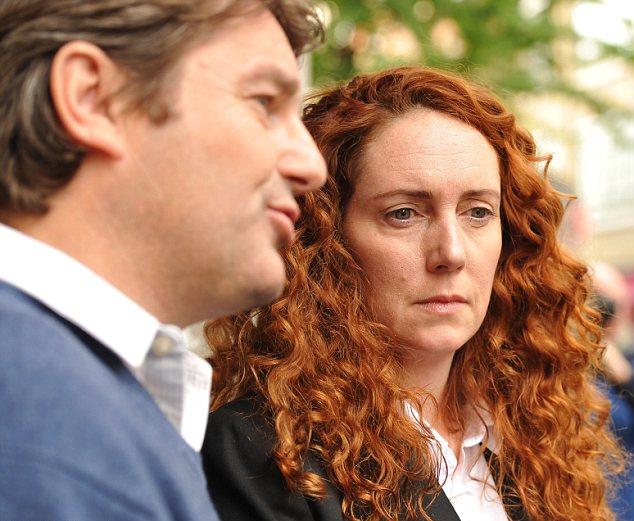 Charlie Brooks and wife Rebekah Brooks when they were charged weeks ago
Rebekah Brooks, one of the former top executives at Rupert Murdoch's News International/News Corp, appeared in British court yesterday, seeking bail in connection with the phone hacking scandal, after being charged with "conspiracy to pervert the course of justice." Brooks looked tearful and broken, not her usual glamorous, smirking self. Murdoch has remained strangely silent on the matter, after he got all these people into trouble, via knowingly corrupt and illegal orders.
The executive and her husband, Charlie Brooks, who is also charged for aiding her in an attempt at disposing evidence, alongside four other News International/News Corp employees, sought and received bails on the strict terms they do not communicate with each other, not even on social networking websites. The judge also admonished them not to be late to court, as the case proceedings could go on in their absence.
Brooks has a small child, who may be sent to live with relatives or placed in government care, in the event she and her husband are sent to prison on obstruction of justice charges. Many entertainers in Britain and other public figures want Brooks jailed, due to the way she taunted and terrorized them, while working at News International/News Corp.
In other news, the Metropolitan Police has referred the names of several other journalists in the phone hacking scandal, to the prosecutors in the case. This indicates more charges could be looming in the case. Stay tuned...
RELATED ARTICLES
Rupert Murdoch's Trusted Confidant Rebekah Brooks, Her Husband And Four Other News Corp Employees Charged In The Phone Hacking Scandal
Rupert Murdoch's Right Hand Man Andy Coulson Arrested For Perjury In The Phone Hacking Scandal
The Greedy Murdoch Family At News Corp Hired A Hacker To Sabotage Rival Channel ITV Digital Causing It To Collapse
Rupert Murdoch's News Corp Is Under Investigation For Computer Hacking And Corporate Theft
Rupert Murdoch Is Being Investigated By The Government For Using 'Mafia Tactics' On Rivals
Rupert Murdoch's News Corp Spying On People With Drones
The FBI Corruptly Granted "Sovereign Immunity" In The Aisha v. FBI Case
Rupert Murdoch Finally Admits His Company's Phone Hacking And Wiretapping Crimes
How To Protect Yourself From Being Spied On In Your Home Through Your Webcam Or Mobile Phone
Computer Technician Secretly Spied On Customers In Their Homes While They Were Naked
Leading Rental Company Facing Lawsuit For Spying On People In Their Homes Through Their Laptops